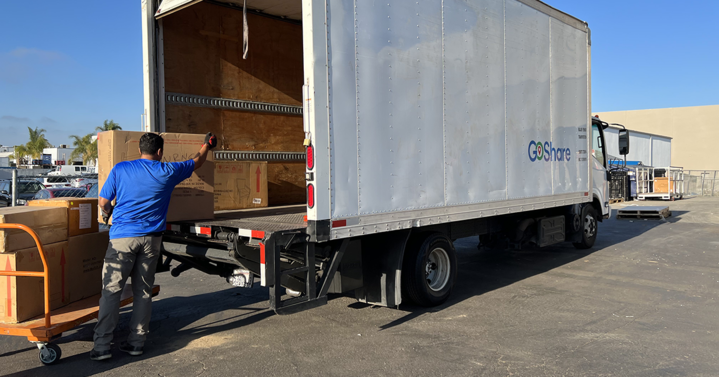 Top Challenges of Last Mile Delivery
Top Challenges of Last Mile Delivery
---
Last mile delivery is the final stage of the logistics process, where the delivery finally arrives at the customer's doorstep or place of business. It makes up one of the most critical legs of any shipment as it often is what customers remember the most. Final delivery and a smooth hand-off are essential for retaining customers and keeping profits high. According to MarketWatch, "The global last-mile delivery market size was US$ 34,300 million in 2021. The global last-mile delivery market is forecast to grow to US$ 58,340 million by 2030 by growing at a compound annual growth rate (CAGR) of 10.5% during the forecast period from 2022 to 2030." While growth is always good, this can also produce some challenges. This piece will explore them and provide corresponding solutions.
1. Limited Visibility Within the Supply Chain
When expecting a delivery, the customer always has a sense of anticipation. They might wait anxiously by the door or refresh their delivery tracker. Sadly, this is the only amount of transparency that many delivery companies offer. While customers receive tracking numbers to monitor the status of their packages, this doesn't always give an accurate location and ETA for the delivery's completion. Traditionally, a lack of communication between shippers and end-users has made this process stressful for both parties. And in today's connected world of last mile distribution, instant communication and absolute visibility are crucial to success.
Solution: Shippers Can Get More Visibility in Last Mile Shipping Through Technology
Evolving technologies make life easier for consumers. Shippers who leverage service technologies can better serve their customers during a shipment's last mile delivery. These technologies are coming in the form of mobile apps, making them easily accessible to consumers and shippers alike. Consumers can hire shippers to make their deliveries while shippers can provide constant status updates in-app and through direct messaging with the customer. This makes the experience more transparent and gives customers peace of mind regarding their package.
2. Lack of Communication and Collaboration
During the shipment process and the last mile delivery, unpredictable elements such as the weather, traffic, etc., can significantly affect deliveries. Unfortunately, communication between customer and shipper has only been on a need-to-know basis. Collaboration between customer and shipper was never established, leading to customers getting upset about not getting notifications of delays until requested. The two parties lacked transparency, with one side not providing the necessary information to the other. Even worse, a 2021 survey from Logistics Management found that up to 43% of companies are artificially inflating inventories due to poor visibility in warehousing and associated logistics. As a result, poor visibility and communication lead to even greater problems and limited collaboration. 
Solution: Better Visibility Leads to Better Collaboration
Many services and mobility providers, such as Uber, DoorDash, etc., thrive due to clear visibility between the driver and the end customer. When tracking through their app, it is clear where the driver is and approximately how far they are from their destination. Even when the user isn't on the app, they'll get notified when their driver or delivery person gets close to their destination. Similarly, with last mile deliveries, if the customer has access to the shipper's whereabouts while they're making their deliveries, they will be notified in real-time. They will have constant ETAs available at their fingertips and rapid communication with the drivers and shippers. This boosts last mile distribution and drives better customer experiences.
3. Higher Fuel Costs Due to Stop-And-Go Driving
Today, gas prices are at an all-time high due to current events. While making shipments, especially last mile deliveries, unforeseen circumstances like the weather, traffic, vehicle damage, etc., can delay shipping. In the first quarter of 2022, fuel costs were approximately 28% higher than in Q4 of 2021, DC Velocity reported. Yet, those costs began to fluctuate and decline. However, the overall trend appears upward as fuel rates continue to climb at the onset of summer vacation in May 2022 as well.
All this will increase fuel consumption due to more stopping and going and rerouting the path towards the final destination. The type of vehicle used to make the deliveries also plays a factor in heavy spending on gas, especially if it runs on diesel power, for last mile shipping. 
Solution: More Insight and Planning Reduces Fuel Costs
No one can predict when or where shippers will meet a bump in the road during deliveries. But, if delivery companies can anticipate the worst-case scenarios and make an appropriate plan to mitigate their impact, fuel costs can reduce due to the decrease in stops. Many vehicles are now switching over to an electric version to further mitigate fuel costs. Reduced fuel costs result from doing the proper research in finding fuel-efficient ways to make the deliveries, keeping tabs on weather reports, and routine maintenance of vehicles. 
4. Increased Risk for Damage Due to Multiple Stops
Wear and tear is part and parcel of last mile delivery. However, when there are multiple stops in a delivery route, there is only so much that the vehicle can take before it starts to fall apart. This comes due to a lack of foresight and not anticipating the worst. It sounds neurotic, but it's essential to consider the worst thing that will happen when a vehicle is taking multiple routes to make multiple deliveries. If preparations are not in place in advance, problems like vehicle damage can occur and slow the delivery process down.
Solution: Better Visibility Lessens the Risk for Damage and Loss
Drivers and other workers in the delivery industry should be privy to any current events that can directly affect travel, such as weather, fuel costs, etc. Be sure that if these events do come in the way of getting that last mile delivery completed properly, the customer should have complete transparency of what is happening so that they aren't concerned or upset that their deliveries did not make it in time. With emerging technology such as AI (Artificial Intelligence) and IoT (Internet of Things), real-time visibility has never been easier. 
5. Unpredictable Factors, Like Traffic and the Elements
It's unfair for companies to predict the perfect conditions for delivery. However, it is their responsibility to keep abreast of happenings that can directly affect business. Factors such as heavy traffic and weather can change on a whim. In some parts of the world, constant weather change is almost a common occurrence. And traffic can vary depending on the time of day. These factors cause heavy delays for a last mile delivery, especially if management did not anticipate and plan for these issues. 
Solution: Real-Time Alerts Enable Dynamic ETA Tracking
As mentioned earlier, having a platform that provides real-time alerts is a great way to keep transparency and visibility at an optimal level between service providers and end-users. Because of this, customers will know where their delivery is at all times. This is an invaluable solution that will retain existing customers and even bring in new ones. Simply put, people value real-time communications and notifications about the status of their parcels more than it possibly arriving earlier than the ETA. They'd rather know of a potential delay in last mile shipping, as opposed to getting left in the dark wondering what is going on with their shipments. 
6. Lack of Route Planning and Optimization
There's a lot more to making last mile deliveries than simply loading the parcel, firing up Google Maps or Waze, and just blindly following the route guidance to the destination. As a matter of fact, only doing this will most definitely lead to delays and pushbacks. The GPS may not always provide the most optimal route to the desired destination. A good company should always plan several routes before executing their deliveries and not wing it by relying solely on the GPS. Also, a Capgemini survey in 2021 found that businesses that fail to optimize final mile routes will see net profitability decline by 26% over the next three years. Thus, now is the time to start optimizing from the first through the final mile. 
Solution: More Planning and Optimization Reduces Delays and Costs
Before starting any route guidance, companies should plan and identify the most optimal routes for delivery. Every delivery will always have more than one path to take, but the optimal one will be the quickest and most cost-effective route for that specific destination and, in turn, will cut costs and reach the customer in a reasonable timeframe. Companies can also effectively optimize transportation by using lean operations to cut costs and save time by using a 3PL.
7. Potential for Last-Mile Deliveries and Pickups
For business deliveries, there may be a possibility to make a last mile delivery while at the same time picking up a pallet for shipping. This can complicate a job and significantly push back delivery times since loading pallets can be very time-consuming. These can be especially inconvenient when drivers are informed at the last minute that they need to also do a pick up en route to their delivery. This again stems from poor planning and preparation for these situations.
Solution: A Single Source of Truth Ensures Everyone Stays on the Same Page for Pickups and Deliveries
Playing it by ear is never a good idea for a detailed-oriented business in the service industry.Drivers and managers must sit down and plan out who will be in charge of what activity and ensure that everyone agrees to the plan. Planning for any unforeseen circumstances helps ensure that everything is operating smoothly. There should be a single source, online preferred for easier sharing, where everyone can see their respective routes, so there is no confusion about who makes the delivery and handles a pickup.
Overcome the Challenges of Last Mile Delivery With GoShare
This blog has highlighted only a few of the challenges with last mile deliveries. However, GoShare can help you overcome them. GoShare makes deliveries quick and easy by connecting users to local delivery drivers through the GoShare app. GoShare will provide status updates in real-time and a platform for drivers and users to communicate. Book a GoShare driver online or download the GoShare App today to learn more!