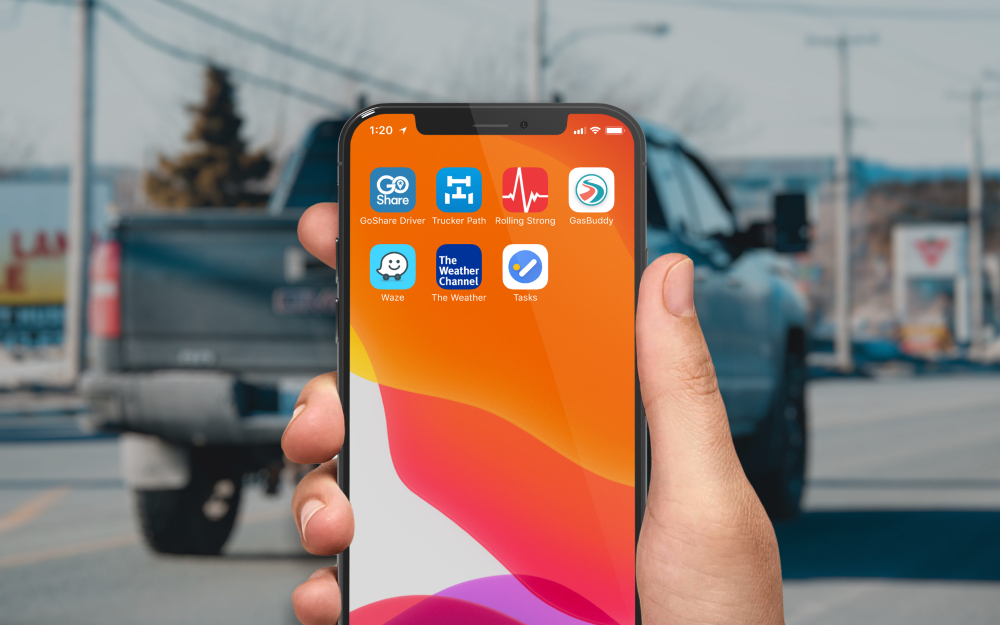 Top 7 Apps for Truckers in 2020
Top 7 Apps for Truckers in 2020
---
The trucking industry has seen tremendous growth throughout the years. Strides in technology have made it easier for truck drivers to perform their jobs safely and efficiently on the road with the use of streamlined mobile apps. Whether you're planning for the best route to save time or searching for the nearest rest area due to driver fatigue, there are an array of trucking apps that can help you meet those demands.
Have a look below at our list of the top 7 apps for truckers in 2020.
Trucker Path
Trucker Path is one of the most widely used apps for truck drivers thanks to its diverse range of trucker tools. The Trucker Path app displays real-time truck parking availability and nearby weigh stations, along with the ability to check weigh station status history. The app comes with a trip planner that shows thousands of fuel stops and truck stops across the United States and Canada for maximum route optimization. Due to its popularity, Trucker Path also has a built-in forum that makes it a great place to discuss trucking trends and ideas among fellow truck drivers.
Trucker Path is available for free on the App Store and Google Play.
Rolling Strong
Long periods of sitting and driving can take a huge toll on your body and mind. Thankfully, Rolling Strong is here to help alleviate those problems. Rolling Strong is an industry-specific app that targets health and wellness for the transportation industry through its Driver Wellness program. With Rolling Strong, you can log and track calories, sleep, and water, as well as create your own favorite recipes on the go. The app also provides on-demand wellness coaching, health podcasts, workout routines, and a community forum. 
Rolling Strong is available for free on the App Store and Google Play.
GoShare
If you're looking to put your truck to work and earn some extra money on your time, GoShare is the perfect solution for finding hot shot loads. GoShare is an app that connects truck and van owners to individuals and businesses who seek help with moving and delivering large items on demand. A diverse number of jobs can be found on the GoShare platform, ranging from construction delivery to apartment moving. Through GoShare's hot shot load board, truckers can earn anywhere from $33 to $67 an hour, plus tips. 
You can apply at GoShare.co/Drivers and download the driver app on the App Store and Google Play.
GasBuddy
Saving thousands of dollars on gas or diesel is a great goal to set, especially if you don't own one of the most fuel-efficient trucks. The GasBuddy app is effective at finding the cheapest gas prices and diesel prices from the best gas stations near you. When using GasBuddy, you'll have the ability to filter the search results by fuel price, location, brand, and amenities like car washes, restaurants, and restrooms. Since so much time is spent on the road as a truck driver, it's vital to take advantage of an app like GasBuddy that helps you realize cost savings without any hassle.
GasBuddy is available for free on the App Store and Google Play.
Waze
Waze is the largest traffic and navigation app thanks to its innovative technology. The Waze app directs users based on crowdsourced information and consists of real-time updates on traffic, police, hazards, construction, and more. Waze formulates the optimal route based on these factors so you can save money and time on the way to your destination. The app provides instantaneous traffic alerts and an accurate estimate of arrival time. Plus, you don't have to risk safety by using your cell phone to constantly switch apps for music; Waze has partnered with Spotify, giving you the ability to play your favorite music directly from the app.
Waze is available for free on the App Store and Google Play.
The Weather Channel
Weather makes a huge impact on driveability and safety on the road. Luckily, The Weather Channel is an app that accurately forecasts daily weather conditions so you can successfully navigate the road without worry. The app contains live radar updates and severe weather alerts so you know exactly what you're up against in case of hazardous conditions. If you plan to take a long road trip or haul delicate furniture in the back of your pickup truck, then it's a good idea to check out The Weather Channel beforehand so you can avoid any unforeseen problems while on the road.
The Weather Channel is available for free on the App Store and Google Play.
Google Tasks
As an owner-operator who owns a hot shot trucking business and an entire trucking fleet, it can get hectic managing operations on a daily basis. Google Tasks is a daily planner app that allows you to add or customize tasks, set reminders, and due dates, and create to-do lists. Truckers lead a busy schedule, which means it's easy to lose track of priorities. Google Tasks is the perfect organizer app to ensure that your daily goals are successfully met. 
Wunderlist is available for free on the App Store and Google Play.
Additional Resources
Looking for more information about trucking and going into business for yourself? Check out these additional posts from GoShare.