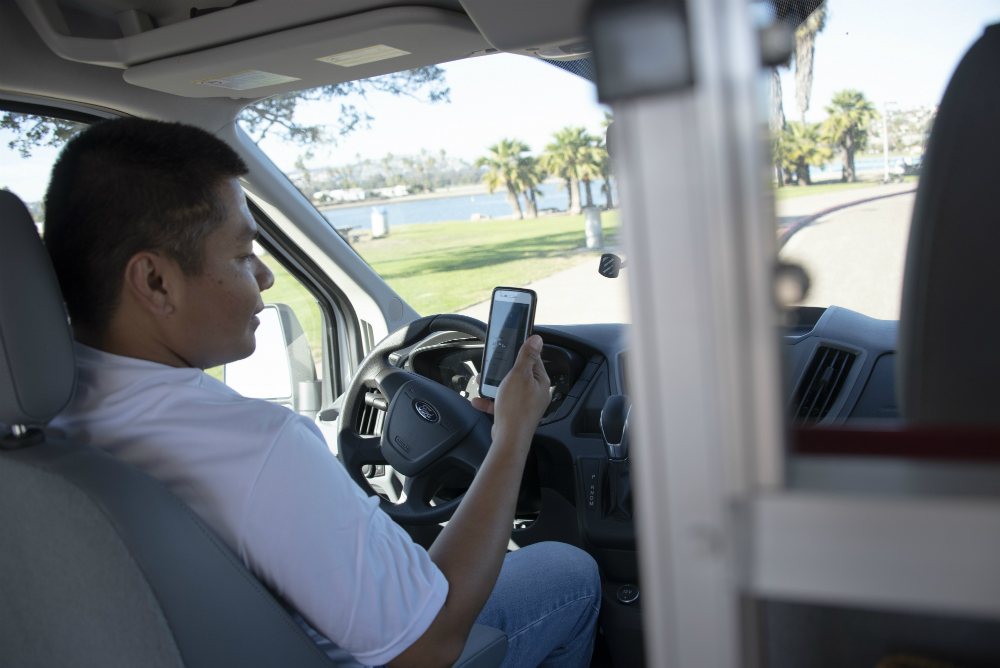 Pro Tips For Drivers
---
As an economic empowerment platform, GoShare's technology enables more than 10,000 delivery business owners to manage their business while providing critical delivery services to their local communities. GoShare provides a steady stream of deliveries, useful supply chain software tools, customer support, and supplemental cargo insurance for delivery professionals.
GoShare was built to make it easy for delivery professionals like you to earn money using your truck, van or car to provide last mile delivery and moving services for people and businesses in their community. Our team is working hard every day to make sure that our delivery pros have a great experience every time you use GoShare. Whether you are new to GoShare or a regular user, these pro tips will help you get the most value and maximize your earnings when you use GoShare. Following these guidelines will also help you earn 5-star reviews from all of our customers.
Be Professional
Greet every customer with a smile and a warm welcome. Show up ready to work with a positive attitude and wearing appropriate clothing. We recommend wearing a GoShare branded shirt or hat to easily identify yourself. If you don't have a GoShare shirt you should wear: a solid colored, collared or un-collared shirt; clean pants or jeans with no holes, clean work boots or shoes. Your shirt and hat should not have any logos other than GoShare.
Don't be shy about calling customers and confirming details or letting them know you are on your way. Or, reach out to GoShare if you foresee any challenges.
Be on time for your pickup. If you accept a delivery request in the future make sure to add the appointment to your phone's calendar right away and set a reminder so you don't miss the appointment. If being late to a pickup is unavoidable you should always call the customer and let them know as soon as possible so that they can plan their day. Being late too many times, or canceling last minute on customers are dealbreakers that can result in you being removed from our platform.
At the end of your project, thank your customer for their business.
Be Respectful
GoShare believes all our employees, contracted workers and customers deserve to be treated with dignity, decency, and respect. Please review and be familiar with our Anti-Sexual Harassment and Anti-Discrimination Policy. Be honest in your dealings with customers. Don't pad the time on your clock or try to bill the customer for more than what is fair.
Be Smart
Customers are trusting you with their valuable cargo. Take excellent care of the customer's cargo as it if were your own. Damaging an item that you are carrying will lead to a poor experience for both parties. You are responsible for delivering each piece of cargo in the same condition that you received it in. Make sure to use ratchet straps, moving blankets, furniture dolly, tarps, and any other tools at your disposal to protect the customer's cargo from being damaged.
Before you start a project, remember to inspect the cargo before you load it onto your vehicle. You should take a few pictures of the items at pickup to protect yourself from any damage claims. You will be required to submit proof of delivery photos of the cargo when you drop it off. When inspecting the cargo, look for damage and prohibited items such as weapons, drugs, or money. If you see any damage, point it out to the customer and/or take a picture. If you see a prohibited item, you may refuse the shipment and cancel the project with no penalty. Please contact our customer support team if that happens.
Be Prepared
Preparation is key when it comes to moving and delivering items for customers. There is basic equipment you should always have on hand, such as ratchet straps, furniture dolly, and moving blankets. However, factors including weather, parking, and an unusual/delicate item make each delivery unique. To ensure that you're ready for any situation, we recommend carrying the following items with you:
Safety cones
Screwdrivers (Phillips and Slotted)
Painter's tape (used to hold drawers in place during transport)
Tarp or Visqueen plastic (to protect items during inclement weather)
Spare change for parking meters
Be Safe
Safety for everyone in the GoShare community should always be in mind. Inclement weather, extremely heavy cargo, and unsafe loading environments can create a risky situation where you could damage the customer's cargo and property, your vehicle, and/or yourself. If you do not feel comfortable during a delivery we encourage you to communicate with us immediately.
Most customers will understand that it is in everyone's best interest to keep all people and items safe and will work with you and GoShare customer service to reschedule for another time. Learn more about how to avoid injuries while moving heavy items.
We also suggest you read and be aware of GoShare's hazardous materials policy and safe driving policy.
Be a Good Vehicle Owner
Maintaining your vehicle in great mechanical shape will ensure that you stay on the road longer and earn more money. Regular oil changes, tire rotations, and replacing filters are just a few of the ways that you can keep your vehicle running strong. We've posted several guides to help truck owners review their seasonal vehicle maintenance.
Keeping your cargo area clear of clutter is also important. Customers don't want their cargo being transported in a dirty truck or van. Try to remove large items like toolboxes from your vehicle before you go to a job whenever possible.
Promote Yourself
Earn more using GoShare by promoting your business. Every driver can find a unique promo code in the GoShare app. Share this code with prospective customers and other delivery professionals.
$50 Delivery Pro Referral Bonus: Do you have friends or family that own a pickup truck, cargo van, or box truck? Refer them to GoShare. Once they complete their first project, we will send you a $50 bonus. When your friend signs up, they must enter your referral code. If they do not enter your code, we are not able to award the bonus.
First Dibs on Projects: Give your code to friends, family, or favorite customers. They'll get 5% off their first order. You'll get an exclusive first notification on any project that comes through with your code, allowing you to accept before other delivery pros.
Share your driver code with friends by posting it on social media, texting it, or promoting it with business cards and a magnet on your vehicle.
Learn more ways to promote yourself, on our Promote Yourself page.
Other Resources
Did you find these tips helpful? Check out other posts by GoShare for expanding and growing your business.