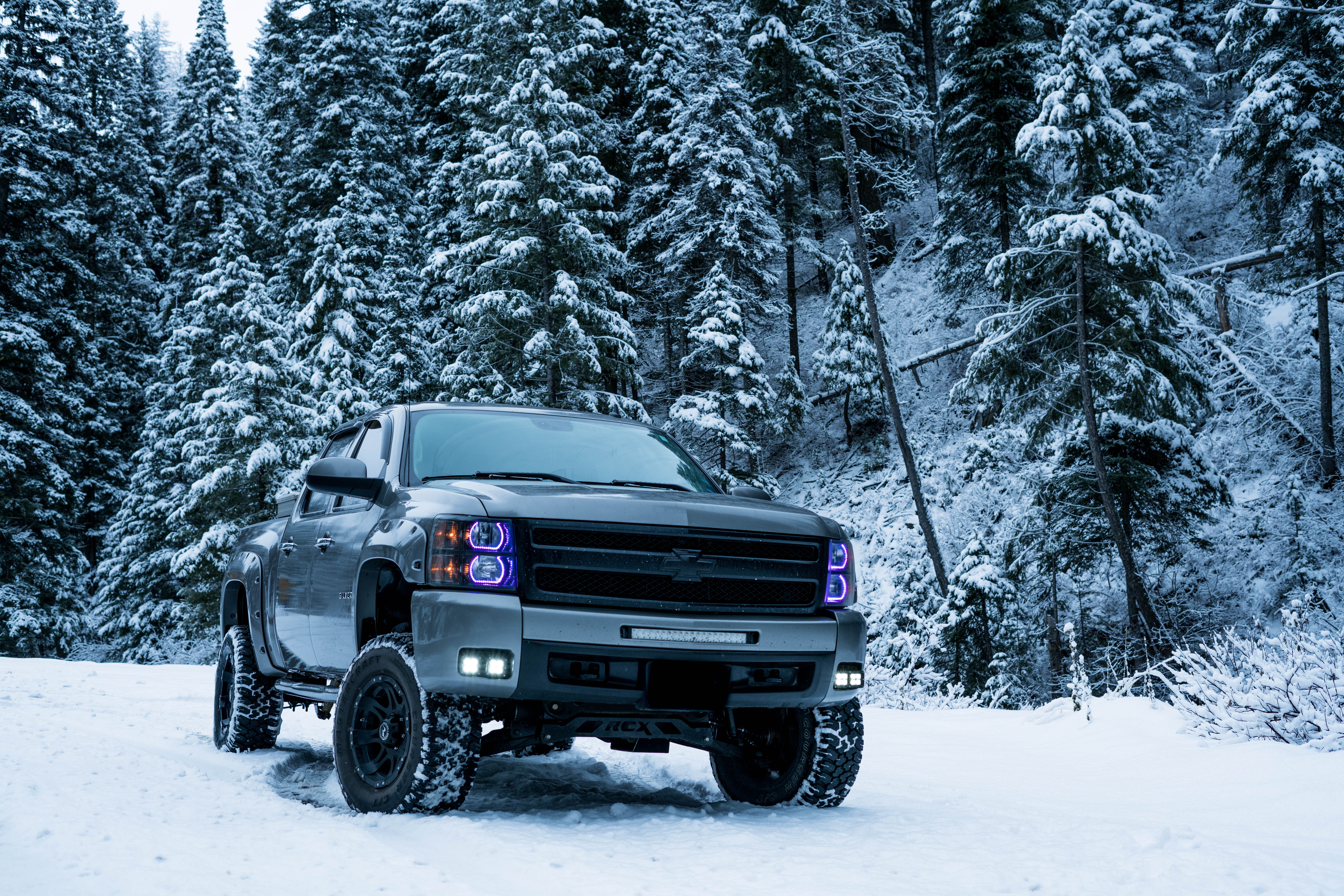 How to Winterize Your Pickup Truck
How to Winterize Your Pickup Truck
---
When it's cold out, you will take steps to protect yourself from the elements. You'll probably put on a coat, maybe gloves. Your pickup truck also needs winter-weather protection. We know, your truck is one tough vehicle, but ice and snow can take their toll if you don't take steps to prepare. It's important to winterize your pickup against the colder temperatures and harsh weather conditions ahead.
Follow these steps to winterize your pickup truck and keep it running well all winter long.
Check Your Antifreeze

: Make sure your antifreeze is filled and the proper color. Antifreeze coolant should be red, green, blue or yellow. If it looks colorless, rusty, or has things floating in it you will need to flush your cooling system and add new coolant. Antifreeze is critical for the health of your engine. If keeps fluids in a liquid state by not allowing them to turn to ice or steam.

Check the Battery

: Cold temperatures can drain battery life quickly. Starting up your pickup truck engine in freezing temperatures can take twice as much current as during fair weather. When winterizing your pickup, check that all battery connections are clean and tight. Now is also a good time to make sure you have the correct battery for your climate. Heavy duty options should be used for pickup trucks in winter climates.

Get an Oil Change:

 It's important to get an oil change every 3,000 to 5,000 miles. Oil behaves differently in cold weather, so make sure you are getting the recommended oil viscosity range for cold driving during your next oil change.

Inspect Your Tires and Get Snow Chains:

 Inspect the tread of your tires. Bald tires or thin tread won't give you the traction you need on wet or snowy roads. Consider investing in chains or studded snow tires if you expect extended periods of ice and snow.

Protect Your Pickup Truck Bed:

If you don't have a truck bed liner, consider getting one before the winter weather comes. Pickup truck bed liners protect the truck from scratches, rust chemical contamination and paint deterioration. They also provide an anti-skid, anti-slip surface that could help you keep your footing or stabilize your cargo during winter months.

Get Heavy Duty Floor Mats:

Fabric and carpet floor mats won't hold up to the winter slush from your boots and shoes. If you haven't already, get your pickup truck waterproof floor mats that are easy to rinse and wipe.

Check Your Wiper Blades:

Snow, rain and ice all decrease your visibility while driving. Old, worn out wiper blades will smear the precipitation, instead of clearing your view. Check your wiper blades to ensure your pickup will have the best visibility on the road, and replace them if necessary.

Winterize Your Headlights: Headlights can improve your visibility in poor weather. If any bulbs go out, replace them immediately. Slush, snow and salt can stick to the lights, reducing the range of the light they put out. To help keep them clear, put a thin layer of car wax on your headlights. It contains a water repellant to help keep winter slush from sticking.
Get Covered: If you are looking at an extended winter, or lots of outdoor parking, consider getting covers when you prepare to winterize your pickup truck. Grille covers protect your engine from freezing temperatures. Windshield covers are available to keep ice and snow off your windshield, saving you the hassle of chipping it off.
Protect the Seats:

If you are a winter sports fan, and intend to spend time skiing, snowboarding, snowshoeing and more, consider buying a cover to protect your seat from snow, ice and dirt. This may not be necessary if you aren't using your pickup for messier activities.

Consider Weights: Losing traction in your 2-wheel drive pickup? Placing some additional weight, such as sandbags, over the rear wheels can help with traction. But, be careful, too much weight will cause the truck to swing out at turns. Increasing total weight also increases your stopping distances.
The pickup truck's powerful engine and versatile capabilities should get you through the winter just fine. Taking these steps to winterize your pickup truck will help ensure that it continues to perform well throughout the cold season.
—
At GoShare, we love pickup trucks and pickup truck divers! We love them so much, we built an app to help connect pickup truck owners and everyday people for their delivery and moving needs.
Got a truck? Sign up with GoShare to earn money driving with your vehicle.
Do you need a truck for a quick job? GoShare can connect you with a network of local moving and delivery professionals with pickup trucks, cargo vans and box trucks. All delivery professionals are licensed, background checked, and insured.