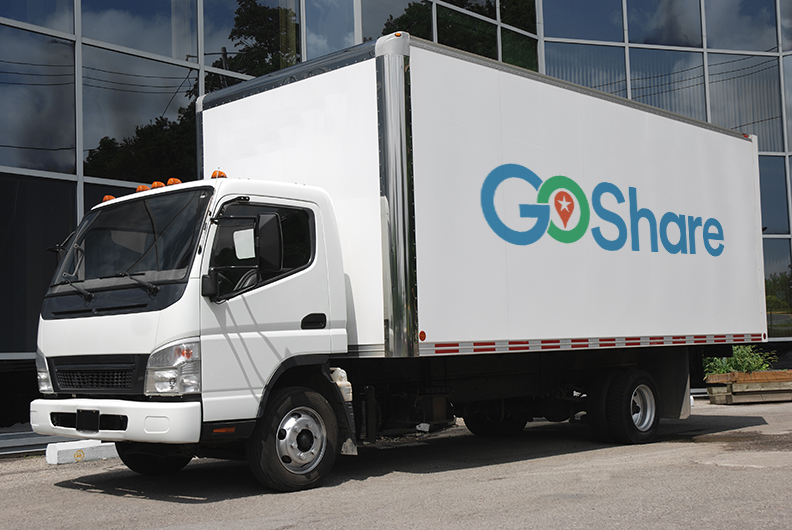 Truck Driving Jobs App for Drivers
Truck Driving Jobs App for Drivers
---
Use the GoShare app to get truck driving job alerts in your area. GoShare works with truck drivers in most major cities in the United States to match them with local loads and delivery projects. 
Truck drivers that work with GoShare enjoy flexible schedules and total control over which projects they accept.
How it Works
Sign up for GoShare to get push notifications and alerts on your smartphone when a truck driving job is available in your area. GoShare works with professional truck drivers, independent contractors and fleets.
Open the job alert to review the load details, including earnings, pickup location, item details, and drop off location. 
Truck drivers only accept loads that make sense with their schedule. There is no minimum work requirement to join and stay on GoShare. 
Once you accept, the project will be saved to your account. GoShare handles the billing and direct deposits earnings into your account. The average time for deposits is 4 days after the completion of the delivery.
How to Join
Truck drivers using GoShare's platform to find truck driving jobs must complete a brief orientation and onboarding that includes a background and driving record check, vehicle inspection, and verification of your vehicle and insurance documents.
This process takes 1-2 weeks on average, but can be as little as 3-4 days if the applicant provides all the necessary documentation and information quickly.
The initial application only takes a few minutes. If you pass the basic requirements, you will have access to GoShare's information orientation video and onboarding portal.
Fleets have a separate application process, learn more here.
Minimum Requirements
Must be at least 18 years old

Your vehicle must be less than 15 years old and pass a vehicle inspection. No salvage titles. 

Must be able to pass a background check and driving history check.

Must have an iPhone or Android phone that is capable of running the latest version of the GoShare Delivery Driver App.

Must have a checking account to receive direct deposit.

Must be able to speak English.

Must have valid driver license, registration and insurance in the state that you are applying from

You must have minimum state insurance requirements and be compliant with local laws.
Vehicle Requirements
GoShare works with all kinds of vehicle owners. Drivers with box trucks and cargo vans command the highest rates. However, there are plenty of well-paying loads for pickup trucks and courier vehicles as well. 
No matter your vehicle type, it must meet some simple, basic requirements.
Vehicle Age
The vehicle must be less than 15 years old at the time you join the platform. This is an insurance requirement. No exceptions are made, even for excellently maintained vehicles.
Vehicle Maintenance
Your vehicle must be able to pass a basic inspection. This inspection affirms that your vehicle is in working order, with no safety concerns. 
Vehicle Paperwork
You will need to be able to provide proof of insurance and vehicle registration documents. 
Your name must be listed as an insured driver on the proof of insurance document, whether you are the owner of the vehicle or not.
If you are not the owner of the vehicle, and someone else's name appears on the vehicle registration, you may need to provide a notarized letter from that individual stating you have permission to use the vehicle for projects through GoShare.
Vehicles acquired through short-term rentals (such as Uhaul) are not eligible for courier driver use on the platform. 
Background Check Requirements
In order to pass the GoShare background check, you must be able to meet the standard below.
Criminal Record
No felonies or violent misdemeanors.

No history of multiple misdemeanors.

Individuals registered on the National Sex Offender Registry or DOJ50-State Sex Offender registry do not qualify for GoShare.

Individuals included on domestic or international government watchlists do not qualify for GoShare.
Driving Record
Must have an in-state driver's license for your state of residence. Active duty military are exempt from the in-state license requirement, but will be asked to provide proof of service. No other exceptions.

No driving-related convictions for hit-and-run, speeding 100+ mph, reckless driving, street racing, or speed contest.

No DUI, felony or other drug-related driving violations in the last 7 years.

No major vehicle violation in the past 5 years

No violations in the past 3 years for driving on a suspended, revoked or invalid license or insurance. 

No more than 2 moving violations in the past 3 years

No more than 2 accidents in the past 3 years

No more than 1 moving violation and 1 accident in the past 3 years

No more than 3 minor violations in the past 3 years including accidents, traffic light violations, speeding, or moving violations.

No infractions or violations if ages 18 to 21 years of age. Must have at least 2 years of clean and unrestricted driving experience.
Additional Resources
If you found this information helpful, check out these additional posts.