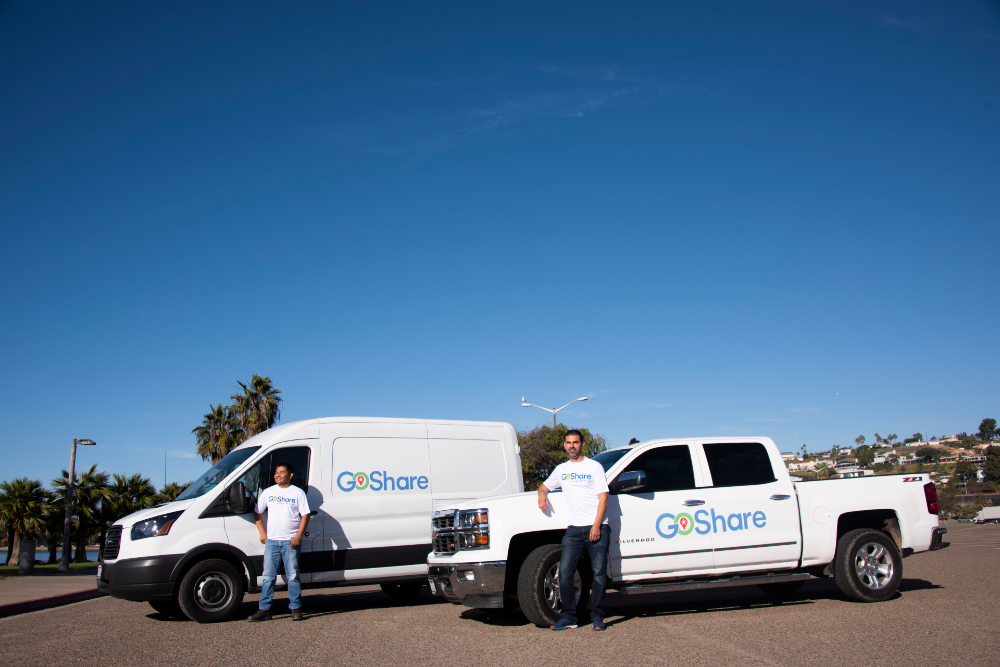 The Perfect Side Hustles for Truck and Van Owners
The Perfect Side Hustles for Truck and Van Owners
---
Are you in need of a side gig where you can achieve steady cash flow on your own schedule? Owning a truck or cargo van presents several job opportunities for those looking to earn some extra income. With these versatile vehicles, you can freely start your own side hustle and engage in part-time jobs that help you make extra cash.
Take a look at our list below to find out more about the perfect side hustles for truck and van owners.
Moving and Delivery Help
A diverse range of retail establishments are always looking for a last mile delivery solution for their customers. Luckily, GoShare is a delivery service app that connects truck and van owners with these businesses and individuals who need help with moving and delivering items on demand. 
GoShare onboards pickup trucks, cargo vans, box trucks, and even cars and SUVs for moving and delivery help. Whether someone needs help transporting a purchased sectional and household goods for Costco delivery to a home or hauling broken furniture to a junk site, GoShare alerts its delivery professionals of these gigs on a daily basis through the driver app so you never run out of work.
As a GoShare delivery professional, you can earn anywhere from $42 to $66 an hour, including tips. It's easy to set your own schedule and choose projects that work around your day job. And, get satisfaction knowing that you're helping your local community with moving and delivery.
Join one of the best gig economy jobs and onboard your truck and van through GoShare!
For more info and to apply as a GoShare delivery pro, click here.
Towing Services
Pickup trucks, straight trucks, and cargo vans are naturally strong vehicles for towing heavy objects. So, another great side hustle for truck and van owners is to provide a towing service for those who need it. 
You can find numerous individuals and small businesses who require towing assistance, ranging from apartment complexes to auto repair shops. For example, many people park their car in wrong places or encounter problems with their vehicle on the road. Local businesses can refer to you as a trustworthy and reliable towing service, earning you extra money when those situations arise. 
You may need to check with local businesses and do a bit of marketing for your towing service by calling and passing out business cards. In time, you should be able to gather several nearby clients and companies that pay for your towing services. For more info on towing, check out our complete guide on how to tow a car with your truck or cargo van.
Rent Out Your Truck or Van
An excellent source of passive income is to simply rent your truck or cargo van out to others. This is a business opportunity that can earn you money without even having to use your truck or van yourself. 
Several car sharing companies like Getaround and Turo offer a platform for truck and cargo van owners to rent out their vehicle to drivers in exchange for payment. On average, you can earn around $500 a month by renting out your truck or cargo van through Turo. Instead of letting your truck or van depreciate in value while it sits in your garage, put it to good use by having it work for you. 
Ad Wrapping Campaigns
Trucks and cargo vans aren't your ordinary vehicles; they stand out from the pack. Certain advertisers are constantly looking for ways to promote their products, and a moving truck or van on the road is a perfect solution for that. 
Ad wrapping your pickup truck or cargo van through ad wrap companies like Wrapify or Carvertise is simple and easy. There's not much effort needed to be done on your end, and you can expect to get paid up to $452 a month. Generally, an ad wrapping campaign requires you to meet a certain driving distance quota each month to maintain a stream of extra income. 
Acting as a mobile billboard is a perfect side hustle for those looking for a stress-free way to earn extra money. Plus, you can feel safe knowing that the wrap is totally removable and stain-resistant after your ad wrap contract is finished. 
Additional Resources
Looking for more information about self-employment, side jobs, contracting, or flexible work? Check out these additional posts from GoShare.