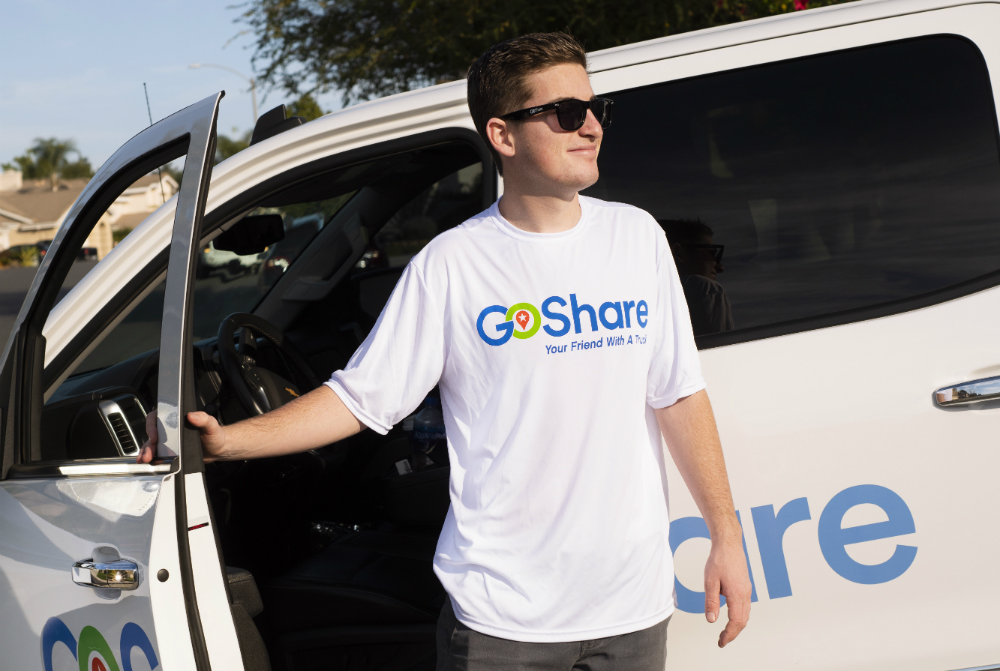 How to Get Hot Shot Loads for Pickup Trucks
How to Get Hot Shot Loads for Pickup Trucks
---
If you are looking to find hot shot loads for your pickup, GoShare is the perfect solution for you.
A hot shot load is a load hauled by a midsize class truck, such as a super duty pickup truck. Hot shot trucks often tow trailers that can range from 20 to 40 feet. However, this is not a requirement to work with GoShare.
Hotshot loads are often ltl loads. LTL stands for "less than load" meaning, less than a full container or truckload. An FTL load, or a full truckload, generally requires a semi-truck with a trailer dedicated to one load of cargo. For example, moving a shipment of 500 pieces of furniture from a manufacturer to a distribution warehouse. LTL and hot shot loads don't fill a full semi-trailer and can be moved in vehicles ranging from pickup trucks to straight trucks and box trucks. An LTL load may be several pieces of furniture moved from the distribution warehouse to the retailer. Or, it could be one piece of furniture taken on its last mile from the retailer to the consumer's home.
GoShare is the ideal platform for hotshot pickup truck drivers and truckers looking for extra LTL loads to fill their schedules.
We Find the Loads
One of the most difficult challenges of being a hot shot driver is finding freight, especially if you are just getting established and don't have consistent clients. Many hot shot drivers look for work on load boards. Hot shot load boards are highly competitive, and truckers can undercut each other to get jobs.
Let our marketing and sales team find your freight loads. GoShare is not a traditional load board. GoShare is an app that connects individuals and businesses with local pickup truck, cargo van, and box truck owners. We have relationships with local businesses that refer projects onto the GoShare platform. This means you spend less time marketing yourself and looking for work, and more time earning.
Project requests are sent out in a smartphone push notification to all the drivers in the area, and the first one to accept gets the load. No haggling, no danger of being undercut by another driver. While projects can be scheduled in advance, many hot shot load requests are for time-sensitive, same-day delivery projects. It's the perfect way to find extra hot shot loads for pickup trucks to fill your schedule.
Get Paid Fast
Traditional hot shot loads payout in 30 to 60 days. That's a long time to wait for a paycheck under any circumstance. However, considering you are on the hook for vehicle maintenance, fuel, and other working expenses, this wait can be especially painful.
Projects accept through GoShare are paid out in an average of five to seven days. GoShare will bill the customer on your behalf and deposit the money directly into your bank account once the payment clears. At the end of the year, if you have earned more than $20,000 on the GoShare platform, you will also receive a 1099-K for tax filing purposes. GoShare makes getting paid easy and ensures it happens quickly.
Work When You Want  
As an independent contractor, you aren't obligated to accept any projects on GoShare that don't work for you. You will get a summary for project details including pick up and drop off location, load contents, and extra equipment requests. Review the details and decide whether or not it is a project you are interested in. Only accept projects that work for your schedule, pass on those that don't. It's perfect for supplementing your existing hot shot business or to get you started doing hot shot work for the first time.
Insured and Protected
The Federal Motor Carrier Safety Administration (FMCSA) requires commercial hot shot truckers to have liability and cargo insurance. In addition to your personal coverage, any project taken through GoShare will have added cargo and liability insurance protection. This protects you from high damage claims in the case of accidental damage to the cargo during loading, transport, and unloading.
Want to learn more? Click here to learn about GoShare or to apply to join the platform.