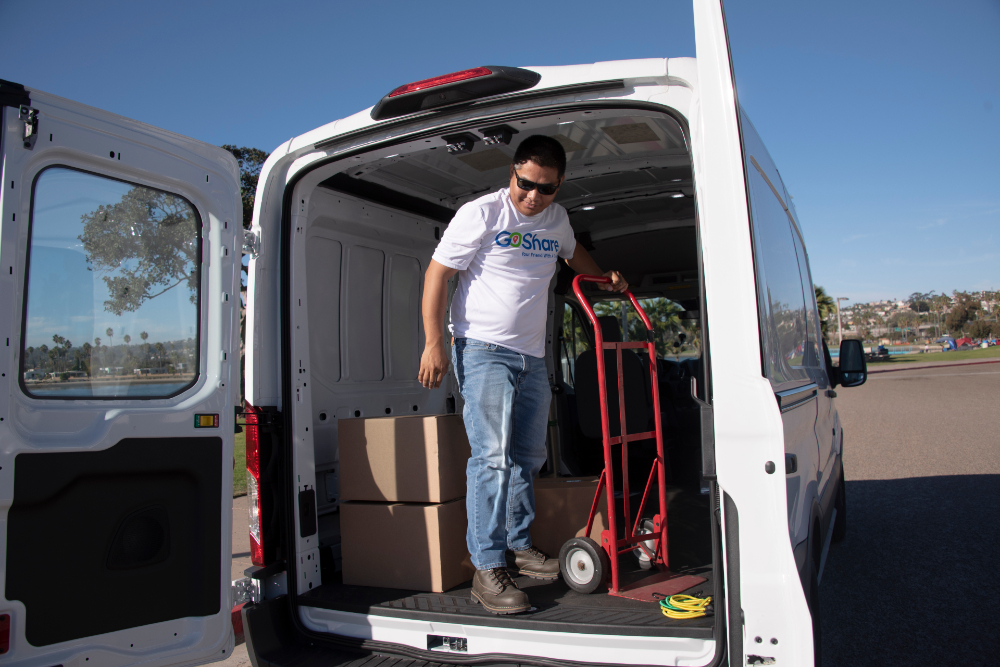 How to Find Loads for Cargo Vans
How to Find Loads for Cargo Vans
---
As a cargo van owner, there are numerous opportunities to put your vehicle to work and make some hard-earned money. Where do you start though?
Looking for cargo van, straight truck, or pickup truck loads can be challenging and time-consuming, but it doesn't have to be. GoShare is the ideal app for finding moving and delivery projects to fill your schedule. If you're in need of a side hustle and want to put your cargo Sprinter van to good use for extra money, GoShare is a perfect solution.
GoShare is available on the App Store and Google Play. 
We Find the Loads
Whether you're a cargo van driver or an owner-operator who runs a trucking business, finding loads for extra work is a difficult task.
Many cargo van owners rely on traditional load boards to find work. Unfortunately, these boards are riddled with competitive drivers who undercut each other to obtain the best jobs. Several load boards also contain limited information and fraud activity that undermine their reliability.
Let GoShare find loads for you! GoShare eliminates the hassle of using traditional load boards through its proprietary technology. GoShare automates a list of available loads near you by connecting individuals and businesses to local pickup truck, cargo van, and box truck owners.
Cargo Sprinter van loads are always in demand through GoShare's numerous partnerships with local businesses and national retailers. Certain businesses may need help with middle mile and last-mile deliveries to support their operations. Or, some individuals may seek moving and furniture delivery assistance. GoShare matches you to these projects in real-time, and you can choose to accept those that interest you.
Staying up-to-date on new loads is easy with the GoShare app. Whenever a new project is created, a push notification is sent out to all drivers in the area. 
Avoid dealing with drivers who haggle or undercut you. The first person to accept the load gets it.
Projects can be scheduled in advance, but many are time-sensitive, hot shot jobs and same day delivery projects that are perfect for filling your schedule.
Get Paid in Less Than a Week
Traditional truck and van loads payout in 30 to 60 days. This is a long wait to receive compensation for work under any circumstance. It's especially painful when you factor in the costs of budgeting for vehicle maintenance and fuel during this period.
You can expect to get paid within five to seven days when driving with GoShare. Payment is set up through the app, billing the customer on your behalf and depositing the money directly into your bank account.
Work When You Want
GoShare advocates for the be-your-own-boss mentality. You will never be forced to accept projects that don't match your moving and delivery preferences. As an independent contractor with a cargo Sprinter van on our platform, you retain full control and flexibility on choosing loads that appeal to you.
The GoShare app provides detailed information on a particular project, including pickup and drop off locations, load contents, and additional equipment requests. 
You may choose to accept or reject the project. Unlike other gig economy platforms, there are never penalties for declining a project. This system allows you to tailor your workload according to your lifestyle and business needs. 
Insured and Protected
GoShare keeps its drivers safe and its loads protected through our comprehensive insurance policy. Any project accepted through GoShare will have added cargo and liability insurance protection.
GoShare carries liability insurance and hired owned and non-owned auto insurance. This insurance covers items valued up to $40,000, protecting you from high damage claims in the case of accidental damage to the cargo during unloading, transport, and unloading. 
Want to learn more? Click here to learn about GoShare or to apply to join the platform.
Additional Resources
Looking for more information about the transportation industry and going into business for yourself? Check out these additional posts from GoShare.