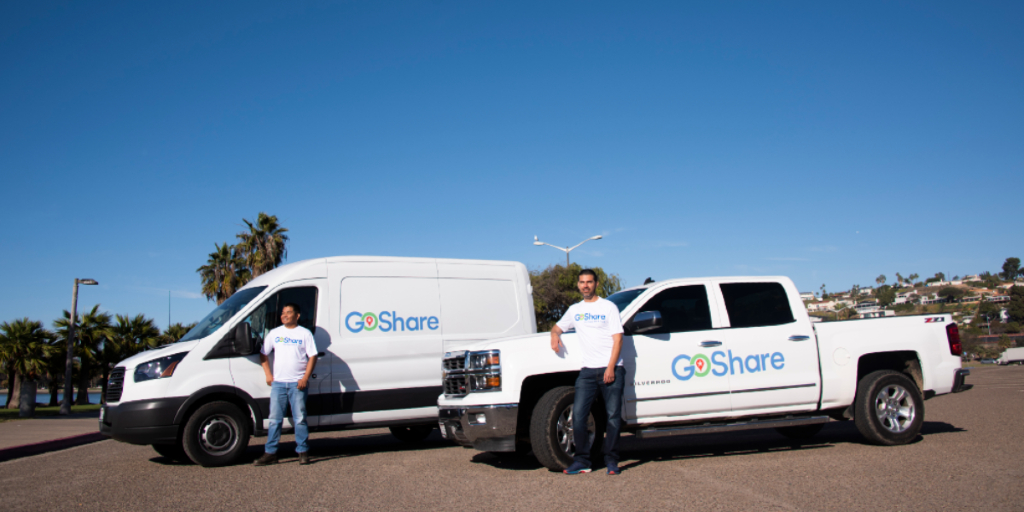 GoShare Has Raised $8 Million in Seed Investments to Improve Last Mile Delivery
GoShare Has Raised $8 Million in Seed Investments to Improve Last Mile Delivery
---
San Diego based, logistics technology startup has raised a total of $8 million since 2016.
Oct 26, 2021 – San Diego, CA | Cloud based logistics startup GoShare has announced additional seed financing led by Mark IV Capital, Cove Fund, Jason Calacanis's LAUNCH Fund and The Syndicate.  Existing investors Adasel Global Partners, Keshif Ventures and Eric Di Benedetto also participated, bringing the total amount of funding to $8 million. The company also announced that Jason Koch, the former President and Founder of Telogis has joined the board of directors.
According to CEO, Shaun Savage, "We are honored to have Jason Koch joining our team. His proven leadership experience and his ability to scale a fleet management software company makes him a natural fit for GoShare. The new funding will be used for hiring key executives, product development and geographic expansion across the US. We are executing on our roadmap to solidify GoShare's position as the premier destination for truck owners to make money and connect with customers who want the best last mile and middle mile delivery experience for their customers."
When asked about why he decided to join GoShare's board of directors, Mr. Koch said, "I am super excited to join Shaun and the GoShare team. Shaun has put together a strong team and I'm thrilled to help them take the company to the next level.  Additionally, I love the market opportunity. Helping businesses complete same day final mile deliveries at higher quality and lower cost is a welcome challenge."
Currently, GoShare is available in 33 major US metropolitan areas with 3 more scheduled to launch in 2021.  GoShare is focused on providing customers with access to their network of delivery professionals who can deliver to about 50% of the US population at a time when driver shortages are slowing down the supply chain. 
More than 10,000 delivery professionals have joined GoShare to provide last mile, middle mile, and hot shot trucking services nationally serving more than 85,000 customers nationwide. Retailers and other progressive businesses have gravitated towards GoShare to increase capacity and keep up with customer demand for fast delivery. 
GoShare's proprietary delivery platform consists of the GoShare Delivery API along with four highly rated mobile apps for iPhone and Android. GoShare uses machine learning, advanced algorithms and the data from delivering over a million items to accurately predict future delivery times and offer fair and transparent pricing. GoShare allows customers to access an easy booking interface, real time status updates, communication tools, exception handling, proof of delivery and automated billing. GoShare's logistics system excels in performing last mile delivery and middle mile delivery routes for big and bulky products on demand. 
All deliveries on the GoShare platform are covered by a comprehensive cargo and liability insurance policy. All GoShare delivery professionals are licensed, insured and background checked.
About GoShare: 
GoShare is one of America's largest marketplaces for truck and van owners, with a network of more than 10,000 delivery professionals who provide on demand last mile and middle mile delivery services. As an economic empowerment platform, GoShare enables thousands of entrepreneurs to manage their delivery business and provide critical delivery services to regional communities. Learn more at goshare.co