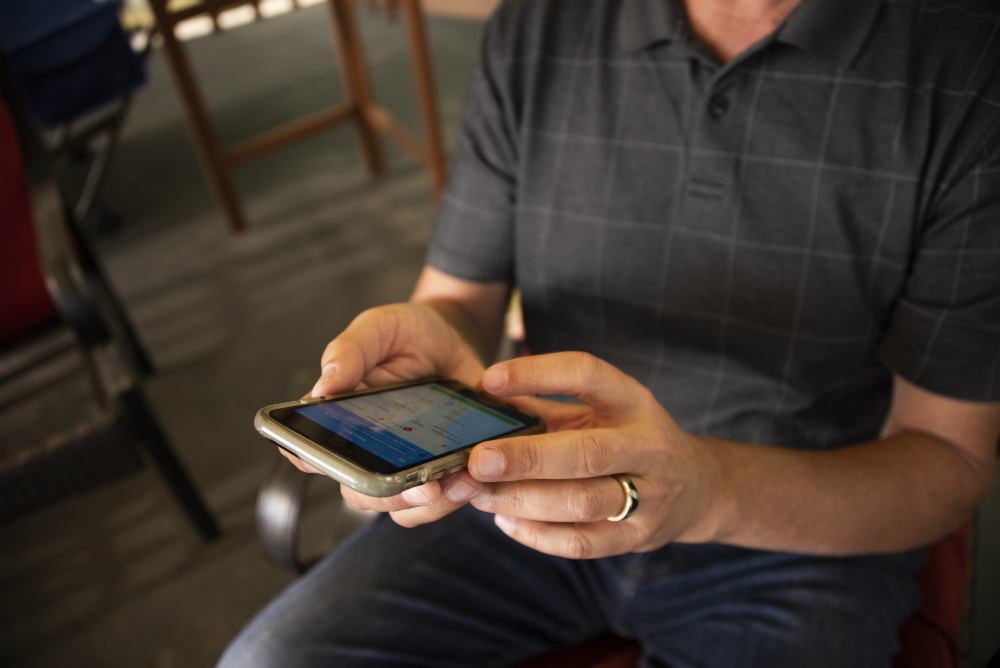 Pro Tips For Customers
---
Tired of purchasing a large item, only to find out it won't be delivered for two weeks? Or, need a hand with a quick weekend project or move? Whether you need a letter taken across town, or an entire household of items moved to a new county, GoShare is Your Friend with a Truck.™
GoShare's app matches you in real-time with local couriers, delivery professionals, and movers. Schedule in advance or request the dispatch of a driver to your pickup spot in under an hour. Every delivery professional and mover on our platform has gone through extensive background checks and vehicle inspections prior to being able to accept projects through GoShare. And, every project is insured with comprehensive cargo and liability insurance.
GoShare was built to help our customers save time and money when moving, hauling, and delivering cargo. It's convenient, fast, and reliable. Whether you are new to GoShare or a regular user, we hope these pro tips will help you get the most value and the lowest cost when you use our service.
Choose The Correct Vehicle
GoShare has a vehicle type for almost any project. Choose a courier vehicle for a small delivery such as a letter, parcel, or package. Choose a pickup truck, cargo van, or box truck for larger deliveries or home moves.
If you book a vehicle that is too small for your delivery, the delivery may need to be canceled or postponed until a larger vehicle can be assigned to the project. A new estimate would be issued if a vehicle upgrade is needed. Project cancellation fees will apply to compensate for the original delivery professional's time and gas.
If you have any questions about what the right size vehicle is for your project, please don't hesitate to reach out to our customer service team. We'd be happy to advise you.
Provide Clear and Detailed Instructions
Do you need that armoire on the second floor? Do you need that new patio furniture assembled in your backyard? Be sure to include that information in your project request. The more details you give, the better prepared your driver will be for the project at hand. This includes adding photos of the items if you have them. 
Please accurately list your items when booking. When you begin typing in your item, you will see a list of suggested entries come up. If you have a sleeper couch, please select "sleeper couch" and not a regular couch. If you have a sectional, tell us how many pieces there are. These details help ensure that delivery professionals bring the correct equipment to ensure a safe and quick move.
If you live in a gated community or need a code to get to your residence, you can send that information to your driver after your project is booked. You can contact your delivery professional through the app to provide additional details as needed.
If you would like a contactless delivery, please indicate so in the comments of your project.
Use a Valid Payment Method
When you schedule a GoShare delivery we place a temporary authorization hold, much like renting a truck. The authorization will be for $100 or the high end of the estimated amount of your delivery (whichever is greater). When the project is completed, your card is charged for the final amount of the project based on how much time it takes to complete and the authorization is voided. If a project is canceled the authorization is also voided, this may take up to 3 business days to reflect on your bank statement.
If you book using another person's credit card, our team may hold your order until we are able to contact you and confirm proof of identity. Please respond to our team quickly to avoid delays to your project.
Choose The Correct Number of Delivery Professionals
Some items, such as appliances and large furniture, are too large and heavy to be moved safely by one person. If you are unable to provide assistance lifting and loading those items, please hire a helper when placing your order. If the item is heavy and you are questioning if you can help or not we recommend choosing two to be safe. If a delivery pro is unable to safely move an item, and a second professional was not hired, your project may be canceled or rebooked with additional delivery professionals.
Our delivery professionals are covered by GoShare's cargo insurance. However, the actions of our customers are not. If you decide to help move the item and drop or damage it, we will not be able to process a damage claim or provide compensation.
Add Equipment and Assembly
If you are moving an item over 50lbs, please add a dolly request to your booking. If you are moving an appliance, please request a delivery professional with an appliance dolly. If these items are required to safely move the item, the delivery pro may add them to your final project.
If you would like your item assembled, please indicate when booking your project to ensure the delivery professional that arrives has all the correct tools to do the job. If you do not indicate this in advance, they may not be prepared to assist with this portion of your project.
Communicate With Your Delivery Professional
After your delivery professional accepts your request, you will have access to a phone number to reach him/her. We encourage you to contact your delivery professional if you have any questions or if you want to discuss the details of the project before they arrive. This is especially important if you have special pick up or drop off instructions such as a gate code.  Good communication is the key to having a great experience with GoShare. We have also built a lot of communications tools into our system to notify you automatically when your delivery professional arrives and when your cargo is delivered. You can also contact GoShare directly if you have any questions that your delivery professional can't answer. Our customer support team may contact you via phone, email, or text if we have any questions about your order so try to keep an eye on your phone.
Have Your Cargo Packed And Ready To Go
Your delivery estimate assumes that the delivery pros will be able to start loading as soon as they arrive. To avoid overtime fees, please make sure your cargo is packed and ready to go before your delivery professional arrives. Delivery professionals are happy to carry your items out of a home and bring them inside to complete the delivery. Please make sure to note in your project order if there will be any stairs or elevators.
Arrange Your Own Ride
GoShare delivery professionals are only able to transport cargo, not passengers. Please make sure to arrange separate transportation for yourself, if necessary.
Earn GoShare Credit
After you create your account you will be assigned a unique GoShare Promo code. You can invite friends to join GoShare using your promo code. When you share your GoShare promo code, your friend will get $10 off their first delivery and you will receive a $10 GoShare credit after their first delivery is complete.
Other Resources
Did you find these tips helpful? Check out other posts by GoShare for moving and delivery assistance.