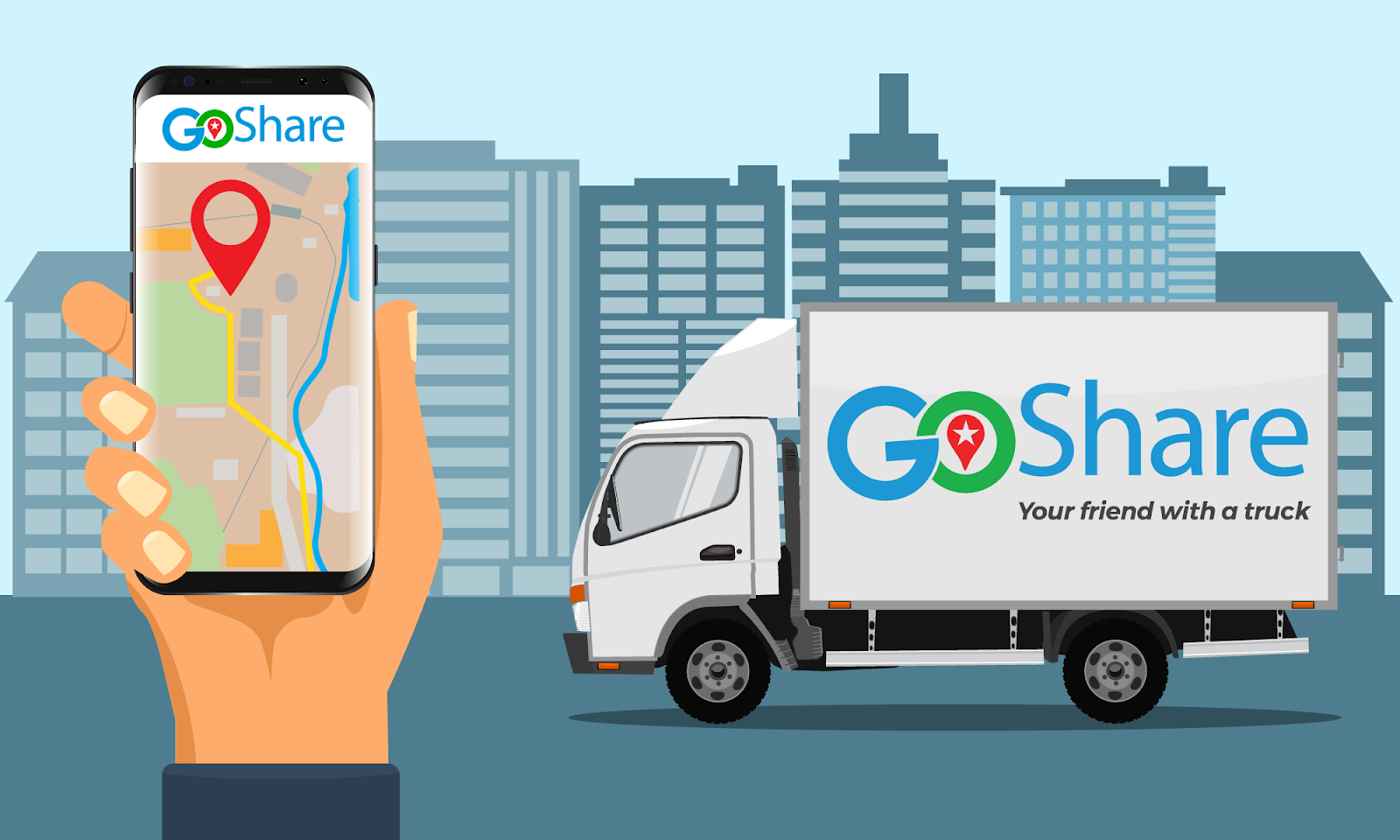 GoShare Review Round Up
---
People and businesses love GoShare! Here are some examples of what our customers are saying about their experiences. These 5 star GoShare reviews are from iTunes, Yelp, and Facebook. Looking for GoShare Driver reviews?

"Download 5 moving apps in Los Aneles. GoShare was the only one that had driver availability asap. Easiest move I have ever done and cheaper than renting a u-haul or a guy off Craigslist."
– Enzo (Los Angeles, CA)
"I was in a bind. I bought a full size bed box spring from Costco.  I thought it would fit in the back of my Yukon, well……after I got it out to the parking lot, I returned it to the store.  I was told at that time about this service called GoShare.  As desperate as I was, I went online, downloaded the APP and began the adventure.  I received the confirmation within minutes, and 25 minutes later, Roger was in the parking lot loading my box spring in his truck.  Delivered, unwrapped and placed on the bedframe (which was upstairs) within minutes.  I love this service. Thank you for saving my day and your ingenuity!!  I'm telling everyone!!"
– Jackie E. (San Diego, CA)
"Starting to use the GoShare app has been a great programmatic decision for us, and has benefited us in many ways, most notably helping our program save time, money, and stress"
– Audrey W. (San Diego, CA)
"Ace Hardware and our customers have been very pleased with GoShare's on demand delivery service. GoShare has delivered on their promise to provide a low cost and efficient option for our customers who need to have large items delivered the same day."
– Shannon C. (President, Griffin Ace Hardware. San Diego, CA)
"Great service, reasonably priced, quick & efficient. How have I just found out about this service? Recommended by Brookhaven Costco last weekend – it was a WINNER!!"
– Catherine C. (Atlanta, GA)
"Today used Goshare.com service for the first time and service is amazing. It's like Uber for pickup trucks! Super easy to use. Just after booking this service through online, Scoct M with GMC Sierra 2500 truck arrived on time and picked up big furniture boxes from Costco and delivered at my home. Scott M took great care in moving big furniture boxes and securing them in his truck so that they stayed put in transport. Booking this service to delivery is seamless and very efficient and now we can buy any big items in Costco without any hesitation."
 – Sr. W. (San Francisco, CA)
"I am 110% satisfied with GoShare for a few reasons.  I would like to start off by saying how genius of a company this is.  I haven't heard about GoShare until today when I called Pier 1 Imports and asked how they recommend I pick up my large furniture order.  They recommended that I contact GoShare for delivery service, so I took their advice.  I went to GoShare's website, and it was very user friendly – super easy to state my service request, select the expected weight of items, choose pick-up/delivery time, and enter pick-up and delivery address.  Within seconds I received an email from GoShare's customer service center, confirming my request.  I received a personal phone call from the delivery driver (which I so appreciated), introducing himself and confirming the time of pick-up and delivery.  The team member showed up to my home on-time, with a friendly smile on his face.  It took him only minutes to unload his truck and personally deliver the items into my home.  Easy as pie!  The invoice was billed directly to me.  The whole process couldn't have been more sufficient.  I rate GoShare with 5 stars and recommend everyone to use their services.  All around a very positive experience!"
– Katie S. (Los Angeles, CA)
"Signed up for pickup and drop off of furniture from a nearby warehouse retailer. Had it completed quick & neatly. Will definitely be using goshare again."
 – Qe B. (New York, NY)
"GoShare was great!  We needed someone to move a sectional for us from one location to another.  We don't own a truck and didn't want to put anyone out by borrowing one.  GoShare didn't cost much more than renting a truck and the GoShare truck came with a strong driver who was willing to help move the furniture.  I will definitely use GoShare again."
 – Michele C. (Oceanside, CA)
"GoShare made my move quick and easy! I had two awesome drivers/helpers who helped move my 2br apartment, including having to manoeuvre 2 huge couches up some stairs and around a corner to get them into the new place. Credit where credit is due. I simply couldn't have done it without them! The app is super easy to use, and my request was answered almost immediately. While there are a few kinks to work out, such as the pricing predictor not being very accurate, I'm sure they are always working on improvements. If you want a hassle-free move, use GoShare!"
 – T. Slover (Atlanta, GA)
"My GoShare experience was exceptional. I used the service for a sofa that I had delivered from Living Spaces. Booking a time with GoShare was super easy. Moises, the driver, showed up the following day right on time with the sofa. Together with the help of a friend we wheeled it inside. He was super friendly and very easy to communicate with. The whole experience was easy! The pricing was very reasonable too. I will definitely use GoShare for all future deliveries and times when I need a truck. Living Spaces, you should definitely recommend GoShare to your customers. The experience is top notch."
 – Amanda N. (San Diego, CA)
"Big shout out to GoShare! Moises H. and Matthew S. accepted my order through the GoShare app. Together they loaded a purchase in one part of town and delivered to my address within 25 minutes.
I received an estimate, their photos and names ahead of the job. I was able to relay the info to the seller (perfect theft prevention tool.) A message came through at the time of their arrival to the pick up spot. Very soon after, two well-groomed, pleasant individuals arrived at my door. The item arrived in perfect condition. 25 minutes later? These guys had ferried this large antique (in two pieces) through a narrow passage and expertly slid it into a tight corner-no scratches or dents to the item or to my home.
Need that "black car" level of  service? GoShare, my friend!"
 – Ellen D. (San Diego, CA)
"This is honestly Uber for movers. I did it same day in Atlanta, and overall I was happy. I had one room, one mover, one van. Total cost was $127. Overall, still cheaper than other services. It saved me when my friends flaked. I think estimates are too low tho. They pay their workers VERY well. They get 80% of what you pay, so at least you know you really are paying that person for their work at an honest rate. I'll use this again!!!"
 – Robbie R. (Atlanta, GA)
"GoShare is amazing! We purchased a large china cabinet and my husband hurt his back and was unable to help move it. We tried moving companies who would either quote us an insane amount for one piece of furniture or they backed out at the last minute. Found GoShare and decided it try it out for the price. Our team of Brett and Juan were awesome – they were easy to get a hold of, very professional and polite, and showed up on time with everything we needed for the move.  The move was quick and I couldn't be happier. Highly recommended!"
 – Kristin H. (Hoboken, NJ)
"What a delight to deal with! We purchased 48" T.V. @ Costco. They referred us to GoShare. I posted my request in phone app. It was filled by Fidencio. He met us at foot of Costco ramp. Loaded and delivered to our home, uncrated, screwed into base. All for reasonable $32."
– Ellen L. (San Diego, CA)
"Referred by Costco for pick up of some items that required a truck.  Had a great experience, efficient and cost effective. Great idea for help with moving all kinds of items."
 – Judy P. (San Diego, CA)
"Used GoShare to move a studio and I absolutely loved it! It was on time, charged reasonable price, price included the driver helping with loading/unloading, and overall provided us with a fast and smooth moving experience. I just wished that they'd allow the customer to ride with the truck but that is their policy and we managed to make it work anyway.
So, 5 stars for our easy move! Thank you, GoShare!"
 – Bita N. (Atlanta, GA)
"I have used Goshare 3-4 times and each time it was flawless. The drivers were on time, helpful, courteous and patient with all the moves. The pricing was comparable to the vehicle, hours spent and task. I highly recommend Goshare for any quick moves."
 – Rosina R. (Jersey City, NJ)
"I've used GoShare twice now. Once for a local move and then for one across cities. I did not have a lot of luggage and did not want to pay a huge fee for another moving service. The drivers both arrived a little late but as I was not in a hurry it didn't matter. They were great and did not let me lift a finger. I paid 1/10th the quote a different moving company gave me to move my stuff from Los Angeles to San Diego. Definitely recommend GoShare and will use them more often!"
 – Sreya R. (New York, NY)
"My experience with GoShare has been positive. I've used them a handful of times and each experience has been good. For example, a dining set for 6, awkwardly packed, a patio set bought on Craig's List, furniture purchased at an estate sale…. Things that I couldn't remotely get in my car, nor manage without muscled and creative loading help. The challenge for me is estimating the vehicle-size needed, and the weights of items. But shortly after entering the parameters on the app, the driver calls and there's opportunity to explain what's needed. The drivers are friendly and helpful. I suggest good communication to calculate cost to minimize unpleasant surprises. Keep in mind the calculated cost, is still an estimate. I further suggest ensuring the driver knows pick-up details and delivery requirements. They are not professional movers just like Uber/Lyft drivers are not professional drivers. It's unfair to equate GoShare to Professional movers. If cost is a concern, I suggest comparison shopping before the delivery is required. Compare competitor cost, and lead time. I have hired movers for small jobs and those that will take small jobs, may charge a fee for showing up before the work is started, or have a minimum cost. The GoShare drivers have carried items in to where I wanted them. I'm unsure if this is their practice or if I got lucky. Again, it's good to indicate your expectations to anyone who moves your things. I suggest you plan to either help the drivers load/unload at both ends or tell them in advance if multiple people will be needed to lift and load items in and out of a truck bed, or if a dolly would be helpful. It's often not the weight but the awkwardness of things. Hiring movers or renting a truck for a single purchase/item can be expensive and a hassle. Go Share is convenient, reliably available, doesn't hassle your friends who happen to own trucks, and cost-effective in my experience even after a gratuity. I would not consider GoShare for a big job, although maybe. But for those pallets of impulse purchases at Costco or Home Depot, or that unplanned purchase at an auction… I would, and have, recommended GoShare to others who like me, wish we had access to trucks a few times a year."
 – Rebecca R. (San Diego, CA)
"This was the best experience. I purchased a sofa on craigslist and needed it delivered to my house. David was so efficient! He arrived to the pick up place a few minutes earlier . Very good communication always. He had the job done in less than 1 hour. I would definitely recommend him! I will hire these guys again. The quote was exactly as we expected."
"I am happy that you were at Costco. Your service is certainly needed and I will use you again. The drivers were fine. "
– Margot D. (San Diego, CA)
"Great service. The guy who picked up my couch was prepared with straps and furniture blankets. He arrived right on time and helped move the couch into the apartment. Was way easier than trying to rent a Uhaul after hours, fill it with gas, drop it off etc. Will definitely be using this service again."
– Sierra S (Los Angeles, CA)
"I used GoShare on Sunday to get a large armoire picked up and delivered. This is a great service and I will definitely be using it again! This is so much better than having to rent and drive a moving truck or van and having to find someone to help. Alex, my driver, was great!"
– Jennifer R. (Atlanta, GA)
"What a great service.  This is really is the Uber for delivery and moving of larger items.  I have used it twice in the last few weeks (once for a Weber BBQ grill and another time for a desk).  Service was prompt, professional, and I felt the price was very fair.  Would definitely recommend."
– Ken S. (Sunnyvalle, CA)
"Easy setup!  Great follow up!  Great move!  Great customer care!  The process of getting the quote and having the job awarded seemed like it took only a few minutes!  Shaun, thank you for setting me up with Antonio!  He called within minutes of the award phase and we talked about the job details.  He did a great job!  Antonio took great care in moving my 6 boxes and securing them in his truck so that they stayed put in transport!  Oh, this was sooo much easier than doing it myself!  Thank you, thank you, thank you!"
– Judy R. (Horseheads, NY)
-The first time I was going to buy this couch… .. just happen to be the day Big Lots had sent out a message to the stores that they no longer had a delivery service… that they had just fired the existing company and were trying to find a replacement.  Hearing how bad their old service had been when I came back a second time to buy the couch I was considering not using the new service "goshare" but instead rent a pickup truck from uhaul & do it myself.  But I'm glad that I did.  So this is my first time using your/this type of independent contracted out type of service.  Since the Sales Representative at Big Lots was familiar with your site she went on my phone & entered the necessary information in seconds.  I bought the couch at 1pm and I hesitated at her putting 2pm as a pick up time.  But she said there were drivers in our local area & whoever finished their current delivery first would let me know that it had been assigned & keep me informed as to the status of my pickup through the phone application.  She said I should hear within 15 minutes to half hour that my request had been assigned & give names of drivers.
So I was a little surprised when I didn't hear anything that first hour, the second hour   LOL…. but it all worked out.  The driver apologized for the misunderstanding.  And explained that he was coming from San Diego & what would be a good delivery time…. I told him there was no reason for him to spend an hour or more sitting on the freeway in stop and go 5pm traffic on a Friday night.  I appreciated that he was flexible so it worked out for both of us that I could run my errands and he would come up from San Diego later that evening after traffic had died down.  It worked out great!  I was very happy with the service and driver.  After he was done getting everything into the house, before leaving he was kind enough to ask if I would like assistance in removing the cardboard & plastic covering from the furniture.  five stars!  Thanx Again.
-Heather H. (San Diego, CA)
"Excellent! So glad an employee at costco helped me with the app. The driver was so helpful and came right away. He even helped me assembly the sofa."
– Patricia H. (San Diego, CA)
"I used GoShare to help me get a large entertainment center home from Costco. I have to say, it was above and beyond my expectations. I requested the truck while at Costco and we had a pretty short wait. Julio, our guy, was amazingly strong and helped load and unload items very quickly. It was pretty seamless. Our driver also spoke both Spanish and English. We ended up needing a dolly, no problem, he had it on him! My only suggestion would be that they should increase the default tip to 20%. Our guy worked super hard and I'm happy to reward that! I highly recommend this service and will use again! It was easier and cheaper than us renting a truck and recruiting friends or hiring day laborers."
"Needed a new couch delivered from Big Lots without any planning. Store was closing, googled this App and within 15 minutes had a professional driver pick up and deliver to my house. So simple from start to finish."
 – Weston P. (Los Angeles, CA)
"We were referred to GoShare by our local Pier 1  store, where we had purchased a chair and had no way to get it home.  Unable to reserve a truck from Home Depot (first come first serve, no timeframe), they suggested we call Go Share.  We're glad we did!  Submitting the online request for quote was easy, and the price was quite reasonable.  We made the reservation, got a confirming email quickly with the driver's contact info.  He called when he was heading over to pick up the chair to confirm location and showed up a few minutes later.  Provided friendly, efficient service, and brought the item in and helped set up.  Great service – would definitely recommend and would use again.  Thanks to Pier 1 and to GoShare!"
 – LL C. (Encinitas, CA)
"The company I work for needed to get some junk out of office in a hurry. We already knew about GoShare, and they were the perfect solution. Someone came within and hour and moved all the unwanted stuff away from us forever in one go. It was so easy and convenient. We wanted the stuff taken to the dump (which charges a $40 dump fee), but the driver took it over to Salvation Army, saving us the money. I would definitely use them again!"
– Beth H (San Diego, CA)
"If you guys are looking for help with moving check out goshare. This is like Uber for trucks and vans, and it is absolutely amazing! We had some stuff in a storage not far from home and just couldn't find any way to transport it for less than $400… until we found goshare. We paid less than $100 for a 2 hour job involving moving and driving. Isn't it glorious?"
– Dmitry S. (New Jersey)
"I tried the App because I needed a china cabinet moved. I put in the details and had a response in under five minutes. I had two guys and one small truck. Matt and Henry were right on time, the piece was loaded and delivered without a hitch. The price was very fair, both guys were very pleasant. I will definitely use this service again."
– Jeanine E. (Santee, CA)
"I had an absolutely GREAT experience with this service! I scored an UNBELIEVABLE find at a Goodwill (a retro couch in absolute mint condition at a great price!) and was desperate to get it home, but had no way to make that happen. A friend told me about this service and I reluctantly (and yet, desperate!) decided to give it a shot. I was nervous, but had to go out of my comfort zone and make it happen because the store was about to close. I downloaded the app and ordered it around 8 pm, and they were there (shockingly!) by 8:30 pm! David was my pick up contact, he arrived in a new, big, clean, shiny red pick up truck. He was fast, efficient, incredibly strong and very nice and easy to work with. It took a 1/2 hour from store floor to my living room (and that was up two flights of stairs!) And the charge was very reasonable, especially given the last second request, after 8 at night!
I can VERY strongly recommend this option to anyone who needs that, 'friend with a truck'. (And you don't even have to jeopardize a friendship over it!) definite 5 Stars. *The app was a little tricky to negotiate and I had some challenges getting through that part, but it eventually went through, and the rest was a dream situation!"
 – Tracy T. (Los Angeles, CA)
"I genuinely enjoy helping people…with that being said, I found a company where I can use my truck for what it was designed to do and make a little extra money on the side and still reasonably priced for the customer. Majority of people in San Diego drive cars so this made sense to me to become a driver for GoShare."
 – Fidencio R. (San Diego, CA)
"I used GoShare today for the first time. I purchase some furniture from West Elm, only to find it didn't fit in the back of my car. The West Elm employee mentioned the service so I gave it a try. It's amazing!! I ordered the service using their app then went home. Within an hour, a driver showed up in front of my condo with my items loaded up safely in his truck. The price was extremely reasonable for this type of service, the driver was nice, and the service was very fast. Can't wait to use it again!"
 – Heath H. (San Diego, CA)
"Go Share is the best service I have ever used for moving stuff. I was stuck and on a time crunch when a mover canceled on me at the last minute. I searched and found this app and figured I may as well try it out. Within minutes I had a response, and Nick was on his way. He was friendly, helpful, and he saved me. And as professional and courteous as any moving person has ever been. I'm going to recommend this app and Nick to everyone I know."
 – Joseph L. (Los Angeles, CA)
"I will use GoShare again and recommend them to anybody that needs delivery service. There prices are great and their drivers are courteous and professional. My driver Angela communicated with me from the moment she knew would be delivering my product from door to door. Thank you Angela and thank you GoShare."
 – Sharon A. (San Diego, CA)
"I just tried this
service
out today! I ordered some furniture that was delivered to me, but after receiving the items, I changed my mind. decided I wanted to return a couple nightstands back to Pier 1. well… how the heck was I gonna do that!?! I drive a small sedan, nobody I know has a truck or SUV and since I'm fairly new to my building, wasn't sure about asking my neighbors for help either! I remember seeing a post on Nextdoor not too long ago and thought I'd give it a go.
easy to use app
… driver came at the time I requested, loaded my
furniture
onto his truck and off he went. met him at the store, he unloaded the items and done. 30 minutes of time and all under $35!! BRILLIANT!"
 – Rupal B. (San Diego, CA)
"Had an awesome experience with GoShare!  We bought a mattress from Mattress Sale Liquidators and we my girlfriend wanted it immediately so they suggested we use GoShare for delivery.  Our driver Fidencio was awesome and not a second was wasted.  So efficient and easy.  We bought the mattress, placed the GoShare order and headed home to clear space. Fidencio picked up the mattress and boxsprings and was at our place in no time. The whole process from order to delivery was done in about an hour.  Really convenient"
– Drew P. (Orange, CA)
"New GoShare fanatic here! I referred GoShare to a company in Orange County to help move a large, heavy, expensive table purchased from my company through Craigslist. Our driver, Antonio, showed up on time and well equipped to handle the job. He went above and beyond my expectations by disassembling the table top for easier moving (wish I would have done that when I moved it the first time!). He had blankets to protect the table and tarps due to rain in the forecast. He was here and gone in 15 minutes flat. I will absolutely recommend GoShare to friends, family, and business partners for all their moving needs. Looking forward to another opportunity to work with the GoShare team in the future!"
 – Sara L. (San Diego, CA)
"Pleasant front office staff. Terren was a great driver, on time, efficient and with a positive attitude. The cost was modest…cheaper than renting a moving truck!"
– Virginia T. (Oceanside, CA)
"Fabulous service! My driver, Matthew, was courteous and friendly (and strong to lift the heavy package!). He did exactly what he was asked to do at exactly the time he was asked to do it. And the price was very, very reasonable. It doesn't get better than this!"
– Cari F. (San Diego, CA)
"Definitely drive with GoShare, it's the ultimate side job! The best part about driving with GoShare is you are on your own schedule. I started driving and immediately I was making really good money."
– Stephen G. (San Diego, CA)
"This is one of the best services I've ever encountered. Extremely friendly and helpful, and very affordable, I will never rent my own uhaul again. Highly recommend"
– Connor C. (San Diego, CA)
"Used GoShare to pick up a spin cycle I bought from a Craigslist post. I simply booked the appointment and got 2 drivers within minutes. The day of, got a call from the driver to provide details. They showed up at the pick up site on time and delivered it in a timely manner. It was easy and affordable. No need to ever rent a truck to pick up oversized items. Great service for a problem we've all had at one time or another."
– Soma U. (Los Angeles, CA)
"I live in New Jersey, stumbled upon this App accidentally, and it turned out to suit my needs perfectly! It was easy, both the GoShare Rep that assisted me and Ted the driver were extremely pleasant to work with and the whole cost to pick up and deliver a sofa to my house was exactly what I had budgeted for, without having to ask around and beg my friends for help. "
 – Brian (New Jersey)
"I have used GoShare 2 times with great results. They were quick to respond and called ahead of time to confirm that they were on schedule and treated our furniture with care and concern. I absolutely recommend GoShare to everyone and will continue to use them myself."
– Victoria N. (Encinitas, CA)
"It's phenomenal no matter what other job you have, it's all on your schedule so it's really fantastic…the income helps me out a ton. I feel like you get an even buck for your hard work. It's amazing how much people appreciate the delivery service"
 – Andrew P. (San Diego, CA)
"If you guys are looking for help with moving check out goshare. This is like Uber for trucks and vans, and it is absolutely amazing! We had some stuff in a storage not far from home and just couldn't find any way to transport it for less than $400… until we found goshare. We paid less than $100 for a 2 hour job involving moving and driving. Isn't it glorious?"
 – Dmitry Sorokin (New Jersey)
"Great experience! If I could give 6 stars in any available category, I would. Shaun was very helpful with the setup, and Andrew (the mover) handled a challenging job with a great attitude! He was very courteous, conscientious about office, home, furniture & decor safety, and very accommodating for random "moving" stuff…I can't thank these guys enough!"
– Bonnie B. (San Diego, CA)

"OMG!! I cant remember the last time I have been this excited about finding something new….let alone a service. Well, this is it my friends!! Was in a little bit of a panic cause my friend bailed on me with his truck that I needed to move a sofa. I hopped on Craig's List hoping to find a "guy with a truck that will move you"….and what did I find, but GoShare!! Within an hour Shaun had replied to me that he is ready to go. Arrived on time. Picked up sofa and off we went. Shaun was so professional and kind. If there is anyway for you to ask for Shaun…I would HIGHLY recommend him!! Thank you GoShare and thank you Shaun!!"
– Suzanne A. (San Diego, CA)
"Just used this service for the first time, a very nice guy named Ron helped deliver a couch from a local furniture store. Prompt and courteous, and really helpful and had his own tools to help us get the door off the hinges to allow the piece through the door. Very reasonable, great service."
– BGrace G. (Cardiff by the Sea, CA)
"I just used it for the first time and everything went pretty smoothly and fast. I needed two helpers and a truck on a rather short notice, to pick up an appliance item at a store and bring it to my house. Everything from getting the quote, to having my job accepted by the helpers to the actual pickup and drop off and payment, worked out great. Only confusing thing for me was that Goshare sent two separate guys with their own trucks instead of two guys in one truck, but I guess that's just how it works. The price wasn't super cheap, but it was reasonable — I got some quotes off Craigslist first to compare. Will likely use again if I need them."
– Pranav A. (Los Angeles, CA)
"I needed a dining room table moved.  I discovered this service.  Wow.  I love this.  This beats renting a truck or moving van just to move one item.  The service was easy, affordable and the driver Julian was very considerate and helpful.  Total cost….$29.99.  Much less than a truck rental once I factored in gas, etc and having to go and pick it up and take it back."
 – Robert S. (San Diego, CA)
"I used GoShare in NJ a few weeks ago to move a dining room table I purchased from Craigslist. The experience was so wonderful, I wanted to make sure I took the time to review. I requested a driver only 24 hours in advance and they were able to accommodate my schedule, as well as the sellers. My driver, Reggie was beyond sweet and super patient with us. He even assisted us with removing and putting the legs back together. Which was great because we were so clueless how to get this table up my apartments two flights of narrow (extremely narrow) stairs. The price was amazing too—you can't beat it! I really hope GoShare takes off, such a great idea, especially for city living, and I know people in other areas who would love to use this service too! "
 – Jess M. (New Jersey)

"I was looking for a mover for a few big items, short distance. Found these guys on craigs list, it's like UBER but for moving. I loved the simplicity of it, and they did a great job, very reasonable price. I would definitely recommend and use them again too"
– Lyn R. (Washington, UT)
"This app is great and I had a fantastic experience using it. Earlier this year, I had to move from one apartment to another in San Diego. Most of my belongings are pretty small, and I thought I could move most of it in my own car (a sedan) with just a couple of trips. The only problem is, I had a bed/bedframe and a few big items like TVs and a dresser. I looked up the prices for movers and they were WAY too expensive. I also thought about renting a moving van, but that meant I had to move everything myself. I googled around and found Goshare. I downloaded the app and scheduled a pick up, just like Uber, and on the day I picked, one of their drivers came to help me move with a big van. It was super easy – I helped him load up my bed and the rest of my items and he delivered them to my new place. Made my move much easier – the whole move was done in an hour. I didn't have to return the van or pay a ridiculous amount of money for movers. Customer Service was great and the price was right. I will definitely be using this app again!"
– Jonny V (San Diego, CA)
"Fantastic service! We used it to move my office and it was so much better than using a moving company. We knew what it was going to cost beforehand. The two men moving us were working for themselves and they really cared about what they were doing. I was 100% satisfied. We then used GoShare to pick up and deliver a sectional sofa from a private seller. In the past we would have had to go rent a moving truck and then pick up some day laborers. Really a painful process. This time my wife set it up and oversaw the process. I didn't even have to leave the office. This is a great disruptive service and I fully expect that it will have to fend off traditional moving companies fighting to make it GoShare somehow illegal. Fight on! Looking for investors? I have some thoughts."
 – Skip C. (San Diego, CA)
"I absolutely love the idea of this service and it worked well for me. I bought a bed frame on Craigslist and had no idea how to get it home. A quick Google search brought me to GoShare and I requested a truck online. For some reason the online order didn't go through, but I called the company (on a Saturday) and they hooked me up in no time. Great concept, great customer service, and a new way for me to feed my Craig's List addiction:)"
 – Amanda H. (San Diego)
"I planned to borrow my friend's truck to pick up a couch from Craigslist, but his battery died right before the pickup time. I couldn't reschedule because the seller had other people interested in the couch. Luckily, I remembered hearing about GoShare! I was able to quickly get a driver to help me pick up my couch, I would definitely recommend others to use GoShare!"
 – Travis S. (San Diego)
"Booked with GoShare the day before the move. Driver showed up the next morning right on time. Move was excellent no problems at all. Would use them again and recommend them to anyone looking to move."
 – Terri K. (New Jersey)
"Used GoShare to move a studio and I absolutely loved it! It was on time, charged reasonable price, price included the driver helping with loading/unloading, and overall provided us with a fast and smooth moving experience. I just wished that they'd allow the customer to ride with the truck but that is their policy and we managed to make it work anyway. So, 5 stars for our easy move! Thank you, GoShare!"
– Bita N. (Atlanta, GA)
"I can supplement my income with GoShare so it really helps out. I love the flexibility, you only pickup jobs that you want. It's great, you're just helping people out and it's fun. I've worked with Ray so many times we are friends now. If you're thinking about driving just do it, there is no downside, only upside. Be friendly, be outgoing and you will be fine."
– Emilio M. (San Diego, CA)
"Raves for GoShare! A new moving and delivery service. I used GoShare for the first time today. Christian walked me through the whole process as it was complicated as I had numerous pickups. I arranged for the driver to pick up plants at 3 nurseries and deliver to the residence where I had an ongoing installation. The service could not have been better. Ron, the driver was courteous, helpful and on time. The charges were very fair. I highly recommend this service. Download the App and you can order from your phone or iPad. I will certainly use again."
 – Jackie S. (San Diego, CA)
"One of the best new apps! The app service and the drivers are top notch…would definitely recommend!!! "
– Eric S. (New Jersey)
"I had found a beautiful sectional couch on craigslist that I really wanted to get, but had no way of getting it back to my apt. I had no idea that this service existed until doing a google search for furniture delivery services. It was a very inexpensive, and super easy way of getting delivery when you don't own your own truck. The 2 drivers arrived at the pickup location on time, and were at my house with the couch in 30 mins. They were friendly and professional. The entire process was done in less than an hour. On top of that, I booked the service very last minute and they were still able to accommodate me. I will definitely use them again in the future."
 – Lea W. (Carlsbad, CA)
"I had a coworker ask me about how to move a dresser and a few other items. I was trying to figure out which friend I was going to ask to try and help her out as a favor to me, but schedules just weren't working. Rather than beg / negotiate with my buddies with a truck – even if I had to move it myself – I thought about and suggested that she use this service. Everything turned out great, she got her stuff where it needed to be, the guys who showed handled everything, and I didn't need to pull any favors! Or lift anything heavy myself! Highly recommended!"
– Chad T. (San Diego, CA)
"I used GoShare last week to pickup a couch from Living Spaces and have it delivered to our home.Overall experience was very good including ease of booking, response time and service. I would definitely reccomend GoShare to my friends and have already done that.One thing to note was that the first driver that accpeted the request later cancelled as he had something come up however the customer service worked with me to make sure that they have someone help me with the pick-up on the expected time."
 – Sumit W. (San Diego)
"I've needed to pick up my couch from my sisters house forever. Now I can! Whoop!!! "
 – Daniel Z. (New Jersey)
"It was such a seamless experience, Once truck arrived , I helped the guy load everything into the truck and that's it, it got delivered to the destination while I was sipping my coffee at home"
 – Karan A. (San Diego)
"So easy..!!! I have spent so much money getting things delivered and so much time in the past!! With Sean's GOSHARE it was SO easy, pleasant, efficient,it was SUCH a different experience. As another reviewer said much better than I; it was SEAMLESS! Now I will use them whenever I need something moved. Thank you Go SHARE! "
 – Suzan P. (San Diego)
"Goshare is the best. I posted a request last minute and they really found a way to make my move happen on the time and day I wanted. Plus the driver james was so nice and accomodating. It's not only the cheapest moving company around but the kindest as well. Thank you Goshare!!!"
 – Kate R. (South Orange, NJ)
"Excellent service and coordination as well as prompt responses. Shaun was helpful and eager to help from initial contact for a very short notice request to move some furniture. Steven, the driver, provided impeccable service and showed up right on time! Extremely kind gentleman! Much appreciated and hope to provide more business their way any time I have an opportunity to do so! Go guys! With much gratitude -ellie ;)"
 – Eli B. (San Diego)
"I needed help moving my table, found out about this app and… Boom instantly had my table moved… Driver showed up promptly, and treated my furniture with the upmost respect!!"
– Mathew D. (Oceanside, CA)
"I experienced excellent customer service with a personal touch from the CEO. My driver was at my old place by 730 am, I was loaded up by 745 and by 815 he was pulling out of the driveway of my new place. This was the easiest, most convenient moving service I've ever used. Thank you! "
 – Shatira J. (San Diego)
"This service is convenient! I would consider using again!"
 – Marcy-Fermin D. (West Covina, CA)
"What a great concept!  I needed 2 men to help me move a 2 piece china cabinet that I purchased from a private owner.  Felipe and Brent arrived on time at the pick up location, loaded the cabinet into Felipe's truck and promptly delivered the cabinet to my home.  Excellent service, excellent work!  HIGHLY recommend this service.  Thank you Felipe and Brent. Job well done!"
– Mary B. (San Diego, CA)
"Fast, reliable, extremely reasonable costs, fabulous drivers!"
 – Jenni H. (San Diego)
"Needed quick help for a small pick up and delivery in Northern NJ. GoShare was terrific. Patrick from GoShare followed up, he was friendly, knowledgeable and professional. My delivery team was Nick and Tony. They are professional movers working with GoShare. Great attitudes, very pleasant and the whole transaction could not have been easier. Thank you!!"
– June A. (New Jersey)
"Used this service in San Diego County last weekend and it was significantly less expensive than renting a UHaul and you have an extra hand to help you move your items. Driver was on time, friendly and efficient. Will definitely use again."
 – Ginny T. (San Diego)
"It's like Uber for pickup trucks! Super easy to use, fast, and reasonably priced. I downloaded the iPhone app and had a driver with a pickup truck at my house to help me move some boxes into storage within an hour. Will use this again for my next trip to IKEA! "
 – Ellyn R. (San Diego)
"Easy to do just book a pick up and drop off and time and thats it! Service was great! I will be using them again!! "
 – Ann M. (San Diego)
"What an absolute fabulous experience! Friendly and rapid response to my need to courier from downtown to PB. Appreciate the professional and trusted way you got my anniversary present to my husband. Thank you so much!! "
 – Suzanne N. (La Jolla, CA)
"I bought a new sectional, requested a pickup and the driver was so quick, he beat me there!! The move was so fast & easy, the driver was friendly & courteous, I had great communication from the company & it was very well priced. I'd definitely recommend GoShare & will be using the service again. It's like uber for moving! "
 – Kristen D. (San Diego)
"I had to quickly move out of a storage locker on my last day after a buyer fell through. I needed to get the couch to Good Will to drop it off and Shaun at GoShare got my request at 3:00pm, got me a driver at 3:45pm and he was there at the storage at 4:25pm. Great turn around for an awesome service. "
 – Amur G. (Cherry Hill, NJ)
"Great company!  It was easy to use and great customer service! Will use them again!"
– Justin Z. (San Clemente, CA)
"Seriously best ever!!! I scheduled two days. Day 1 (today) was awesome! Steven was VERY on time and quick!!! Can't say thank you enough! The owner even called personally two make sure things were ok…. THANK YOU!!!! "
 – Beth H. (La Mesa, CA)
"Wow. We used these guys to move a couch purchased on Craigs list. The entire transaction was flawless.
1. Created an account and requested a pick up. This took 5 minutes.
2. Request was accepted and the drivers number emailed in 2 minutes.
3. Driver showed up on time and immediately delivered the couch."
 – Mark H. (Vista, CA)
"Ordered a pickup from Ikea in NJ. Couldn't find a driver through the app, so called the number and Shaun quickly hooked me up. The driver was friendly and professional. Arrived on time and helped load/unload my mattress. Best part: the price for the approximately 30 min ride was more than reasonable and much less than those sketchy guys on craigslist. Will use again. "
 – Serge S. (New Jersey)
"What an amazing service!  I posted my request and it was filled in less than 10 minutes.  My driver was amazing!  He was so accommodating as I had to change times.  He met me at the gravel site, waited while they loaded 1 cubic yard of garden soil into his truck, then drove to my house and unloaded it.  All in under an hour!  He was very friendly.  This cost less than 1/3 of what the gravel company charged for delivery.  This is all paid for online with a credit card.  Be sure to have some cash to tip your awesome driver. "
 – PJ J.  (San Diego, CA)
"So glad to have found this on Yelp!  It couldn't have gone more smoothly.  Our friendly driver was right where he was supposed to be right on time and went above and beyond to help us unload (thanks Mike!)  He handled our delivery carefully and professionally and couldn't have been nicer.  I will definitely be calling again!"
 – Wendy W. (San Diego, CA)
"Ocean/Asbury Park NJ – I have used GoShare twice and have been very pleased. The fact that there is an app for it was a huge plus for me. The time response is wonderful! In one instance I was at Home Goods later in the evening, around 8pm and he was able to send someone out on very short notice to deliver a piece of furniture for me. If you go through most store's delivery service, you have to schedule and often they aren't available for a week or more. Their rates are also very reasonable. Shaun is very professional and easy to work with as well. I will definitely plan on using them again in the future. "
 – Meg C. (New Jersey)
"I literally don't have words to say thank you to Shaun, I was almost hopeless after struggling and finding delivery services in san diego who can deliver cake and gift at midnight. But Shaun helped me till the moment he delivered cake and gift right at the midnight. He is superman and amazing guy. Thank you Shaun. !! If there would have been more stars, I would have given all of them to you. "
 – Prabhjot S. (San Diego)
"GoShare is a brilliant idea and works like a charm. Fast, courteous, reliable, and affordable – what a great alternative to hiring a regular moving company when you only need short distance, minor hauling. "
 – Gail Z. (New Jersey)
"I've worked with a few movers in the past 6 months and these guys were the best. Punctual, careful, and really smart with figuring out a tricky moving situation. Awesome job!"
 – Lisa T. (San Diego)
"Not only is the service helpful and the process seamless, Shaun is a great guy. I reserved a car quite late and he helped me sort out my reservation at 4 AM! I recommend this service to anyone in need of a large vehicle. "
 – Christian A. (San Diego)
"I thrift shop a lot and I always struggle to fit furniture in my station wagon. I purchased a couch yesterday and scheduled a delivery with Goshare for today. Shaun contacted me directly and made sure that a driver would be helping me as scheduled regardless of the late hour. It was like Lyft for your furniture with no hassle, great service and a way for regular people to earn some extra income. Our driver was on time and helpful. He even helped us unload our couch into our upstair apartment! It is a great service and we definitely recommend it to friends and families. "
 – Nhu N. (San Diego)
"After much appreciation, (website cert issue) I booked this service to haul a new gun safe from dealer to my home. Within minutes I had the drivers name and phone number. Terren arrived on time and ready to go. Within 5 minutes we were loaded and on the road. When we arrived at my home, safe was off loaded right where I wanted it. Checked in with the website to check/pay the bill. It was exactly what I was quoted. (low side) And extremely fair!!! Highly recommend GoShare and Terren was the best."
 – Steven S. (San Diego, CA)
"An 'Uber for furniture/big stuff deliveries'. I was thrilled when I found this on the App Store, and had the occasion to put the service to the test when I found my dream sectional on Craigslist. I set up my account on my phone while sitting in my car, which consists of putting in your pick up address, drop off address, name, phone, email and credit card number. You then select the size vehicle you need (it gives you a cost per minute for each vehicle type), and allows you to pick a backup vehicle type if the first type isn't available. The app setup took all of five minutes it was so easy and streamlined. The sectional I bought was in the driveway of someone's house and they weren't even home, but the driver (Thomas), picked up the sectional and brought it to my house about 8 miles away without any problems. He was friendly, quick and professional, and I couldn't have been happier. And the cost was on the nose what I was expecting to pay. I'm off to scour Craigslist some more now that I know how easy it will be to get the stuff home! Yippee! "
 – Cowbelly (San Diego)
"I've had to use GoShare a handful of times and couldn't be more satisfied with their service! I'm an estate sale shopper and had to transport an elliptical by 6pm on a Sunday! Driver, CHRIS is always professional and is very careful with my items in transport. Gladly giving GoShare 5 stars and look forward to using them again and again. "
 – Laura D (Vista, CA)
"Go Share is the best! I found myself in need of 2 movers and a truck after I spontaneously purchased a large piece of furniture at an estate sale. How hard would it be to call a moving service on a Friday? It was impossible. I spoke with moving company after moving company and this job was either too small or too expensive. I then found Go Share on Yelp and was very pleased that I could arrange for two movers to pick up my purchase without me being present and deliver it to my residence. Shaun was absolutely amazing he had my movers scheduled on a Saturday morning within 2 hours for less than $100. I could not have been more pleased. I am thrilled at the prospect of no longer having to rely on friends every time I need a truck. Go Share works just like a taxi service so there is no need to plan days in advance. I am delighted to give Go Share 5 Stars. "
 – Christina Z. (San Diego, CA)
"Shaun is a true entrepreneur who caters to your needs. This is the Uber for moving. I had a sectional couch delivered from North County to Downtown area in the same day I put in my request. He is also proactive at responding to emails, calls and fixing any tech problem from the backend immediately. The app is easy to maneuver and the price is unbeatable to the rest of the competition. Hands down I'd use GoShare again to move anything without the hassle. I'm a believer at helping small and local businesses strive and this is no exception. Shaun is very structured, service oriented and efficient!"
 – Jennifer L. (San Diego, CA)
"Everyone knows how stressful moving can be but using the GoShare app simplified my life. What an awesome moving experience. Sonny and Shaun you guys were the best. You were punctual, efficient, fast and friendly. All my possessions were professionally delivered unbroken and unscratched! Thank you guys so much for the terrific service. Not only would I use you again but I'd recommend you to all my friends as well!! "
 – Linda S. (San Diego, CA)
"Goshare saved my ass! My movers I hired no showed on me and I had to be out of my place the next day. I requested a goshare mover for the next morning and bam! here comes Andrew to save the day. We got all my stuff moved in under an hour and it was a great experience and VERY affordable. Highly recommend! "
 – Rachel A (San Diego, CA)
"Awesome, short notice delivery service. Driver was polite, on time and very efficient. I got one other quote and it was more than 3x what this less-than-an-hour job cost. Thanks GoShare. I will def use again. "
 – Beverly H. (Vista, CA)
"Goshare was super helpful when I needed help moving a couch I bought on craigslist. They were on time and the price was very reasonable. I highly recommend goshare for small moves. It's like Uber for moving. 2015 we all rely on technology. When you can GPS, or google something it makes it really convenient. That's why this is the best. Just like taxi's are outdated, moving companies are outdated. From taxis to uber, moving companies to Goshare. "
 – Travis F. (Austin, TX)
"Had Shaun from goshare come help me pick up a couch. Great service! I sent in my request at 3pm for a 530pm service- what a quick turn around! He showed up on time, during rush hour, with a friendly attitude. The couch was extremely heavy, and he tackled the task with no hesitation. I would totally recommend these guys next time you need a pick up/ delivery service. It was super easy! "
 – Cha S. (Livermore, CA)
"Used GoShare for the first time. It was a great experience. Rick and his helper arrived on time. They were well prepared and took care of the small moving job quickly and were very friendly and polite. I would definitely use them again. "
 – Eileen W. (Brick, NJ)
"Stephen was outstanding. He handled our furniture with great care and was extremely professional. He is a grade A driver. I would recommend his service to my friends and family. If I could give him 10 stars I would."
– Denise M. (La Mesa, CA)
"GoShare made what could have bef an experience into a dream. We needed to move a few larger pieces of furniture about half a mile anen a nightmare od didn't want to risk calling an uber or lyft that would not accept our stuff. A quick Google search later we found GoShare. When we couldn't get connected with a driver immediately, the co-founder and VP of customer service got in touch with us right away and let us know she was working on finding us a driver. Moments later we were connected with a prompt and delightful driver named Nick who assisted us and without him we would not have been able to do pretty much anything. "
 – Imrad (Jersey City, MJ)
We would love to hear your feedback. Please share your GoShare reviews on Yelp, iTunes, Google Play, Facebook, Google +