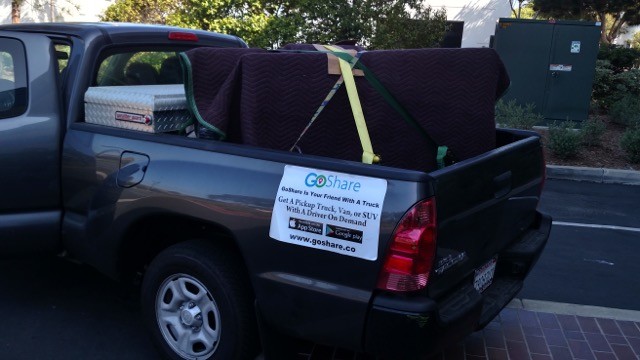 Moving Furniture Without All Of The Hassle
Moving Furniture Without All Of The Hassle
---
You're sitting in your living room casually browsing Craigslist for furniture deals when suddenly you see the oak table that would finally complete your dining room layout. Nothing is going to stop you from getting it, except for one thing, you don't own a truck. We know that this can be challenging so we helped you out by narrowing down your furniture moving options. 

1. There Is An App For That
GoShare is an on demand delivery app that specializes in moving furniture. You will be connected with a driver who has a truck or a van on demand. The driver will help you load and unload your items. This is by far the most convenient and cost effective option. You will never have to worry about moving furniture when you don't have a truck again. Download the GoShare app, available for iPhone and Android. You can also get a free estimate on our website from any device by clicking here.
2. Call in a favor from your friend with a truck
You can always take this route, but is it really worth it? Your friend is not an on demand moving service, and he/she is probably very busy. To be honest, your friend is probably tired of favors being called every two weekends to help with moving furniture in exchange for pizza and beer. The next time you need a friend with a truck, check out GoShare instead of annoying your friend. 
3.  Rent A Truck
If you've ever thought ads touting truck rental rates as low as $19.95/day sounded too good to be true, you may be right. The base rate is $19.95  but by the time you add up the per mile rate, insurance, and gas, you end up spending closer to $100 or more. Truck rental companies are notorious for overbooking their reservations, nailing you with hidden fees, and giving mountains of paperwork to fill out. This adds up to an incredibly time-consuming process that is a lot of work for a single item you need to transport. Don't forget that you will likely need to find a 2nd person to help you move the furniture if it's a large or heavy item like a sofa, table, or desk.
4. Do It Yourself
Well, why not? You certainly want it really, really, badly. Nobody can stop you from lugging this one-of-a-kind furniture find all the way across town, using your small car and your excellent packing skills. This is not recommended unless you are really into moving furniture in the most inefficient way.

So what's the verdict? If you really want to move furniture without all the hassle then option 1 is the way to go. Get an estimate and book on demand with GoShare to save yourself the stress and avoid looking like the guy in the picture at the top of the page.