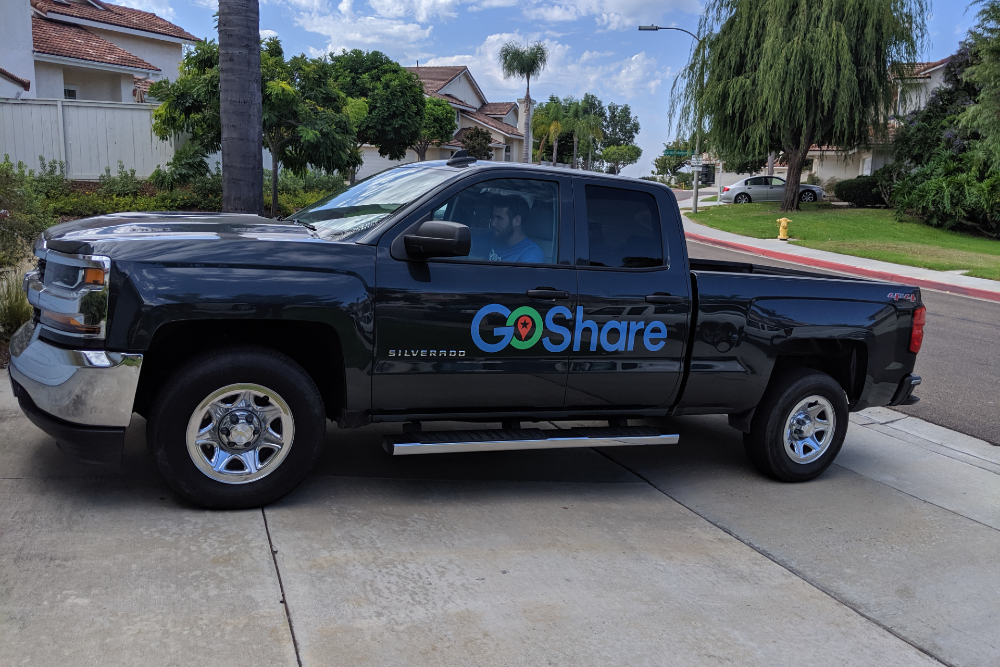 A Step-By-Step Guide to Fitting Your Pickup Truck In a Garage
A Step-By-Step Guide to Fitting Your Pickup Truck In a Garage
---
Storing your pickup truck inside a garage is a great protective measure for a number of reasons. Not only are you avoiding the hassle of dirt, debris, and snow buildup in your pickup truck bed, but you're also taking an appropriate step to winterize your pickup truck and protect your truck from heat damage. Plus, you can have peace of mind knowing that your vehicle can't get damaged or stolen by nearby criminals. 
Yet, one of the more challenging tasks for truck owners is knowing how to properly fit their pickup inside the garage. Full-size trucks such as the Ford F-Series and Ram HD are some of the largest pickups in their class, and the 'bigger and better' trend is looking to continue through developments like the new Tesla Cybertruck. 
If you're planning on purchasing a new pickup, you should keep in mind that these types of vehicles don't make for an easy storage solution. Luckily, we've compiled some handy tips to help you with getting your pickup truck out of curbside parking and into your home garage.
Check out our step-by-step guide on fitting your pickup truck in a garage below.
Measure Garage Dimensions 
Before even attempting to see if the truck can fit in your garage, the first plan of action is to measure first. Grab a tape measure and begin assessing the length of your garage. Be sure to factor in the hinges of your garage door and leave a few inches of leeway if possible. 
You should also gauge its height by measuring the lowest point of the garage ceiling. The track and arms of your automatic garage door can limit parking space, so be wary of those mechanisms when opening and closing the garage.
Check for Obstructions
Another precaution is to measure the width of your garage and truck with doors open, and take into account any objects within your garage that can affect parking space. Not all garages have vertical support beams that stand in the way, but it's important to take note of these sorts of obstructions inside your own garage. If you notice anything that can potentially hinder your ability to fully open the truck door, then the chances of comfortably fitting your pickup into the garage become much slimmer.
Measure Truck Dimensions
Next, measure the overall length and height of your pickup truck. Consider the make and model, as well as the configurations you plan to choose if you're in the market for a new truck. For example, varying cab sizes can affect wheelbase and bed size. The longest version of the Ford Super Duty measures at 263 inches long, and many garage dimensions are within the 18 feet to 20 feet range. Therefore, you might want to reconsider your truck options if you're dependent on a car garage for parking space. 
Compare Measurements
Once you've appropriately measured your pickup truck and garage, carefully review both of their dimensions with fingers crossed. 
The good news will be that your truck's length and height are less than the respective dimensions of your garage, and there are no obstructions to block truck door clearance or room for walking. Great, you've successfully fit your pickup truck in a garage with little to no work!
Under less fortunate circumstances, however, your truck's dimensions will be incapable of fitting into your current garage setup. If this is the case, then we have a couple solutions that might work for you. 
Gain Height by Removing Accessories
If the height is the main cause that's preventing you from safely storing your pickup truck, then there might be an easy fix. Pickup truck accessories such as lumber racks and camper shells can add a good chunk of height, creating this storage predicament. Similarly, pickup truck mods like all-terrain tires, a lift kit, or LED lights on the truck roof can play a detrimental role as well. 
Try removing these mods and accessories, then reassess the height dimensions of your truck. With a little bit of luck, these small changes can mean the difference between a suitable and ill-fitted truck inside your parking garage. 
Gain Length by Remodeling Your Truck or Garage
If length is the reason you're not able to fit your pickup truck in a garage, then some handiwork can go a long way. Adding a roll pan bumper to your truck, which brings its bumper flush to the tailgate, can reduce its length by roughly three to five inches. 
A more costly but effective solution is to call in a contractor and expand your garage with a bump out or an exterior coil-up garage door. In a similar fashion, installing ramps at the end of your garage can help alleviate the length problem. 
If remodeling isn't a feasible solution, then you can try adjusting your parking technique and angling your pickup truck until it completely fits inside the garage. If you own a small width garage, however, then be wary of the risk for accidental scratches and dents.
Additional Resources
Looking for more information about trucking and going into business for yourself? Check out these additional posts from GoShare.