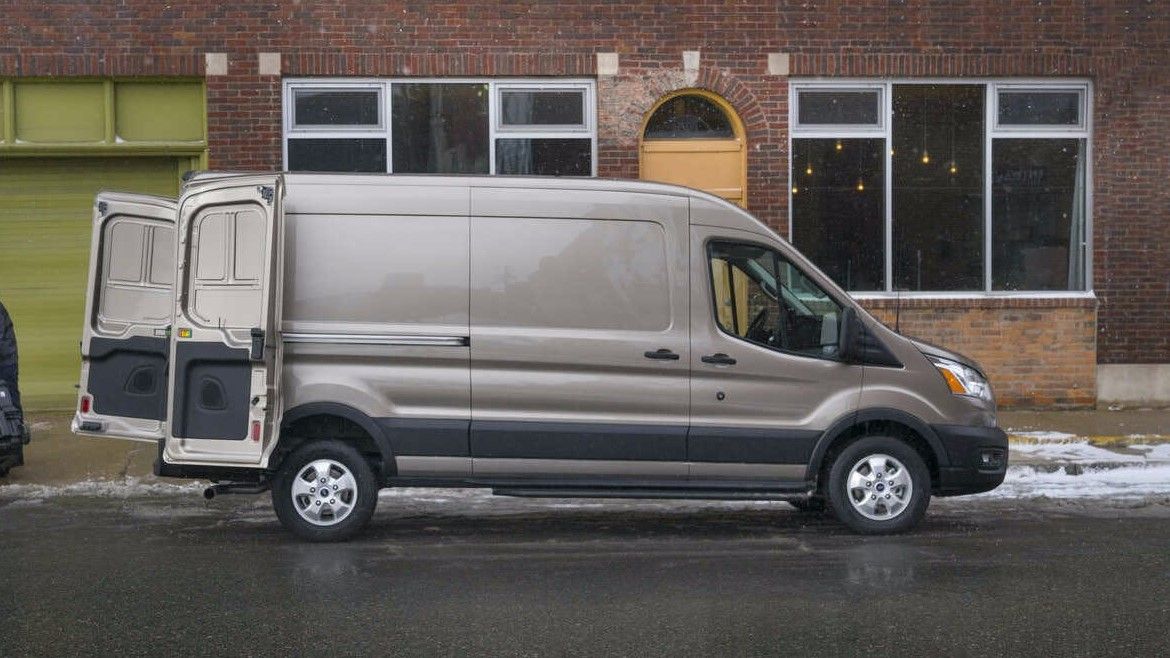 2021 Ford Transit Cargo Van Review
2021 Ford Transit Cargo Van Review
---
Looking for a new work van? The Ford Transit is the world's top-selling full size cargo van. 
In 2021, you can expect the Ford Transit to continue to live up to the high standards commercial vehicle drivers have come to expect from this long-loved brand. Ford Transit vans have provided the transportation industry with dependable options for over 50 years.
While some competitors may offer superior towing capacity or amenities, this cargo van maintains its market dominance because of its strong overall value for the purchaser. You can expect a reliable performance with an affordable price tag. 
2021 Transit vs. 2020 Transit 
The new Ford Transit 2021 will become available at the end of 2020. This model year will have relatively few updates from the outgoing 2020 model, which was overhauled to include many new features.
Like the 2020 model, purchasers will enjoy a strong package of standard features and equipment including 16-inch wheels, power-adjustable side view mirror, split swing-out rear door, bluetooth connectivity, dual USB ports, and air conditioning.
The four way adjustable driver's seat and adjustable steering wheel column allow drivers to maximize their comfort and ergonomics for long rides. 
 In addition, the van comes with driver assistance features such as lane-departure and collision warnings. Additional safety features, such as blind-spot monitoring, are also available for a small premium. 
2021 Ford Transit Engine
The Ford Transit 2021 boasts a powerful 10-speed automatic transmission and the option of a rear-wheel or all-wheel drive. Select from three powertrain options, including the two options introduced in 2020. 
Base Engine: Naturally aspirated 3.5 liter V-6, 275 horsepower and 262 lb-ft of torque 

Second Option: Turbocharged 3.5 liter V-6, 310 horsepower and 410 lb-ft of torque

Third Option: Turbocharged 2.0 liter diesel four-cylinder
The Transit's turbocharged V-6 engineer will accelerate from 0-60 mph in 6.8 seconds, one of the fastest on the market. 
2021 Ford Transit Towing Capacity
The towing and payload capacity will vary based on the configuration you select. Similar to 2020, you will be able to select from a variety of wheelbases, heights, and powertrain options.
For example, if you select the base engine and 129.9 inch wheelbase, the maximum towing capacity is 6,400 lbs in rear-wheel driver and 6,100 in all-wheel drive. Opting for the long wheelbase can increase average towing capacity.
2021 Ford Transit Cargo Space
The Transit has a roomy interior, perfect for transporting and delivering goods, or creating a mobile work station.The final capacity of your Transit will depend on the selected features. Choose from three roof heights and body lengths. 
Roof Height Options
Low: 56.9 inches in cargo height

Medium: 72 inches in cargo height

High: 81.5 inches in cargo height
Body Length
Regular: 126 inches in cargo length measured at floor

Long: 143.7 inches in cargo length measured at floor

Long – EL: 172.2 inches in cargo length measured at floor
Ford Transit Gas Economy
As a category, full-size vans are exempt from the federal government's fuel-economy standards and so are not rated by the EPA. 
The Transit can be expected to perform similarly to previous models. Ford Motor Company has reported their previous 2020 Ford Transit-150 Passenger Van had an mpg of up to 15 in the city and 19 on highways. 
While fuel efficiency for these vehicles is improving, the Transit will consume more fuel than a smaller, passenger vehicle. 
Ford Transit Electric Model
There will be no all-electric option for the Ford Transit in 2021. However, Ford has announced that they intend to launch an all-electric Transit in their 2022 model year lineup. Expect this future model to come with similar features to gas-based vehicles including the pre-collision assist with emergency braking, three roof heights, three body lengths, and more.
It is also expected that the electric Ford Transit models will come with FordPass Connect modems, featuring a wifi hotspot that can record driver data for fleet managers.
2021 Ford Transit Interior
Expect a comfortable, if simple interior. You will find cup holders conveniently located on both sides of the dashboard. Plugin your phone with a USB port or 12-volt outlet.
In the center of the dash, an infotainment touchscreen can connect with Apple Carplay and Android Auto. Transits also come with a 4G LTE modem that provides a wi-fi hotspot for drivers.
Make Money with Your Van
Do you own a Ford Transit or other cargo van? Find new clients for your moving and delivery business using GoShare's app. GoShare connects businesses and individuals looking for moving, delivery and hauling help with local owner-operators in real-time. Review the project details and accept what you like, reject what you don't.
Additional Resources
Was this article helpful? Find more useful articles and information about cargo vans and the delivery service industry below.