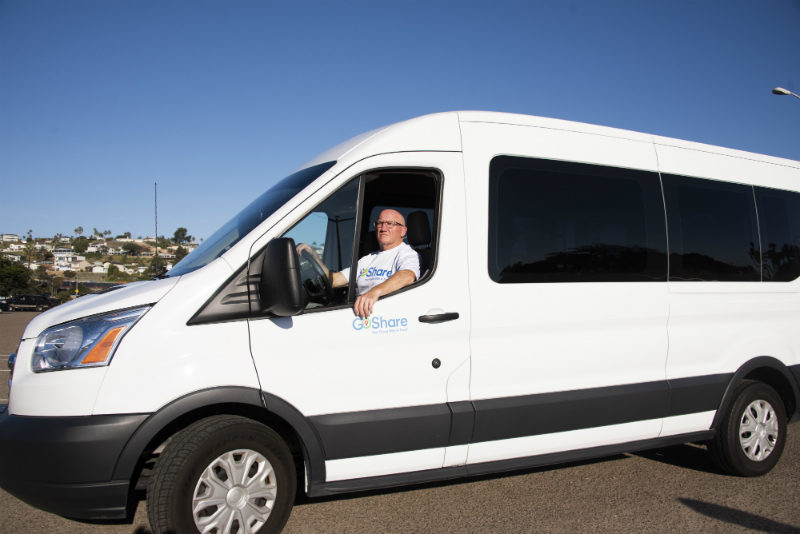 Local Cargo Van Driving Jobs
Local Cargo Van Driving Jobs
---
If you are the owner-operator of a cargo van, the most difficult part of your job probably isn't long drives or stop and go traffic. And, it probably isn't even loading or unloading heavy cargo. The hardest part of your job is lining up local cargo van driving jobs to ensure your working hours are full and productive.
If you don't have a full schedule of cargo van gigs, you will be forced to invest unpaid time in marketing and promoting your services to local businesses. And while building these relationships is important, it doesn't help pay the bills today. Let's face it, you'd rather be driving your cargo or sprinter van, working and earning, than selling your services.
Use GoShare to Find Local Cargo Van Driving Jobs
If you are looking for cargo van gigs to fill up your business pipeline, GoShare may be the perfect solution for you.
GoShare's proprietary technology connects cargo van and sprinter van owners with local businesses and individuals who are looking for moving and delivery assistance. GoShare has direct partnerships with national and local retailers that need independent contractors to provide same-day delivery services.
In addition to businesses, everyday individuals can use the GoShare website or app (both on the iOS and Android) to search for a moving and delivery assistance for everything from apartment moves to furniture delivery.
Contractors that join the GoShare network to find cargo van driving jobs have no predefined routes. They simply accept projects that work for their schedules. It's an ideal fit for cargo van owner-operators on the hunt for more projects to add to their schedules or those looking to pick up extra jobs during slow days.
Why Cargo Van Delivery Drivers Love Working with GoShare
Here are just a few of the reasons that delivery professionals tell us that they love working with GoShare.
More Project Referrals – GoShare works with local businesses and individuals to send projects your way. Get push notifications whenever a new local freight hauling and delivery opportunity is in your area.
Easy to Use –  The app is easy to use. Get a push notification every time a project becomes available through the GoShare Driver App. Plus, the app keeps a record of past projects and earnings.
Flexible Schedule Control – When a new project becomes available, you will have the opportunity to review project details. Accept if you are interested, pass if you aren't. You completely control your work schedule. It's an ideal part-time or flextime opportunity. Only take loads if they work for you.
GoShare Handles Billing – Collecting your earnings is simple because GoShare handles billing the customer. You get paid via direct deposit as soon as the customer remits payment. And, there are no long waiting periods to get your hard earned money. Get paid via direct deposit weekly.
Industry-Leading Earnings – GoShare projects pay one of the highest wages of any gig-delivery service. GoShare Pros often make more per hour than traditional moving and courier employees.
Insurance Coverage – Whenever helping a customer on a project through GoShare, you are covered by a $4 million liability and cargo insurance policy.
Interested in joining GoShare? Click here to apply or keep reading below to learn more.
Minimum Requirements to Join GoShare
In order to join the GoShare platform and have access to all the local cargo van driving jobs on the app, a candidate must meet the following minimum criteria.
Must be at least 18 years old.

Your vehicle must be less than 15 years old and pass a vehicle inspection. That's a model 2006 in 2021. No salvage titles.

Must be able to pass a background check and driving record check.

Must have an iPhone or Android phone that is capable of running the latest version of the GoShare Driver App.

Must have a checking account to receive direct deposit.

Must be able to speak English.

Must have a valid license, registration, and insurance in the state that you are driving in.

You must have minimum state insurance requirements and be compliant with local laws.
Ready to apply? Click here for more details or to start your application.
How Quickly can I Start Working?
The application and onboarding process with GoShare on average takes one to two weeks. Some applicants complete the steps much faster and are accepting projects in less than a week. Others may take longer. How fast you are on-boarded depends on how quickly you are able to provide GoShare with documentation that allows us to verify your history and enter you into our system. The application process involves the steps below:
Initial Application – This short application takes about five minutes to fill out.

Orientation Video – Watch a brief video answer a few review questions. This generally takes less than half an hour.

Vehicle Inspection – Provide our team with an inspection from your mechanic or a short self-inspection video so we can confirm your vehicle meets the minimum requirements for our insurance coverage. It only takes about 10 minutes to create a video. Videos may take our team up to three business days to review.

Background Check – Background checks typically take less than 48 hours.

Account Setup – The final step is to enter your deposit information and provide your W-9 so GoShare can provide your 1099-K at the end of the year. Once this is set up, you are ready to start earning!
What do Other Delivery Professionals Say
What do other delivery drivers have to say about working with GoShare? Hear from Sprinter Van owner Eric, a GoShare Delivery Professional based out of San Diego, California, for his thoughts on using GoShare for cargo van gigs.
Additional Opportunities
Want to work with GoShare, but don't own a cargo van? GoShare also has project opportunities for truck drivers. We are currently accepting applications from owners of pickup trucks, straight trucks, and box trucks. Wondering if your pickup truck, van or box truck qualifies? Learn more about the vehicles that can be used on the GoShare app by clicking here.
More Information
GoShare frequently publishes blog posts and articles to provide helpful content to owner-operators and delivery professionals. Check out these resources for more information.