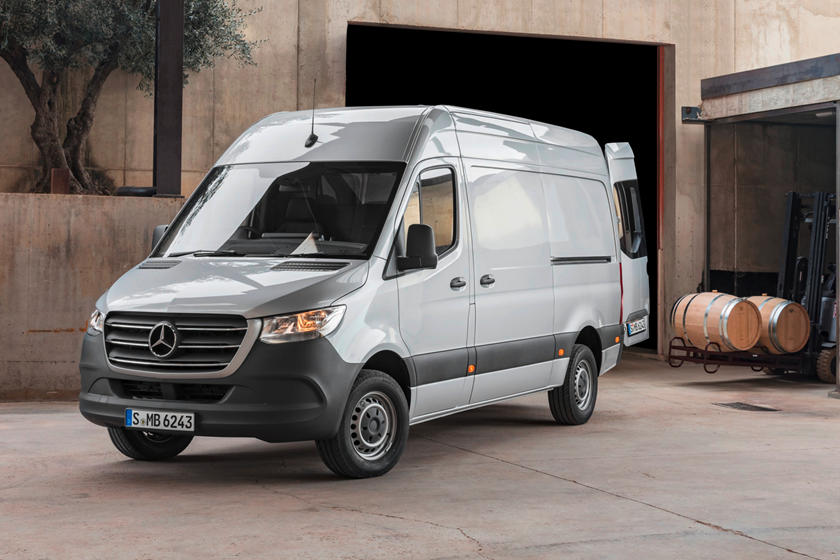 The Best Cargo Vans of 2020
The Best Cargo Vans of 2020
---
The cargo van category has seen plenty of innovation in the past decade. Before the 2010s, there were only a few vehicle manufacturers that found value in competing in the cargo van market. In the past ten years, however, six automakers have fully realized the potential of the cargo van category.
Nowadays, you can find an array of adaptable cargo van models equipped with various configurations to meet your everyday needs. If you're looking to start the new decade off right with a brand-new cargo van that's capable of fulfilling your personal demands and job duties, take a look at our list of the best 2020 cargo vans to purchase.
2020 Ford Transit

As a dominant force in the full-size commercial van market, the Ford Transit is back and better than ever for its 2020 model. The 2020 Ford Transit has undergone several positive changes that increase its overall power and functionality, maintaining its status as a top player among full-size cargo vans.
Although the exact cargo specifications have yet to be announced, it's possible that the 2020 Ford Transit may follow suit similar to its previous 2019 model. The 2019 Transit model is capable of a maximum payload capacity of 3,510 pounds and maximum cargo volume of 487.2 cubic feet behind the first row. The 2019 model also consists of a maximum wheelbase of 148 inches and a GVWR of 10,360 pounds with dual rear wheel.
The Ford Transit now comes equipped with a 3.5-liter PFDI V6 engine, replacing the 3.7-liter V6. No horsepower or torque numbers have been announced yet, but Ford says the new engine will see increases over the previous engine's power. Another new option is a 2.0-liter four-cylinder turbo-diesel engine, which is expected to be more powerful and quieter than the 3.2-liter turbo-diesel inline-five available in previous models. The 3.5-liter twin-turbo V6 is still an option consisting of 310 horsepower and 400 pound-feet of torque, along with start-stop technology for improved fuel efficiency. The Transit's engines are enhanced with a 10-speed automatic transmission instead of a six-speed. The new transmission has a wider gear ratio range, which improves both acceleration and fuel efficiency.
All-wheel drive has been a highly requested feature from customers, and that wish has finally come true. Following in the footsteps of the 4×4 Sprinter van, the Transit now offers an all-wheel drive option. Depending on your needs on the road, the Transit's all-wheel drive with selectable driving modes for a variety of muddy, rutty, and slippery conditions. The downside is that all-wheel drive will only be available on gasoline-powered Transit vans. Power-sliding doors are also available, which can be helpful when utilized as a shuttle van where the doors are opened hundreds of times a day.
The Ford Transit hosts an array of safety features, including adaptive cruise control, pre-collision assist with automatic emergency braking, Lane-Keeping System, Blind Spot Information System with Cross-Traffic Alert and Trailer Coverage, and automatic high-beams. 
Interior design is slick, with an optional 8-inch touchscreen infotainment system that features Apple CarPlay and Android Auto. There's also a 4G LTE modem that provides Wi-Fi hotspot, with USB charging ports attached in every row of seats.
The 2020 Ford Transit goes on sale during the fall, so expect its release very soon. No official pricing information has been given out yet, but the 2019 model currently starts at an MSRP of $33,135.
2020 Mercedes-Benz Sprinter

Mercedes-Benz has a renowned history of producing top-of-the-line vehicles, and it continues that tradition through its release of the 2020 Sprinter cargo van. The 2020 Mercedes-Benz Sprinter is a full-size juggernaut that makes it one of the best cargo vans on the market, even without many changes to its newest lineup.
If the new Sprinter follows in its previous model's footsteps, this full-size cargo van is a great choice for an array of heavy-duty demands, including furniture delivery, small moves, and junk hauling. Although no numbers have been revealed yet, the 2019 Sprinter has a maximum cargo volume of 530 cubic feet on certain models. Additionally, the old Sprinter is capable of hauling up to 3,854 pounds of payload and towing up to 5,000 pounds.
Two engine choices are available on the new Sprinter, including a 3.0-liter V6 engine and a 2.0-liter I-4 engine. The 3.0-liter engine produces 188 horsepower and 325 pound-feet of torque while the 2.0-liter comes up with 188 horsepower and 258 pound-feet of torque.
One of the defining features of the Sprinter van lineup is its four-wheel-drive system. Its 4×4 system has a default 35/65 front-to-rear torque split with a selectable low range. It's also rigged out with a traction-control system that assists with a more controlled ride.
Although the Sprinter is capable of maintaining a steady and smooth ride on harsh road conditions, there's always the fear of an accident occurring. In the new 2020 Sprinter model, a multitude of safety features are present in the van's arsenal. These features include Rear Cross-Traffic Alert, Parking Assist with a rearview camera, Active Lane-Keeping, Active Distance Assist, and Active Braking Assist. Stability and control is enhanced through Downhill Speed Regulation and Crosswind Assist, along with Trailer Stability Assist in situations where a trailer is attached to the van. 
Intelligent technology is in place for the Sprinter through the optional Mercedes PRO Connect, an integrated digital system that allows users to easily access valuable vehicle and job-related information, manage communications, and simplify fleet logistics. For small businesses, the PRO Connect tool is essential for improving overall productivity and efficiency and helping create a competitive advantage over other businesses.
The 2020 Mercedes-Benz Sprinter is not out yet. Judging off the starting price of the 2019 Sprinter, you can expect the newest lineup of Sprinter vans to begin at around $34,000.
2020 Ram ProMaster 

A standout in the full-size van market, the 2020 Ram ProMaster maintains its status as one of the best cargo vans. Although the new ProMaster van remains largely unchanged, it continues the high standard set by its 2019 model with powerful capability and quality ride.
The Ram ProMaster offering a 4,680-pound maximum payload and 6,910-pound towing capacity. The 2020 Ram ProMaster has a best-in-class wheel width of 56 inches and a maximum cargo volume of 420.2 cubic feet. Whether you're engaging in pallet delivery or small moves, the ProMaster van is capable of heavy lifting for a number of moving and delivery tasks.
The Ram ProMaster van delivers in terms of power thanks to its award-winning 3.6-liter Pentastar V6 engine that generates 280 horsepower and 260 pound-feet of torque. With a Best-in-Class turning radius of 36 feet, The ProMaster faces no issues navigating busy streets and tight alleys with ease.
The Ram ProMaster is configured with front-wheel drive, which allows for a low Best-in-Class cargo load floor height of 21 inches. The ProMaster ensures your kept secure with an array of safety features, including Electronic Stability Control and Antilock Brake System. 
The ProMaster's interior is well-fitted with a Rear Back-Up Camera and Rear Park Assist System for greater visibility and collision prevention. The new Ram ProMaster comes standard with Uconnect 3, featuring a 5-inch touchscreen, Integrated Voice Command, Hands-Free Calling, and Bluetooth Streaming Audio.
The 2020 Ram ProMaster is available now and has a starting price of $29,995, which is pretty standard for the full-size cargo van market.
2020 Chevrolet Express/GMC Savana

Although General Motors decided to put an end to their compact cargo van lineup, the Chevrolet Express and GMC Savana are back with improvements for their 2020 full-size cargo van models. Despite minimal updates, the 2020 Chevrolet Express and GMC Savana are solid choices as long-standing, reliable workhorses that get the job done.
The Express and Savana vans provide a maximum payload rating of 4,250 pounds with an available maximum GVWR of 9,900 pounds. When equipped with the 2.8-liter engine, the Express and Savana hold a maximum towing capacity of up to 7,000 pounds. Contractor, electrician, and plumber upfit designs are available choices for your storage needs. 
New power additions include an eight-speed automatic transmission for the 2.8-liter inline-four LWN turbo-diesel Duramax engine, which offers 181 horsepower and 369 pound-feet of torque. Three other engine options are available, consisting of a 4.3-liter V6,  6.0-liter Vortec V8, and 6.0-liter CNG/LPG capable V8. The 4.3-liter V6 engine gives out 276 horsepower and 298 pound-feet of torque, while the 6.0-liter engines produce 341 horsepower and 373 pound-feet of torque.
The Chevrolet Express and GMC Savana present a comprehensive offering of safety technologies, including Forward Collision Alert, Lane Departure Warning, and Side Blind Zone Alert. To assist with backing up, a Rear Vision Camera and Rear Park Assist are available as well. Drive quality is smooth and comfy through nifty features such as a tow/haul mode, which reduces excess shifting when towing or hauling heavy loads. The Express and Savana are equipped with a Stability Control System that helps improve stability by detecting and reducing traction loss. 
While the GMC Savana has optional upgrades for audio and infotainment systems, the Chevrolet Express comes standard with its Chevrolet Infotainment System display that supports Apple CarPlay and Android Auto. Both cargo vans provide available 4G LTE Wi-Fi Hotspot that can handle up to seven devices.
The Chevrolet Express and GMC Savana are out now, starting at an MSRP of $32,000 and  $31,600, respectively.
2020 Nissan NV Cargo

If you're on a budget and looking for an economical solution for a full-size cargo van, the 2020 Nissan NV Cargo is a desirable pick that offers high capabilities and a smooth ride for great value.
Storage isn't an issue with the NV Cargo, holding cargo space of up to 234 cubic feet with a standard roof, or up to 323 cubic feet with a high roof. The NV's towing capacity maxes out to an impressive 9,400 pounds, which is more than enough muscle to deal with tough jobs. 
The new Nissan NV is built with a 5.6-liter V8 engine that consists of Best-in-Class 375 horsepower, 387 pound-feet of torque, and paired with a seven-speed automatic transmission. The alternative is a fuel-efficient 4.0-liter V6 that generates 261 horsepower with five-speed automatic transmission. The NV is geared with heavy-duty suspension and the largest-in-class brakes for ensuring a safe and smooth ride. 
The NV Cargo is designed to protect through its comprehensive collection of safety features. A Traction Control System, Anti-Lock Braking System, and Vehicle Dynamic Control are in place to provide stability and maneuverability for any driving circumstances. Choose from two roof heights, a standard roof or high roof option.
In regard to interior utility, five upfits are available, including a cable, HVAC, security, electrician, and locksmith upfit. The NV is equipped with NissanConnect, which hosts a suite of high-tech features that include voice recognition and touch-screen display with a navigation system and Bluetooth Hands-free Phone System. Apple CarPlay and Android Auto are available.
The 2020 Nissan NV is available for purchase with a starting MSRP of $29,890.
Earn Money With Your Cargo Van
Got a full-size cargo van? Sign up with GoShare to find local projects and earn money doing delivery, moving and hauling projects.
Additional Resources
Did you find this article helpful? Check out our other posts for helpful tutorials and information.