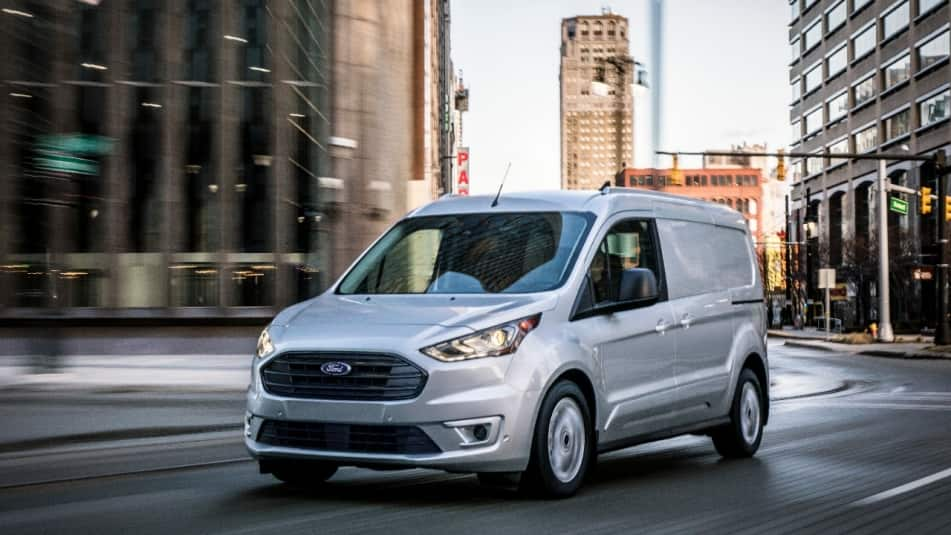 The Best Compact Cargo Vans of 2020
The Best Compact Cargo Vans of 2020
---
Compact cargo vans were first introduced in 2009, just one decade ago, when the Ford Transit Connect entered the market. These smaller, city-friendly vans don't have the hauling capacity of larger, full-sized models. But, with their improved gas mileage, comfort, and agility, they quickly found a niche among courier, logistics and delivery companies specializing in smaller loads. 
Many major vehicle manufacturers are now seeing the benefits of these small, powerhouse work vehicles. In addition to Ford, three other major manufacturers now offer compact cargo van models. With an array of strong features and benefits, if you are in the market for a compact cargo van, the 2020 lineup gives you plenty of great choices. 
2020 Ford Transit Connect

Like its big brother the Ford Transit, Ford's Transit Connect is a leader in its compact cargo van segment. The 2020 Transit Connect model strikes an impressive balance between commercial and passenger needs, bringing a ton of exciting, new features to the table.
The Transit's long-wheelbase model provides 145.8 cubic feet of storage with the passenger seat folded and a maximum payload rating of 1,570 pounds. If you opt for the short-wheelbase model, you can expect up to 123.2 cubic feet of cargo space with the passenger seat folded and a maximum payload rating of 1,510 pounds. The Transit Connect van has a best-in-class width between the wheel wells of 48.7 inches. 
You can choose from two engine options: the 2.0-liter GDI four-cylinder engine or the 2.5-liter iVCT four-cylinder engine. The former is paired with an eight-speed automatic transmission and cranks out 162 horsepower and 144 pound-feet of torque. The 2.5L engine possesses 169 horsepower and 171 pound-feet of torque with a six-speed automatic transmission. 
Safety-wise, the 2020 Ford Transit makes driving easier and more reliable with new features such as Power-adjusted heated exterior mirrors and rain-sensing wipers. Through the Ford Co-Pilot360, new driver assist features include automatic headlights, a BlindSport Information System with cross-traffic alert, forward collision warning, and automatic emergency braking. The Transit Connect also comes with an electric windshield defroster, which is an extremely useful tool to protect against the elements and remove ice, snow or mist. 
Technological features include a 6.5-inch floating touch screen consisting of Apple CarPlay and Android Auto compatibility, as well as wireless charging and a 4G LTE modem with Wi-Fi that can support up to 10 devices.
The 2020 Ford Transit Connect is currently on sale for $24,275. 
2020 Mercedes-Benz Metris

The same quality and standard set by the Mercedes-Benz Sprinter is evident in its smaller alternative. The 2020 Mercedes-Benz Metris is a compact cargo van that exudes similar, high qualities of the Sprinter, but with greater adaptability thanks to its compact size.
Storage won't be a problem with the new Metris, which boasts a whopping 183 cubic feet of cargo space 2,425 pounds of payload. Towing capacity reaches up to 5,000 pounds in both the standard and long-wheelbase models. The turning radius for the Metris is 38.7 feet and 36.4 feet for the long wheelbase and standard model, respectively. These numbers beat out the Ford Transit Connect's 40 feet turning radius for its long-wheelbase model. Additionally, The flexible Metris contains six different types of upfits for your personal life or job duties. 
The power of the new Metris comes from a 2.0-liter Turbo Inline-4 Gas engine with a seven-speed automatic transmission. The engine generates 188 horsepower and 258 pound-feet of torque.
The Metris contains similarities to the Sprinter in regard to safety. Various safety features include Lane Keeping Assist, Collision Prevention Assist, Blind Spot Assist with rearview camera, and Crosswind Assist. On the tech front, the Mercedes PRO Connect is available, which provides a comprehensive overview of fleet resources and vehicle information. 
The 2020 Mercedes-Benz Metris is currently available, starting at $31,390.
2020 Ram ProMaster City

Fiat Chrysler transfers many of its top qualities of the Ram ProMaster into its compact cargo van lineup. The 2020 Ram ProMaster City is outfitted with superb power and plenty of customization options.
Similar to its larger counterpart, the ProMaster City boasts Best-in-Class numbers with a stellar cargo capacity of 131.7 cubic feet and a maximum payload of up to 1,890 pounds. Various upfits, including a plumbing upfit and construction upfit, can be arranged, depending on your cargo space needs. 
If you're a delivery professional or mover who drives long distances on a consistent basis, you'll be happy to know that the Ram ProMaster City excels performance-wise. The full-size cargo van comes equipped with a 2.4-liter four-cylinder engine with Best-in-Class 28 MPG highway fuel economy, Best-in-Class 178 horsepower, and Best-in-Class 174 pound-feet of torque. Exclusive to the small commercial van class, the Ram ProMaster's engine is paired with a nine-speed automatic transmission for quick take-off capabilities.
The new ProMaster City contains many similarities to its full-size version in terms of safety and technology, consisting of a Rear Back-Up Camera and Rear Park Assist System to help with reversing. Every ProMaster City comes with the standard Uconnect 3 that includes a 5-inch touchscreen, Integrated Voice Command, Hands-Free Calling, and Bluetooth Streaming.
The 2020 Ram ProMaster City is currently available for an MSRP starting at $24,380. 
2020 Nissan NV200

Essentially a smaller version of the Nissan NV Cargo, Nissan's NV200 is a highly effective compact cargo van without the huge price tag of a full-size van. The 2020 Nissan NV200 is fully capable of loading a sizable amount of cargo while being nimbler and more fuel-efficient than its full-size counterpart.
The NV200 has up to 122.7 cubic feet of cargo space with forty-sixty split rear doors for easy access to storage. Dual sliding doors are a plus, allowing for safe and easy loading into the van. To visualize how much cargo space can fit in the rear of the van, the NV200 can hold items up to 82.8 inches long and fit a 40 x 48 inch pallet with room to spare. Numerous upfit designs are available, including an electrician, telecommunication, contractor, plumber, and delivery upfit. 
As far as performance goes, the new NV200 contains a sole engine option through its 2.0-liter four-cylinder engine, which offers 131 horsepower, 139 pound-feet of torque, and 25 combined MPG. A tight turning diameter of 36.7 makes the NV200 an effective van for handling tight corners at swift speeds.
Safety features for the NV200 include an Anti-lock Braking System and Vehicle Dynamic Control. Just like the full-size van model, the NV200 is equipped with NissanConnect features such as voice recognition and touch-screen display, as well as Apple CarPlay, Android Auto, and Bluetooth Streaming Audio.
The 2020 Nissan NV200 can be bought now for a starting MSRP of $22,830.
Earn Money With Your Vehicle
Sign up with GoShare to find local projects and earn money doing delivery, moving and hauling projects. Learn if your vehicle qualifies to join the GoShare platform here.
Additional Resources
Did you find this article helpful? Check out our other posts for helpful tutorials and information.