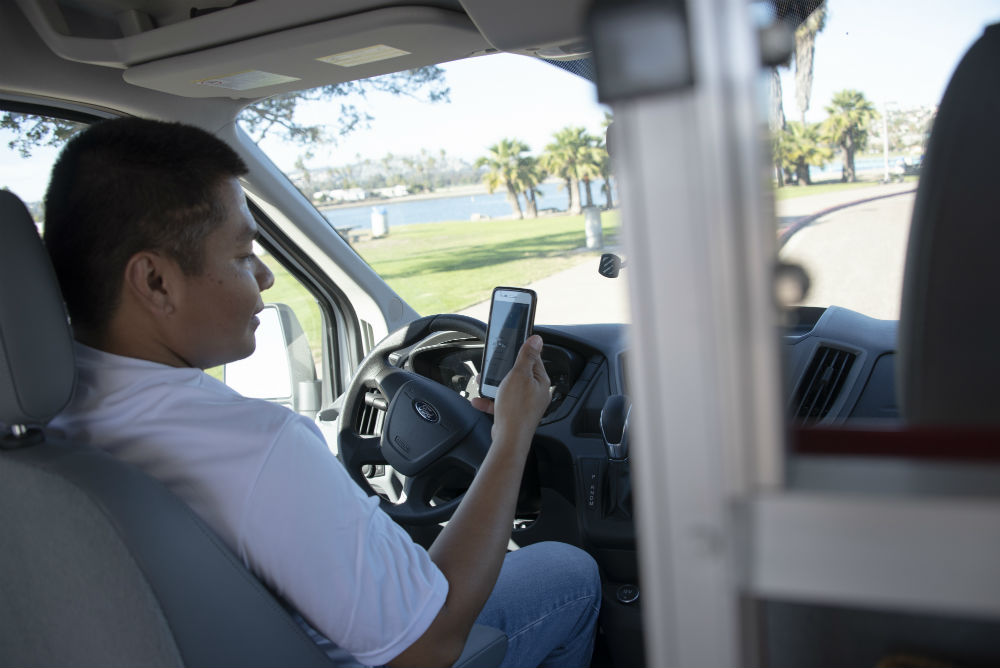 Refer a New Customer, Get $20
Refer a New Customer, Get $20
---
This summer, delivery professionals that share their promo code will earn a $20 bonus for each new customer who completes a project!
How it Works
Find your promo code in the "Invite Friends" section of your GoShare Driver App. Share your code with businesses, family, and friends in your community to get more deliveries and earn bonuses.
When you give out your referral code and encourage new customers to use GoShare, they will get 5% off their first order. You will get the project notification 5 minutes before the other local delivery professionals in addition to the $20 bonus after the project is completed.
About 80% of the time a delivery professionals promo code is used, they are the one that completes the project.
What is Considered a New Customer?
For this bonus offer, a "new customer" is defined as a business or individual that has not placed a project order with GoShare before placing an order with your promo code. A customer who has ordered previously and has completed a project or canceled a project is not considered a new customer.
Bonus Details
Bonuses will be after the end of each month via PayPal, Zelle, or another mutually agreeable payment method.
You do not need to be the delivery professional that completed the project in order to earn the bonus. For example, if your friend in another state uses your code to book a project with another delivery professional, you still get the $20 bonus.
The offer is valid for projects that are completed between July 15, 2021, and September 30, 2021. Available exclusively for Delivery Professionals that are active and in good standing on the GoShare Driver App.
How to Maximize Your Bonus
Promote yourself and maximize your earning potential by sharing your promo code with family, friends, and local businesses online and in person.
Visit the GoShare Pro Shop to order business cards and vehicle magnets that can help you share your promo code and build your personal delivery business with GoShare.
Rules of the Road
Delivery professionals who try to manipulate the system or break any of the rules below will be disqualified from the offer and it may result in your GoShare account being suspended.  Your referral code must be used when the customer places their first project order for you to earn this bonus. Referral codes can not be added after an order is sent.
Social Media
You may share your personal code on your own social media pages and in community groups such as Facebook, Twitter, Instagram, Linkedin, YouTube, NextDoor, and others. You may also share your code on your personal or business website. 
No Coupon or Promo Code Websites
DO NOT share your promo code on any coupon code sites, discount sites, savings websites/mobile apps/browser extensions, or plugins such as RetailMeNot, JoinHoney, and other similar businesses.  
Before bonuses are paid we will certify that your promo code has not been added to any disqualifying websites, mobile apps, browser plugins, extensions, or add-ons. If your code is found on a disqualifying type of website or business you will not be eligible to receive this bonus and your referral code may be permanently deactivated.
No Soliciting at Existing GoShare Customers
Do not leave your business cards or promo code in any form with existing GoShare business customers or partners, such as Costco, HomeGoods, Living Spaces, or any existing GoShare customer that you met through GoShare. This offer is only valid for new customers.
Chargebacks
If a project receives a chargeback from our payment processing company, that project is not available for this bonus. If a bonus has been paid and then a chargeback is received the delivery professional will pay back that bonus to GoShare. 
More Perks
In addition to seasonal promotions, GoShare delivery professionals enjoy ongoing perks for being a member of the GoShare platform. Check out these more benefits for drivers at the links below.
—-
GoShare, Inc. reserves the right to modify, delete, or otherwise change bonus rewards program at its sole discretion, with or without notice. GoShare is not responsible for failure to claim rewards due to misdirected communications including emails going to a junk or spam folder and user-initiated unsubscribes. Delivery professionals must be in good standing to claim rewards. Delivery pros that have been suspended or deactivated for violating the Terms of Service agreement or Dealbreakers are not eligible to receive rewards. Delivery pro must maintain an average review score of 4.5 or higher to qualify for any rewards. Offer may not be forwarded. Only delivery pros that received the initial offer qualify to claim rewards.