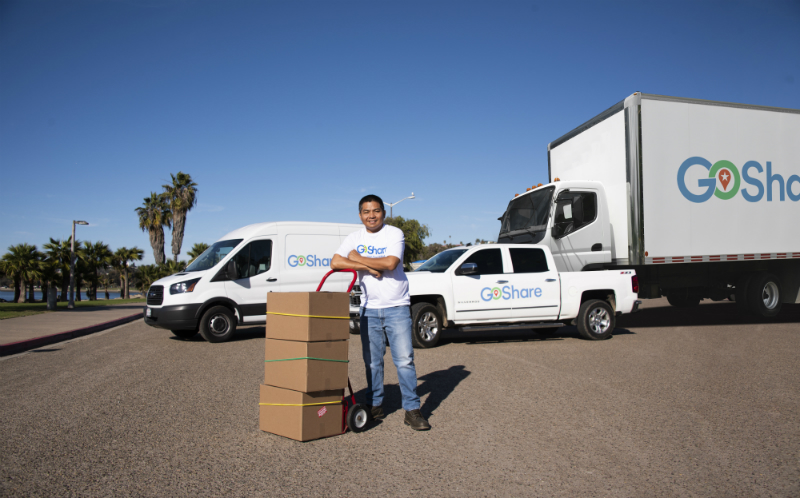 Dark Store On Demand Delivery Solutions
Dark Store On Demand Delivery Solutions
---
GoShare provides on-demand delivery services for dark stores and fulfillment centers. Learn more or ask to speak to our business development team on our business partner page.
A dark store's shelves are filled with rows and rows of goods, ready for purchase. But, no customers wander the aisles. No cheerful checker waits, ready to scan buyers out. No shopping carts litter the parking lot or entrance.
Dark stores were created to cater specifically to web and app-based orders. From the outside, they appear nondescript, like any other warehouse. Inside, the store is ready for pick and packing by personal shoppers, ready to bag or box the incoming digital purchases for local delivery. Without customers in the store, these pickers can work quickly to assemble orders and get them out into the community.
Why Dark Stores?
Dark stores are often more affordable to operate than traditional retail outlets. They can be located in less expensive parts of town and require fewer employees for upkeep. As consumer demand rises for online services spreads to same-day ordering from local retailers, these dark stores allow local businesses to quickly, efficiently, and affordably fill those orders.
The dark store format has been most popular in the grocery space. However, other local retailers have begun exploring dark stores, or modified dark store opportunities. Retailers using a modified method may use their existing stores, but set aside specific times of the day (such as early morning hours) for picking and packing to support local online order fulfillment.
On-Demand Delivery for Dark Stores
Dark stores allow for improved speed in local fulfillment. But, rapid picking and packing is only half of the process. After the order is processed, a delivery fleet is required to bring orders directly to consumer doorsteps
Retailers may choose to build a delivery fleet to support their store, or partner with a third party logistics company to deliver the packages on demand. Whichever solution the retailer chooses to support their supply chain, they need to ensure that it is fast and efficient.
Using shopper-free stores speeds the pick and packing time for order fulfillment, and those gains should not be lost by partnering with a slow or cumbersome delivery mechanism. Many grocery delivery services promise delivery within 2 hours. To remain competitive, speedy delivery is essential.
How GoShare Can Help
GoShare connects local retailers with a virtual fleet for on-demand delivery. Using the GoShare network, retailers can connect in real-time with vetted drivers. Request them to arrive at the distribution center within thirty minutes, or schedule in advance.
Every driver has passed a background check, vehicle inspection, and must maintain strong customer reviews. Select from drivers with regular vehicles, trucks, cargo vans, or box trucks. All projects are covered by GoShare cargo and liability insurance policy.
To learn more about GoShare's on-demand fleet, visit our business partner page.
Additional Resources
Did you find this article helpful? Check out these additional posts and resources from GoShare's The Dispatch blog.