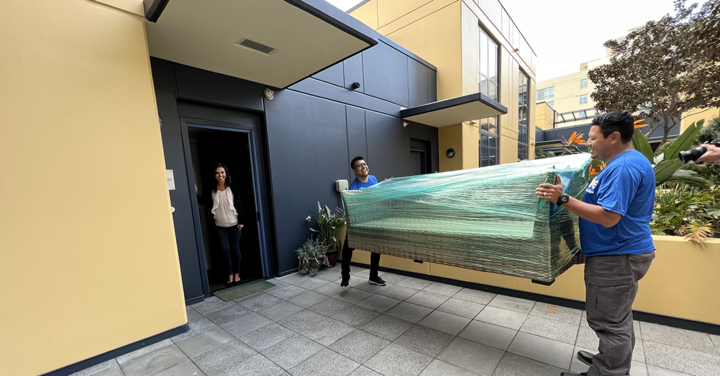 What Is White Glove Delivery, and How Does It Relate to Final Mile?
What Is White Glove Delivery, and How Does It Relate to Final Mile?
---
In a crowded logistics marketplace, there are more options than ever for customers to choose from to meet their final mile logistics needs. 
With so many different logistics companies, it can be difficult for transportation providers to stand out. This, combined with rising-rate increases–as much as 5% to 6% in recent months, according to Logistics Management–means that businesses need to find ways to provide customers with stand-out services that can help bolster their bottom line. 
By offering expanded delivery options, such as white glove delivery, logistics companies can show their customers why they deserve to be their logistics partner of choice. 
What is White Glove Delivery and Why All the Fuss?
White-glove service is a delivery option that offers exceptional care for special shipments. For example, a customer ordered a $2,000 flat-screen TV from Costco and requested white glove delivery to not only deliver the TV, but also remove the packaging, called dunnage, and install the TV. An expensive electronic device like a television needs to be handled with a particular level of care that traditional logistics providers might not provide. However, Costco still needs a service provider to work with to execute this service they sell to their customers. Costco would utilize a service and technology partner who offers an easy to use logistics platform that taps into a deep network of both last mile delivery carriers and those last mile carriers who can provide the installation service for the customer. The arrangement allows Costco to focus on what they do best, sell TVs to their members. Costco then looks like a more reliable, capable brand in the customers eyes because to the customer, it is Costco who will deliver that expensive flat-screen cost-effectively and safely while ensuring that the item arrives on time and is professionally installed. 
How can White Glove Delivery Impact Customer Experience?
There are many examples of how white glove delivery service impacts the overall customer experience beyond the common TV example stated above. For customers, white glove delivery services mean the ability to have infinite customizations. For example, a customer could ask that white glove delivery professionals haul away an old refrigerator before delivering and installing a new one. These customization options can keep customers coming back for all of their last mile and middle mile logistics needs. 
Building this kind of customer loyalty can impact a business's bottom line. As McKinsey & Company wrote, "some organizations have seen a revenue increase of 30 percent or more from adoption of a needs-based approach and proactively reaching out to customers at the right time with the right offering." Though white-glove deliveries can cost more than traditional logistics options, the benefits far outweigh the costs over time. 
White-Glove Shipping Services Improve Final Mile Delivery
Though every delivery company claims to handle shipments with care, white-glove services prove to customers that a transportation provider is willing to go the extra mile. Transportation providers with white-glove services can offer their customers a cohesive, customized experience.
At their core, white-glove services can represent the best in fleet management. By partnering with a last mile logistics provider that offers white-glove service alongside fleet data, businesses can rest easy knowing that their logistics budget is being used as efficiently as possible while avoiding messy asset management issues.
Customization and Personalized Handling Gives Shippers the White Glove Delivery Advantage
On-demand white glove delivery services can provide customers unprecedented access to customization in last and middle-mile delivery. In addition, by partnering with an API-enabled logistics provider, businesses can gain access to a vast array of logistics advantages. 
Give Customers the Service They Want With White Glove Final Mile Options – GoShare Makes it Possible
With two-day shipping now an expectation of more than half of customers, according to Deloitte, how are businesses meant to stand out? With white glove delivery services offered by GoShare, logistics companies can provide customers with the service they want for their final mile delivery needs. In addition, GoShare can help your business get shipments from A to B with more security and accountability than ever before. Contact GoShare to schedule a demo today.