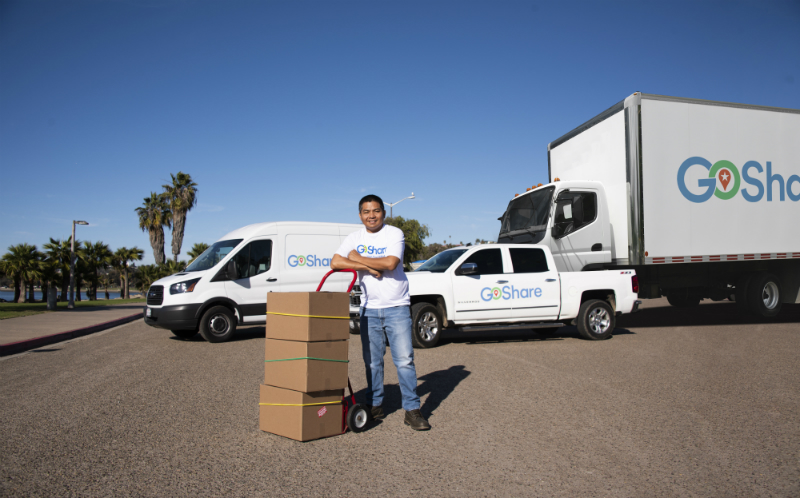 Local Truck Driving Jobs with GoShare
Local Truck Driving Jobs with GoShare
---
Are you looking for a local truck driving job? If you own a pickup truck, cargo van, or box truck, GoShare may be a great fit for you. GoShare is a platform that connects local businesses and individuals with truck and cargo van owners.  We're always looking for hard-working, self-starters to join our platform.
Why work for GoShare?
Industry Leading Wages – Gig companies sometimes get a bad rap for lowering wages, but GoShare is committed to the truck drivers on our platform and ensuring they receive a fair wage from customers for their hard work. In fact, doing a truck driving job on GoShare's platform often pays more than working for traditional delivery and courier employers. Average earnings vary based on vehicle size.

Standard Pickup Trucks: Average earnings of $42 per hour
Large Pickup Trucks: Average earnings of $57 an hour
Full-Size Cargo Vans: Average earnings of $62 per hour
Box Trucks: Average earnings of $67 per hour
Other vehicle types – learn more here

Flexible Hours: As a contractor on the platform, you set your own hours. Only take projects that work for you. GoShare works around your schedule.
Weekly Pay: GoShare bill customers on your behalf and directly deposits payments into your account.
Insurance Coverage: Any cargo you move is protected by GoShare's extensive cargo and liability insurance.
Minimum Requirements
In order to join the GoShare platform, prospective drivers must be able to meet the following qualifications. Many of these qualifications are required for insurance purposes. Unfortunately, we are unable to make exceptions if you don't meet these requirements:
Must be at least 18 years of age
Must be able to lift at least 50lbs
Must have a vehicle with a model number that is less than 15 years old (In 2021, this is a 2006).
Must be able to pass a background and driving history check
Must have an iPhone or Android phone capable of running the latest version of the GoShare App
Must have a checking account to receive your direct deposit payments
Must be able to speak English
Must have a valid license, registration, and insurance in the state that you are driving in
Must have the minimum state insurance requirements and be compliant with local laws
Where is GoShare Hiring?
GoShare is available in major cities across the United States. If you don't see your hometown below, we encourage you to still apply here. We are rapidly expanding and will likely be in your area soon. If you apply, you'll be the first to get an email when we get to your area.
How quickly can I start working?
The application and onboarding process with GoShare on average takes one to two weeks. Some applicants complete the steps much faster and are accepting projects in less than a week. Others may take longer. How fast you are onboarded depends on how quickly you are able to provide GoShare with documentation that allows us to verify your history and enter you into our system. The application process involves the steps below:
Initial Application – This short application takes about five minutes to fill out.
Orientation Video and Test – Watch a brief video and take a quick test. This generally takes less than half an hour.
Vehicle Inspection – Provide our team with an inspection from your mechanic or a short self-inspection video so we can confirm your vehicle meets the minimum requirements for our insurance coverage. Videos may take our team up to three business days to review.
Background Check – Background checks typically take less than 48 hours.
Account Setup – The final step is to enter your deposit information. Once this is set up, you are ready to start earning!
Do you have additional questions? Check out our Frequently Asked Questions page to see answers to some common questions that prospective and current drivers ask us.
Sound too good to be true? We hear that sometimes, but can assure you, we are the real deal. See more about our reputation and news coverage here.