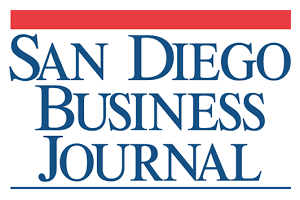 GoShare App Provides Access to Vehicles for Hauling
GoShare App Provides Access to Vehicles for Hauling
---
Written By: Katie Callahan for the San Diego Business Journal
Shaun Savage faced a classic square-peg-in-a-round-hole dilemma: trying to bring a big screen television from Costco into his Mazda 6 sports sedan. The TV wouldn't fit. His dilemma resulted in a 30-minute drive to pick up a moving truck, taking the TV home and another 30-minute drive back to reclaim his vehicle. It also eventually resulted in the sale of his biggest asset — his condo — to finance the formation of his own company — GoShare.
GoShare is a mobile application and website that connects consumers who need to move, haul, tow, ship or deliver large items over short distances with drivers who have a pickup truck, van or SUV. His background is in sales and business development, but Savage took a risk by starting the company, something his friend, a poker player, equates to gambling. "It's funny because I never thought of it this way but he was like, 'Wait a minute, you risked everything that you have financially and career wise to start your company," said Savage, 32. "Playing poker is kind of the same thing. Yeah, I'm risking my money, but in poker there's part gambling and part strategy. And that's how business is, as well. If you were to ask, do you gamble? I would say, no. But in fact, I do. I just don't do it in a casino. I do it in an office."
Focusing the Vision
Forming the company in 2014, Savage called it GoShare to encompass all he wants to achieve: becoming the Kayak, a mobile travel app, for the sharing economy and allowing people to get a ride, truck, boat or place to stay all in the same place. "It would be a place where people can come and share assets, whatever it was," Savage said. "So that was the original idea." After hearing that investors thought the idea was too broad, Savage chose to start with the one thing no one else was doing at the time: sharing trucks and vans. Launched in May 2015 with an app and a website, GoShare's eight employees, including Savage, operate out of both San Diego at EvoNexus and New Jersey, where Savage is from, with the hope of eventually expanding internationally. A new version of the app comes out this week for iOS and the Android version comes out in about another week. Over 8,000 people visit the website and download the app each month and the company receives a couple jobs a day, Savage said. There are currently 80-100 active drivers for GoShare and 2,000 applications from all over the U.S. from interested drivers. All drivers go through a local vehicle inspection and a thorough background check. The service works much like a ride sharing app in that the consumer starts by placing a pickup address, drop-off location and type of vehicle. Then the customer adds a backup vehicle, whether they need a trailer, and a weight and photo of the item they want to move. Then the app/website will provide the customer with an estimate, whether for immediate or future pickup.
The Split
The pricing for GoShare is determined by the driver's time and the size of the vehicle. A standard truck costs 99 cents a minute with a minimum of $29.99, and a cargo van costs $1.29 a minute with a minimum of $34.99. Comparatively, a U-Haul gives rates on its website of $19.95 plus 59 cents a mile for a truck or van and $19.95 plus 79 cents a mile for a 10-foot truck. GoShare drivers keep 80 percent of the profit; GoShare keeps the remainder. An average order is $70-$75. Savage would not reveal revenue or customer numbers because of the competition in the market. GoShare pays a premium monthly for cargo insurance for each active driver on the platform and truck insurance is paid by the drivers. Truck rentals make up an $18 billion industry, according to the research firm IBIS World Inc. The most common service is moving furniture, but GoShare drivers also have moved items for customers cleaning storage facilities, hauling industrial equipment or pallets, making donations to Goodwill, small offices and small apartments, last-minute-deliveries to warehouses and pickups from Home Depot or Lowe's for construction supplies. The company is actively fundraising and has been self-funded up to this point. Its first investor was a customer. GoShare won $5,000 in prize money for winning PitchTech 2015 in June at Interactive Day San Diego. One of the drivers, Sonny Levoit, 39, found GoShare's ad on Craigslist and was assigned the area from La Jolla to San Ysidro and east to Santee. He averaged 4-5 jobs this past month, but usually does 10-12. He said so far the experience has been positive. He's been working with Savage since the company launched. "A lot of the more unique jobs I can take because I have a trailer," Levoit said. "I really appreciate what he's [Savage's] done as a business…I moved 17 times before I got out of high school. Having a truck all my life, it's always like 'you got a truck?' Most of the time I just didn't get paid for it." Savage said success for his company starts with a great customer experience. While he still plans to become the Kayak of the sharing economy, he also is interested in producing an autonomous vehicle to reduce pollution and benefit society. "I would like to build a self-driving electric pickup truck," Savage said. "That is the ambitious goal. I think that would be a total game changer."
Article By Katie Callahan of the San Diego Business Journal