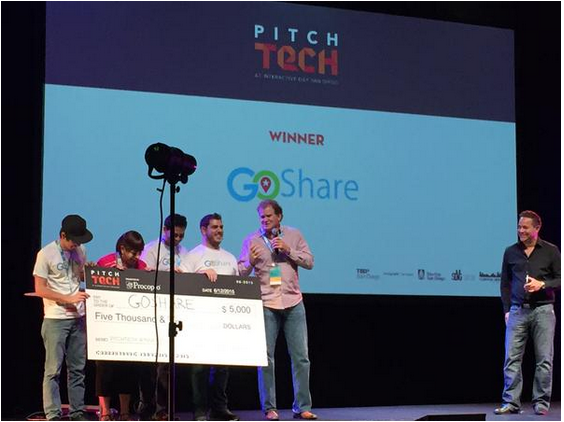 GoShare Wins PitchTech 2015 at Interactive Day San Diego
GoShare Wins PitchTech 2015 at Interactive Day San Diego
---
One of the most exciting and nerve racking parts of being a tech startup company is competing in pitch competitions. If you are not familiar with pitch competitions, you need to look no further than the hit ABC show Shark Tank to watch one. Typically, a startup will have a few minutes to pitch their business to a panel of judges and then answer a few questions so that the judges can determine a winner or in the case of Shark Tank, they decide if they want to invest in the company.
About a month ago I received an email from the organizers of PitchTech to see if we would be interested in applying to participate in a pitch competition on June 12th at Interactive Day San Diego. This was an event that I had attended several years in a row as a marketer and I was eager to get involved and display GoShare to anyone who would listen. I knew there was a lot of competition for the 10 open spots and being selected as one of the top 10 is an honor in itself. The format for this competition included a 3 minute presentation followed by five minutes of Q&A. The three judges/investors would choose their two favorites who would then pitch again during the keynote in front of the entire conference of about 1,500 people. The audience would use their smartphones to vote for the winner.

When I took a look at the list of companies that we were competing against I was a bit nervous. Six of the companies are in the EvoNexus incubator with GoShare and I know most of them very well. These companies are some of the best and brightest tech startups in San Diego and all of them are led by incredibly smart and driven individuals. I knew that Hush Technology would be a tough competitor after I watched them win EvoNexus's highly competitive demo day last year. Wrapify would also be tough to compete with. Their CEO James Heller travels up to San Francisco weekly to master his pitch. In addition, we would face off against Qelzal who is building obstacle avoidance technology for the next generation of drones; Astroprint, who is building software to make 3D printing at home easier; and DotStudioPro who developed software to make it easy to distribute and monetize video online.
With limited time to prepare, I decided to use a video as the backdrop for the presentation instead of the typical power point deck. With a little help from the EvoNexus team and iMovie we pieced together a demo of the new version of GoShare's iPhone app combined with some video that I shot of our customers and drivers in action using an iPhone. The result was a low quality/low cost video that did a great job of showing the audience what GoShare is all about.
The day of the competition, I remember arriving at the conference and seeing a lot of familiar faces. Several of my friends, former coworkers and old clients were in attendance. The pressure to perform in front of so may people that I knew was intense. At first, I was told that GoShare would be the 8th company to pitch out of 10. This seemed good, giving me enough time to watch almost everyone else pitch and gauge the judges reactions and the types of questions they would ask. After the 3rd company was finished, the organizer looked at me and said, "You are up next". I almost had a heard attack. I replied, "We are supposed to be 8th" he said, "No, you are next". I took a quick sip of water and went up there. It happened so fast that I didn't really have enough time to be nervous.
There were about 100 people in the room watching me, no pressure. Fortunately, I relish opportunities to talk about GoShare and in the blink of an eye my three minutes was up and the judges were asking me questions. I was relieved that the judges seemed to understand GoShare right away. One of the judges commented that they had owned a truck in the past and missed having one. Another said it was the kind of service that he himself has needed and would use. To my delight, the judges questions were straight forward and easy for me to answer. After it was over, we got a warm round of applause from the audience and I sat back down. My colleagues and family all said it went well but I wasn't sure. Watching the final six companies pitch was agonizingly slow. I just wanted to know which two companies would be competing in the finals. The agony ended when the host announced that GoShare and Wrapify would be moving on to the finals to compete for $5,000 , a spot at a TEDx Innovation Alley, and bragging rights for a few months.
Now it was time to prepare for the big pitch. We had about 20 minutes to get ready while the rest of the conference trickled into the main room to watch the finals and the keynote speaker. I thought Wrapify had an advantage because of his presentation abilities and the fact that he was offering a unique and compelling advertising solution to a room full of marketers. We flipped a coin to determine who would go first, heads meant GoShare was first, it was heads. I tried to focus on the fact that it was a great opportunity to share my excitement with a room full of people to keep from being nervous. During the presentation, I had tunnel vision, I don't remember much except the fact that I tried really hard not to make eye contact with anyone in particular. Getting off the stage was a huge relief. Now it's James's turn. He walked up confidently and got started. Then something went wrong. He was unable to use the clicker to move onto the next slide in his presentation, he froze. It took him about 20-30 valuable seconds to regain his thought process and continue on with his presentation without the use of his slides. When his three minutes was up, I could see the disappointment on his face. A technical difficulty caused him to mess up what was normally a very good presentation. Advantage GoShare. The audience started voted before the keynote speaker began talking. We would have to wait until after the keynote was over to learn who won. It was the longest keynote ever! During the keynote James plead with the organizers to let him pitch again as he felt embarrassed by his first run. He had every right to be mad. When the keynote was finished, I anxiously waited to hear the results of the voting. Right when I thought they were announcing the winner they instead announced that Wrapify would have a chance to pitch again, and that they were going to keep the voting polls open until he was done. Great!
James went on to deliver his presentation flawlessly with the help of a working clicker and his power point slides. I didn't know what to expect at this point. Did he win the marketers over with his pitch, or was it too late? Finally, the voting period ending and the sponsor of the event went on stage to announce the winner, GoShare!!! What an amazing sound to hear. All that hard work and now some glory and recognition. It was an incredibly humbling experience.  Thank you to everyone who helped us get to this point!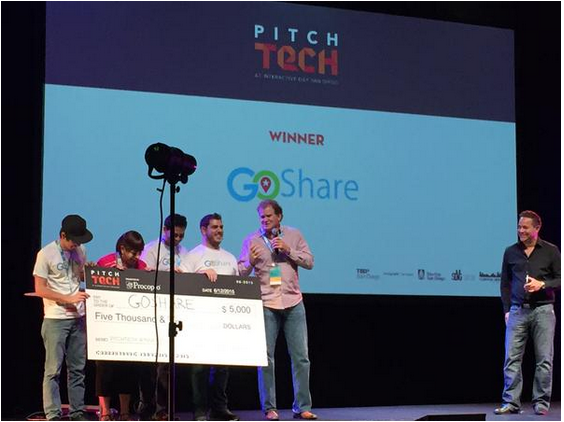 Written By: Shaun Savage