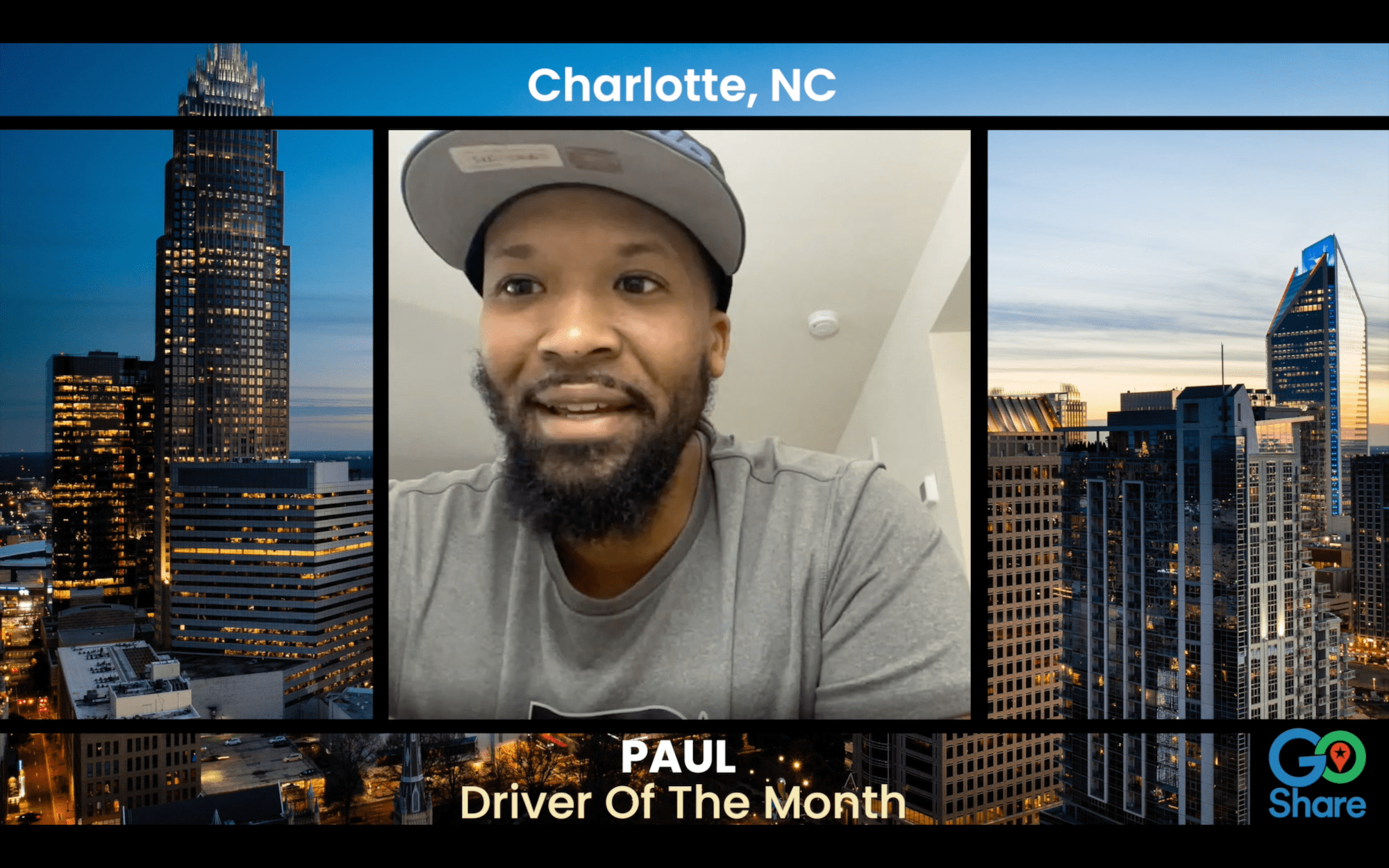 Meet Paul our Driver of the Month December 2022
Meet Paul our Driver of the Month December 2022
---
Say hello to our latest Driver of the Month, Paul from Charlotte, NC! Watch this video to learn how Paul uses his box truck and equipment to earn money with GoShare.
Why Join GoShare?
Flexible Hours
As an independent contractor you can work when you want. The GoShare platform gives you the flexibility needed to achieve a healthy work-life balance, it's the perfect side hustle. Accept deliveries on your schedule and never worry about letting us know when you take some time off.
Strong Earnings
GoShare deliveries pay some of the highest per hour earnings in the logistics industry. GoShare delivery professionals are able to turn their vehicle into a money maker, supplement their income, and keep 100% of their tips. Top delivery pros earn thousands of dollars per month.
Benefits
We are about building a community of delivery professionals who want to be their own boss. As a GoShare delivery professional you get access to benefits and perks such as healthcare, vehicle discounts, and cash advances. You can also win cash and other prizes in one of our many contests.
Still not convinced? Watch the video to hear Paul explain why he loves working with GoShare. Top delivery professionals like Paul are able to earn extra income on a flexible schedule with GoShare and we're confident that you can too, learn more and apply now.
Video Transcription:
Paul:
My name is Paul. I'm out of Charlotte, North Carolina. I have a 2007 a Isuzu NPR box truck, 16 foot.
Shaun:
Lift gate, or no lift gate?
Paul:
It has a lift gate.
Shaun:
Nice.
Paul:
There's a lift gate.
Shaun:
Yep.
Paul:
That's really important, especially for a box truck, to have the lift gate. There's been some instances where I definitely needed the lift gate with heavy pallets and appliances, so that's definitely a bonus.
Shaun:
Yeah. And it'll save your back too.
Paul:
For sure. Spending time with the family. I love traveling. We love traveling. I love going to the shooting range. Just watching football, NFL. Ravens fan.
Shaun:
Any favorite places that you've been travel-wise?
Paul:
Yeah, I was in the military for about six years. So after I got out of the military, I would say I did government contracting as well. But I would say Dubai is probably the best place.
Shaun:
Interesting. Well, thank you for your service. What branch of the military were you in?
Paul:
I was in the Army. I would say because it's on demand, it's convenient. Customers, I feel like they want to be able to access a service right away. And for the whole platform, I mean, it is easy to operate. I feel like people want to get things delivered right on time, right then and there, so it's convenient. It's really convenient. I've never been on any other platform. But just from what the customers say, they're saying that GoShare is the top, top notch, pretty much the number one that they use.
Shaun:
That's great. And I'm not surprised. We've been doing it now for about seven years. And we've taken the platform from something very basic to a very robust and useful tool for both the delivery professionals and for the customers.
Paul:
It is very profitable. You can make pretty good money on the platform if you work smart. The key is work smarter, not harder, of course. But it is very profitable, I would say. When I say work smarter, I would say make sure you use your equipment properly. Like I said, make sure you have your dolly, your ratchet straps. I would basically say your essentials to get the job done easier. Instead of putting a refrigerator on your back or picking up a microwave, make your equipment work for you. Try to accept as many jobs as you can, for one. And make sure you're on time, never late, because that shows big. Customers, they don't want their product late, so that's big. It's a good platform. I mean, like I said, make money. I mean, you can make pretty good money on the platform compared to the other ones. One of the Lowe's customers, they're showing appreciation of me. They start, I guess, remembering who I am and everything, and they really showed their appreciation from it. I told them my name and everything. They remember my name. And they're like, "Yeah, you've been doing a good job." And that felt good. So, just showing appreciation.
Shaun:
That's awesome. And yeah, it's great when you see the same customers coming back for more and recognizing you and remembering you. I think that always makes the experience a little bit more enjoyable.
Paul:
Your customer service team is doing a tremendous job. There's times where I needed them badly and they came through, so hats off to them.
Shaun:
No, that's great. Yeah, I'm happy to hear that. And I'm not surprised to hear that either. It is a great team. And they're standing by waiting to help out, and they're an ally for you. They want to help make sure that you have a good experience and that if there's any questions or any issues that kind of pop up during a delivery, that they'll be there to support you. So yeah, continue to lean on them. Great to hear that you've had a good experience with them so far. Keep up a good work and keep making money. Happy to see the box truck is getting a lot of action.
Paul:
I appreciate it.