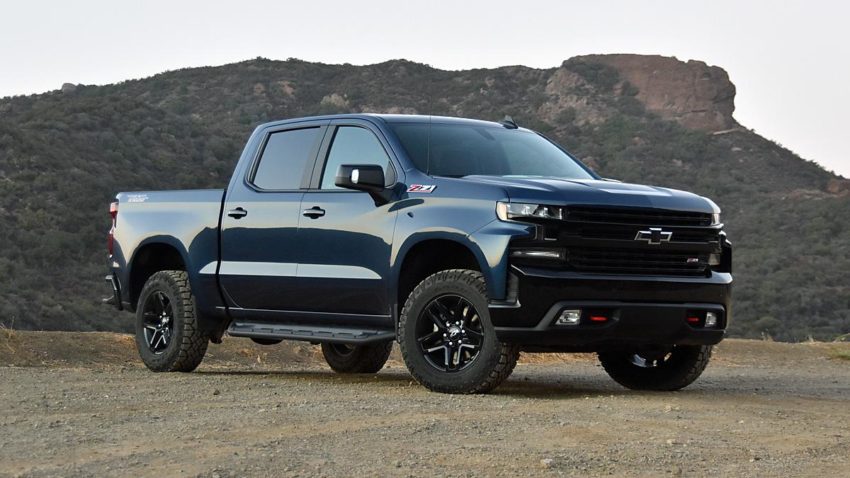 Best Mid-Size and Full-Size Pickup Trucks of 2019
Best Mid-Size and Full-Size Pickup Trucks of 2019
---
Looking for the best new pickup truck for 2019? We are here to help! This year's crop of trucks features enhanced safety features, beautiful new designs, and modern technology. Combine these new features with the same reliability and dependability you've come to expect from America's favorite vehicle and you have a tough choice to make.
2019 Ford F-150 (MSRP: $34,245 – $60,850)

The Ford F-150 is the best-selling full-size pickup truck, and for good reason too. The F-150 is capable of towing up to 13,200 pounds and a payload capacity of almost 3,300 pounds. The notable engines available for the F-150 are the 3.5L EcoBoost twin-turbo V6 engine that generates 375 horsepower and 470 lb.-ft. of torque and the 3.0L TurboDiesel engine that generates 250 horsepower and 440 lb.-ft. of torque. Depending on which cab model you select, the F-150 can hold up to six. Its interior is both comfy and functional while still maintaining a modern look.
The F-150 is hooked up with an 8-inch LCD productivity screen that provides important driver information, such as trip/fuel, towing, and off-road information. An 8-inch touchscreen is also available, including the usual amenities of GPS navigation, Bluetooth connectivity, and more. The truck is compatible with both Apple CarPlay and Android Auto. Safety features involve a 360-degree camera with a split-view display, Adaptive Cruise Control with Stop-and-Go, Pre-Collision Assist with Automatic Emergency Braking, and other useful amenities. The F-150 brings to the table a well-rounded pickup truck that is capable of anything. With the highest towing and hauling capacity in the class, the F-150 is a strong contender for those looking into heavy-duty carrying. If solely driving is your intent, the F-150 still holds up to a high standard in that regard as well.
2019 Ram 1500 (MSRP: $34,495 – $56,495)


The 2019 Ram 1500 continues to innovate, bringing passenger vehicle comfort to the capable, hard-working pickup truck. The Ram 1500 is impressive in regard to carrying capacity, being able to tow up to 12,750 pounds with a max payload of 2,300 pounds. Three engine choices are available: both the 5.7L V8 engine without eTorque and the 5.7L V8 engine with eTorque consisting of 395 horsepower and 410 lb.-ft. of torque, as well as the 3.6L V6 engine with eTorque consisting of 305 horsepower and 269 lb.-ft. of torque. Each engine comes with an eight-speed automatic transmission. The Ram 1500 may seat up to six and holds one of the nicest cabins in the class. With a sunroof and spacious interior made up of premium materials, the Ram 1500 definitely has a lavish feel to it.
As far as technology is concerned, the Ram 1500 features a 12-inch touchscreen with navigation and SiriusXM with 360L, a Digital Cluster Display, and more. The truck is compatible with both Apple CarPlay and Android Auto. In regard to safety, several tools are at the driver's disposal, including Blind Spot Monitoring, Lane Departure Warning, Smart Cruising, and Guided Parking. The Ram 1500 delivers overall quality in every department that a full-sized pickup truck can offer. With a stable ride, capacious interior, and high towing and hauling capacity, the Ram 1500 makes itself a top-selling and high-rated truck in the class.
2019 Chevrolet Silverado (MSRP: $34,600 – $53,000)

Due to the similarities between the Chevrolet Silverado and GMC Sierra, both these trucks are paired together. Both trucks are capable of towing more than 12,000 pounds with a payload capacity of more than 2,000 pounds. The Sierra offer five engine choices: the 2.7L Turbo engine consisting of 310 horsepower and 348 lb.-ft. of torque, the 5.3L V8 engine consisting of 355 horsepower and 383 lb.-ft. of torque, the 6.2L V8 engine consisting of 420 horsepower and 460 lb.-ft. of torque, the 4.3L V6 engine consisting of 285 horsepower and 305 lb.-ft. of torque, and the new 3.0L TurboDiesel engine with late availability. The 6.2L V8 engine and the 3.0L TurboDiesel engine are coupled with a ten-speed automatic transmission. Depending on the cab model selected, both trucks may seat up to six. While their interior quality of premium materials and an appealing design are great, both the Silverado and Sierra lack in the luxurious finish of the Ram 1500. Both trucks are available with an 8-inch touchscreen with advanced navigation, Bluetooth capability, a Wi-Fi hotspot, and more.
Several safety features are presented, including a Lane Change Alert, Forward Collision Alert, Rear Cross Traffic Alert, and Front Pedestrian Braking. It is evident that the Silverado and Sierra do not truly falter in any aspect. With several powerful engine options, a commodious interior, and a strong towing and hauling capacity, both the Silverado and Sierra are solid choices those looking for highly capable full-sized pickup trucks. Those looking for a pickup truck that offers a bit more bang for its buck, the Silverado may be the better choice, considering its noticeably cheaper price compared to its twin Sierra.
2019 Honda Ridgeline (MSRP: $29,990-$43,420)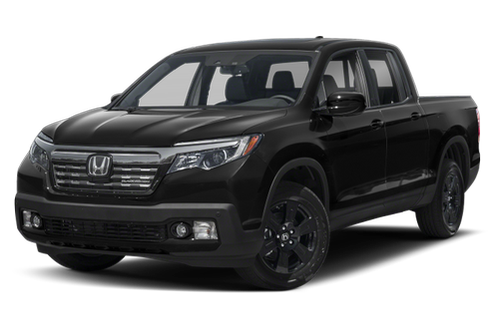 The Honda Ridgeline may be a bit more on the pricier side, but it is safe to say its price tag is completely justified. Because the Ridgeline comes standard with front-wheel drive instead of rear-wheel drive and all-wheel drive instead of four-wheel drive, its handle and overall ride quality prove superior to many of its rivals. Depending on the model selected, the Ridgeline's towing capacity holds up to 5,000 pounds and a payload capacity of up to 1,580 pounds.
Regarding performance, the Ridgeline holds a 3.5L V6 engine generating 280 horsepower and 262 lb.-ft. of torque. The engine comes with a six-speed automatic transmission. The Ridgeline's interior contains a spacious cabin and is able to seat five. With over 60 technological amenities, including the Blind Spot Information System, a rearview camera, Honda LaneWatch, and more, the Ridgeline eases the driver to make him or her feel safe and secure when driving. The truck is compatible with both Apple CarPlay and Android Auto. In terms of safety, the Ridgeline contains features such as the Collision Mitigation Braking System, Road Departure Mitigation System, Adaptive Cruise Control, and the Lane Keeping Assist System. While the Ridgeline comparatively lacks in towing capacity, an abundance of features and accessories, along with smooth performance and drivability, cause the truck to place much higher when it comes to the best 2019 mid-size pickup trucks.
2019 Ford Ranger (MSRP: $24,300-$38,385)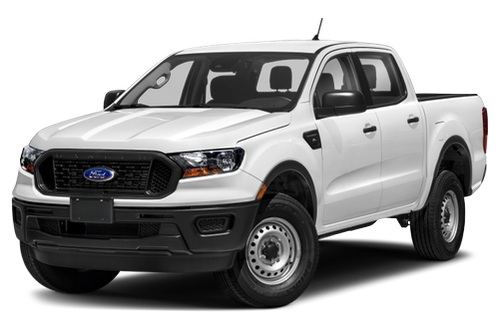 The Ford Ranger brings to the table everything you may expect from a compact pickup truck. The truck offers a maximum payload capacity of up to 1,860 pounds and a towing capacity of up to 7,500 pounds. When it comes to power, the Ranger is strapped with a 2.3L EcoBoost engine exhibiting 270 horsepower and 310 lb.-ft. of torque. The engine has a ten-speed automatic transmission. Depending on which configuration you choose, the Ranger may seat up to five. Unfortunately, the Ranger's cabin looks rather dated compared to its truck competitors. The Ranger's technological capability is shown through its introduction of the Ford Co-Pilot 360, which consists of driver-assist technologies such as a lane-keeping system, adaptive cruise control, and more. By using Sync 3, other functionalities including a voice-activated navigation system and Bluetooth audio streaming are available. Despite its unfashionable interior design, The Ranger boasts excellent towing and payload capacities, along with a reliable engine in terms of performance, making it a solid all-around choice for a pickup truck.
2019 Nissan Titan (MSRP: $35,930 – $56,800)

Despite its starting price, The Nissan Titan struggles to present a true advantage over its competitors. The 2019 model is not offered until the fall, so any information is according to its 2018 model. The Titan's towing capacity holds up to 9,740 pounds and its payload capacity holds up to 1,950 pounds. In terms of performance, the Titan offers a choice between a 5.0L Turbo Diesel engine of 310 horsepower and 555 lb.-ft. of torque versus a 5.6L gas engine of 390 horsepower and 394 lb.-ft. of torque. Like most full-size pickup trucks, The Titan is capable of seating up to six. Similar to the Ford F-150, the interior feels deluxe with premium materials and a spacious cabin.
Concerning its technology features, the Titan is supplied with a 7-inch touchscreen with GPS navigation, Siri Eyes Free, Bluetooth connectivity, and more. The truck is not compatible with Apple CarPlay or Android Auto. The Titan's safety features consist of Vehicle Dynamic Control, a Traction Control System, a Blind Spot Warning, and more. While the Titan is smooth in terms of handling, it falls short in other departments. With a below-average towing capacity compared to some of its heavy-duty rivals and a mediocre infotainment system, as well as a relatively high starting price, the Titan proves to be a viable but not so cost-effective option for truck buyers.
2019 Toyota Tundra (MSRP: $35,450 – $50,330)

Toyota trucks are famous for their high resale value. The Toyota Tundra leaves much to be desired in comparison to its competitors, but it is still considered an overall good truck. The Tundra can tow up to 10,100 pounds and can haul up to 1,660 pounds. Two engine choices exist: the 4.6L V8 engine generating 310 horsepower and 327 lb.-ft. of torque or the 5.7L V8 engine generating 381 horsepower and 401 lb.-ft. of torque. Both engines hold a six-speed automatic transmission. The Tundra's standard seating can carry up to six. Its interior keeps up with the current trend of pickup trucks, showcasing solid quality material and an opulent touch to its design.
In regard to its technological capabilities, the Tundra is equipped with a 7-inch touchscreen that includes a standard backup camera, integrated navigation, and voice commands. The truck is not compatible with Apple CarPlay or Android Auto. In terms of safety, the Tundra offers an array of features, such as Vehicle Stability Control, Traction Control, an Anti-Lock Braking System, and Smart Stop Technology. The Toyota Tundra sets itself apart through its standard powerful V8 engine and the large variety of safety systems in place. Despite these strengths, the Tundra fails to offer an option between a diesel or gas engine that many rivals are beginning to incorporate. Furthermore, the limited towing and hauling capacities of the Tundra are far lower than much of its competition's towing and hauling ratings. Regardless, the Tundra is still a good truck purchase as it matches all of the criteria that a solid full-size pickup truck should provide.
—
Want to earn money with your pickup truck? Sign up with GoShare and earn $42 – $67 per hour on average plus tips. Click here to see if your truck qualifies 
Need a truck? GoShare can connect you with a network of local moving and delivery professionals with pickup trucks, cargo vans, and box trucks. All delivery professionals are licensed, background checked and insured.