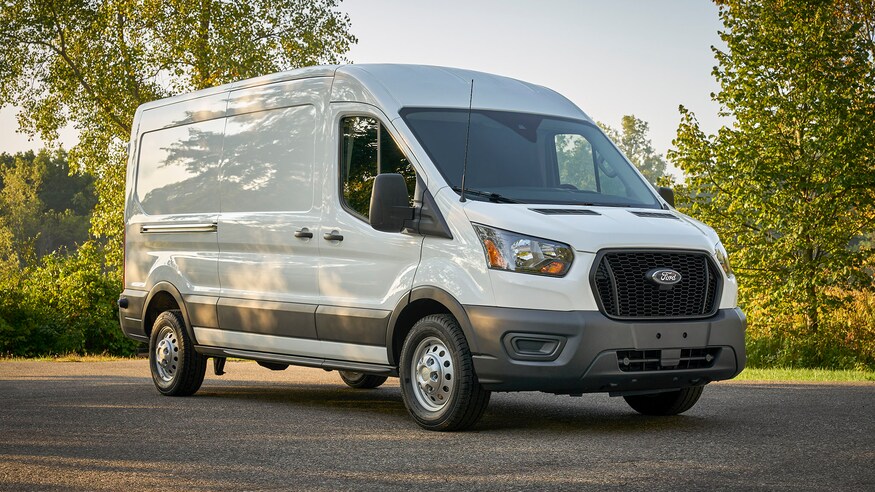 The Best Cargo Vans of 2021
The Best Cargo Vans of 2021
---
The cargo van is the modern equivalent of a solid workhorse. Dependable and versatile, they are an essential part of the logistics and service industries. 
Cargo vans are employed by service technicians as mobile work centers for HVAC repair, electrical work, and more. With better fuel economy than larger box trucks, cargo vans are also the ideal vehicle for many last-mile delivery and transportation loads. These street-friendly vehicles can easily navigate busy urban areas or suburban neighborhoods to make quick deliveries. 
The market offers an array of adaptable cargo vans for business needs. To help you find the right model, we've compiled a list of the best 2021 cargo vans on the market. See our review of the 2020 cargo van models here.
2021 Ford Transit
The 2021 Ford Transit was built to work. While it's not the most premium option on the market, Ford fans tout the strong value and dependability for a moderate-level price tag.
Ford offers a spacious cargo area that acts as a blank slate for businesses, easy to configure as a delivery van or mobile workspace. Depending on your needs, choose from three lengths, three roof heights, and two wheelbases. There is plenty of space in the interior for shelving, racks, bins, and storage for your tools and equipment. 
In 2020, the Ford Transit got a significant upgrade to the vehicle's smart tech, which 2021 model buyers will also enjoy. The Transit's Wi-Fi hotspot supports up to 10 devices. Stay connected within a 50-foot radius of the van. The Ford Transit Cargo Van also comes standard with the Sync 3 infotainment system that includes Apple CarPlay and Android Auto compatibility. Also enjoy electronic driving safety systems, like autonomous emergency braking, adaptive cruise control, lane-keeping assist, and post-collision braking.
2021 Mercedes-Benz Sprinter
Mercedes-Benz is well known for producing luxury vehicles of uncompromised quality. They bring that tradition to their Sprinter vans, with a top-of-the-line, premium vehicle that sets the standard for other vans in the market.
You can see the famed Mercedes-Benz quality come through in the cabin details and smooth ride of this van. It is also the only vehicle in the category to offer a four-wheel driver configuration, allowing this powerful van to drive places competitors can't. 
The Mercedes-Benz Sprinter Cargo Van offers extended cargo space and many versatile combinations. Choose from 21 different variations of the cargo van model. The Sprinter can tow up to 5,000 pounds and has the highest payload capacity in its class.  
The Sprinter also offers the longest list of active safety features and driver aids in the category. These include Rear Cross-Traffic Alert, Parking Assist with a rearview camera, Active Lane-Keeping, Active Distance Assist, and Active Braking Assist. Stability and control is enhanced through Downhill Speed Regulation and Crosswind Assist, along with Trailer Stability Assist in situations where a trailer is attached to the van. 
With all it has to offer, expect the Sprinter to come in with a higher price tag than near competitors. 
2021 Ram ProMaster 
The Ram ProMaster offers a high payload capacity and plenty of body configurations. But, it still falls behind the full-size van offerings from competitors Ford and Mercedes-Benz when it comes to towing capacity and safety features. 
The Ram ProMaster offers low and high roof variations, as well as wheelbase options of 118, 136, and 159 inches. However, competitors offer similar options with more powerful powertrains. The ProMaster lags in towing capacity and does not offer all-wheel drive options, coming only with front-wheel drive. 
The 2020 Ram ProMaster's safety features were scant. However, the 2021 model expands these offerings to include forward-collision warning, blind-spot monitoring, automated braking, and cross-wind assistance.
The ProMaster's 9.2 inch digital rear mirror is optional but a handy upgrade, especially for models equipped without rear windows.  
2021 Chevrolet Express
The Chevrolet Express doesn't offer many bells and whistles. But, it's still a versatile, dependable workhorse and a staple in many fleets across the country. 
The Express offers three different powertrain options, including a diesel, as well as a range of payload and towing capacities. It comes with standard and long-wheelbase alternatives. Unlike competitors, the Express does not offer a high-roof option.
The Express sets itself apart with a strong engine and high maximum payloads. It's ideal for towing and hauling heavy loads. Expect it to handle like the large vehicle it is, not quite as responsive and smooth as competitive options. 
The interior is simple and spartan, making this truly a no-frills option. In fact, though the Express first hit the market in 1996, it is still in its first generation. This dated look is evident in the vehicle design. 
2021 Nissan NV Cargo
The 2021 Nissan NV Cargo van uses a strong body-on-frame design, similar to the Chevrolet Express. This strengthens its payload and towing capacities, but at the sacrifice of driver comfort. Look to the Transit or Sprinter for a smoother ride and easier handling.
Vehicle options include a V-6 or V-8 engine. The NV Cargo comes exclusively with rear-wheel drive and a seven-speed automatic transmission. 
Like Nissan trucks, Nissan Cargo Vans have simple, basic, low-tech interiors. However, the 2021 model did add an in-dash navigation system on the SV and SL trims. 
The 2021 NV will be Nissan's last run before phasing out the vehicle in North American markets.  
Earn Money With Your Cargo Van
Got a full-size cargo van? Sign up with GoShare to find local projects and earn money doing delivery, moving and hauling projects.
Earn Money With Your Cargo Van
Got a full-size cargo van? Sign up with GoShare to find local projects and earn money doing delivery, moving, and hauling projects.
Additional Resources
Did you find this article helpful? Check out our other posts for helpful tutorials and information.