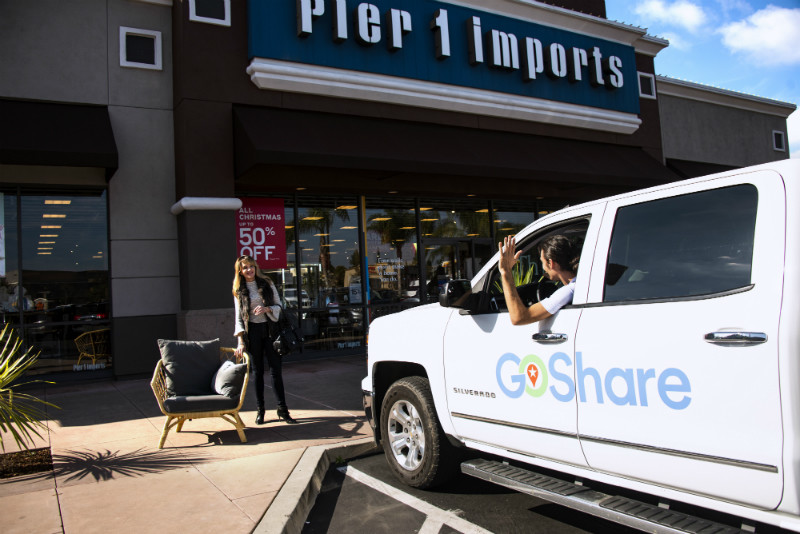 Pro Tips For Pier 1 Delivery
Pro Tips For Pier 1 Delivery
---
GoShare was built to help Pier 1 Imports customers save time and money when delivering Pier 1 purchases. We want your customers to have a great experience every time they use our on-demand Pier 1 delivery service. We hope these pro tips will help Pier 1 customers get the most value and the lowest cost when using our delivery service.
1. Have Items Ready to Go
You will save money by having your Pier 1 items packed and ready to go before your delivery professional arrives. If possible, bring the items to the curb for easy loading. You pay a flat rate per minute from pickup to drop off. The clock will start when the delivery professional begins loading your cargo into the delivery professionals vehicle. The clock stops once your cargo has been delivered to the drop off location. We can bring items into the house and assemble for a small, flat fee.
2. Choose the Correct Number of Delivery Professionals
You can select one or two delivery professionals to help you depending on the situation. If you don't want to do any work, select two delivery professionals and sit back while we do the heavy lifting. If the load is lighter or you want to save some money you can select one delivery professional. If the item is heavy and you are questioning if you can help or not we recommend choosing two to be safe.
3. Communicate With Your Delivery Professional
After your delivery professional accepts your request, you will have access to a phone number to reach him/her. We encourage you to contact your delivery professional if you have any questions or if you want to discuss the details of the project before they arrive. This is especially important if you have special pickup or drop off instructions such as a gate code. We believe that good communication is the key to having a great experience with GoShare. We have also built a lot of communications tools into our system to notify you automatically when your delivery professional arrives at Pier 1 and when your cargo is delivered. You can also contact GoShare directly if you have any questions that your delivery professional can't answer.
4. Don't Ride With the Delivery Professional
GoShare is a platform for moving cargo, not people. Our insurance policy will protect your cargo but it will not protect you if you are injured in an accident while riding with the driver. Please arrange separate transportation for yourself when using GoShare.
5. Choose The Correct Vehicle
GoShare delivery professionals have pickup trucks, cargo vans and box trucks. Please make sure that your cargo will fit into the vehicle type that you select. To get delivery vehicle dimensions use our free estimate tool.
6. Earn GoShare Credit
After you create your account you will be assigned a unique GoShare promo code. You can invite friends to join GoShare using your promo code. When you share your GoShare promo code, your friend will get $10 off their first delivery and you will receive a $10 GoShare credit after their first delivery is complete.
6. Scheduling Your Pickup
With GoShare you can schedule a pickup as soon as 30 minutes from now or you can book in advance. You can save money by booking your delivery outside of your local rush hour if possible. Our price estimating tool does take traffic into consideration. Lastly, we recommend not booking or rescheduling during inclement weather if possible.
Thanks for choosing GoShare for Pier 1 Delivery!
Do you have a pro tip to share with other customers? Contact Us.