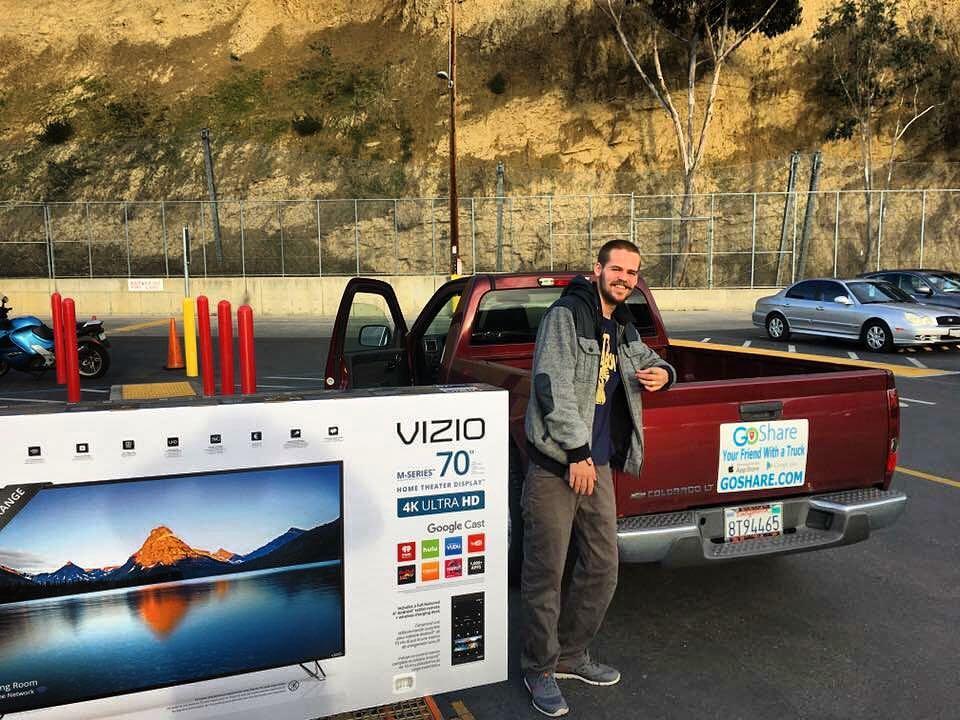 How to Safely Transport Televisions and Large Items in Pickup Trucks
How to Safely Transport Televisions and Large Items in Pickup Trucks
---
You've finally invested in that brand new television, and now it's time to bring it home. Follow these steps to safely transport your TV in a pickup truck bed or cab. These tips will also work for similar large, bulky items and electronics.
Supplies
If you are transporting your television in the bed of your truck, you'll need a few supplies to secure your TV and ensure that it doesn't slide around or become damaged during the move. Smaller televisions may be transported in the cab of the truck. When using the cab, a seatbelt can be used in the place of ratchet straps.
Use ratchet straps instead of bungee cords. Bungee cords can slip and allow your cargo to slide. Ratchet straps will provide a safer, more secure hold.
How to Load and Secure the Television

GoShare Pro Travis demonstrates the proper way to load and secure an oversized big screen TV in his truck. Watch the video above and follow the appropriate steps below to get your new big screen home safely.
Oversized boxes, big screens, or large cargo
Lay down a moving blanket to protect, create a cushion and prevent damage.
Carefully lift the television and place it on the blanket. Keep the television box upright at all times.
 Place it firmly against the side of the truck bed.
Pull the cargo straps across the box, avoid twisting the straps as you feed them through the ratchet.
Tighten the straps. If the straps are beginning to tear or crush the box, it may be too tight.
Check that it's secure by pulling on the straps. The TV should be snug, and not be able to wiggle or pop up.
You are ready to hit the road!
Smaller televisions, medium boxes, or small cargo
Clear out the back seat to create room for the item.
Carefully lift the television and place it across the seat. Keep the television box upright at all times.
Pull the seatbelt across the TV and buckle it in to secure it in an upright position.
Lay the passenger seat down so the headrest is in front of the box. This helps minimize potential damage if you hit bumps in the road.
Check that the TV is secure and won't slide out or wobble.
You are ready to hit the road!
—
Big box, little car? GoShare can connect you with a network of local moving and delivery professionals with pickup trucks, cargo vans, and box trucks. All delivery professionals are background checked and insured.
Got a truck or cargo van? Sign up with GoShare to earn money driving with your vehicle.