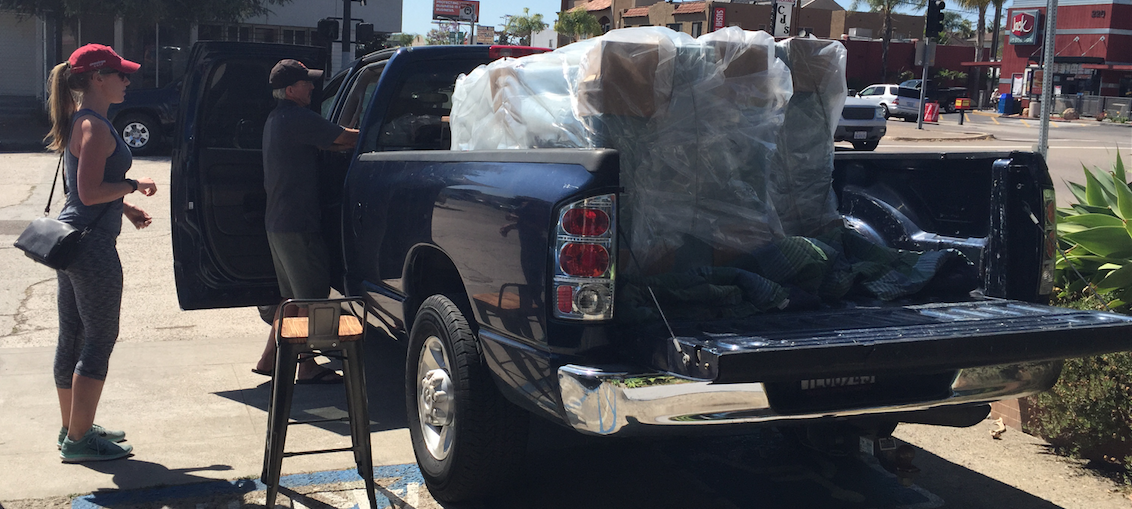 How to Get Your Furniture Home
How to Get Your Furniture Home
---
You did it! You found the perfect piece to fill that nook in the living room. Or, maybe it's the most comfortable couch you've ever sat on. Perhaps you finally scored a Craigslist deal on some new bookshelves. Now that you've found your ideal piece of furniture… you're met with your next challenge. How do I get my furniture home?
You've got a few options:
Use the Retailer's Delivery Service: Some retailers may provide delivery options. However, they are often expensive and take several days (or weeks) to arrive. Plus, many traditional delivery fleets require you to be home for a two-six hour window, waiting around for their truck.
Strap it to Your Car: Got some bungee chords and twine? Strap it to the roof of your car! But, be careful, don't overload your roof. And, anything that may block the driver's vision could earn you a ticket (learn more here).

Call a Friend: Got a friend with a truck? Call in some favors and see if you can enlist their truck (and muscles) to bring home your new piece of furniture. Make sure to buy them lunch and pay for gas as a thank you.
Rent a Truck: Rent a pickup or box truck from a company like Penske or Budget Truck Rental. Many of these companies recommend booking at least two weeks in advance. So, call ahead to make sure they have the vehicle you need prior to committing to the pickup time for your new furniture. And, make sure you bring enough manpower with you to load and unload your items.
Use an App: It seems like there is an app for everything these days, and furniture delivery is no exception. Use an app like GoShare to hire a local delivery professional to get your furniture home. It takes less than three minutes to enter your information into the GoShare app or on the website. Your delivery job will be sent to a local network of qualified, background checked, and insured professionals. It takes only moments to find a delivery driver, and you can read reviews from other customers before accepting them to your job. Schedule ahead or request someone in under an hour.
Don't let a small car stop you from bringing home that perfect piece of furniture!  Whether you strap it to the hood of your car or use a delivery professional to bring it home, we know that it's going to look great in your house.