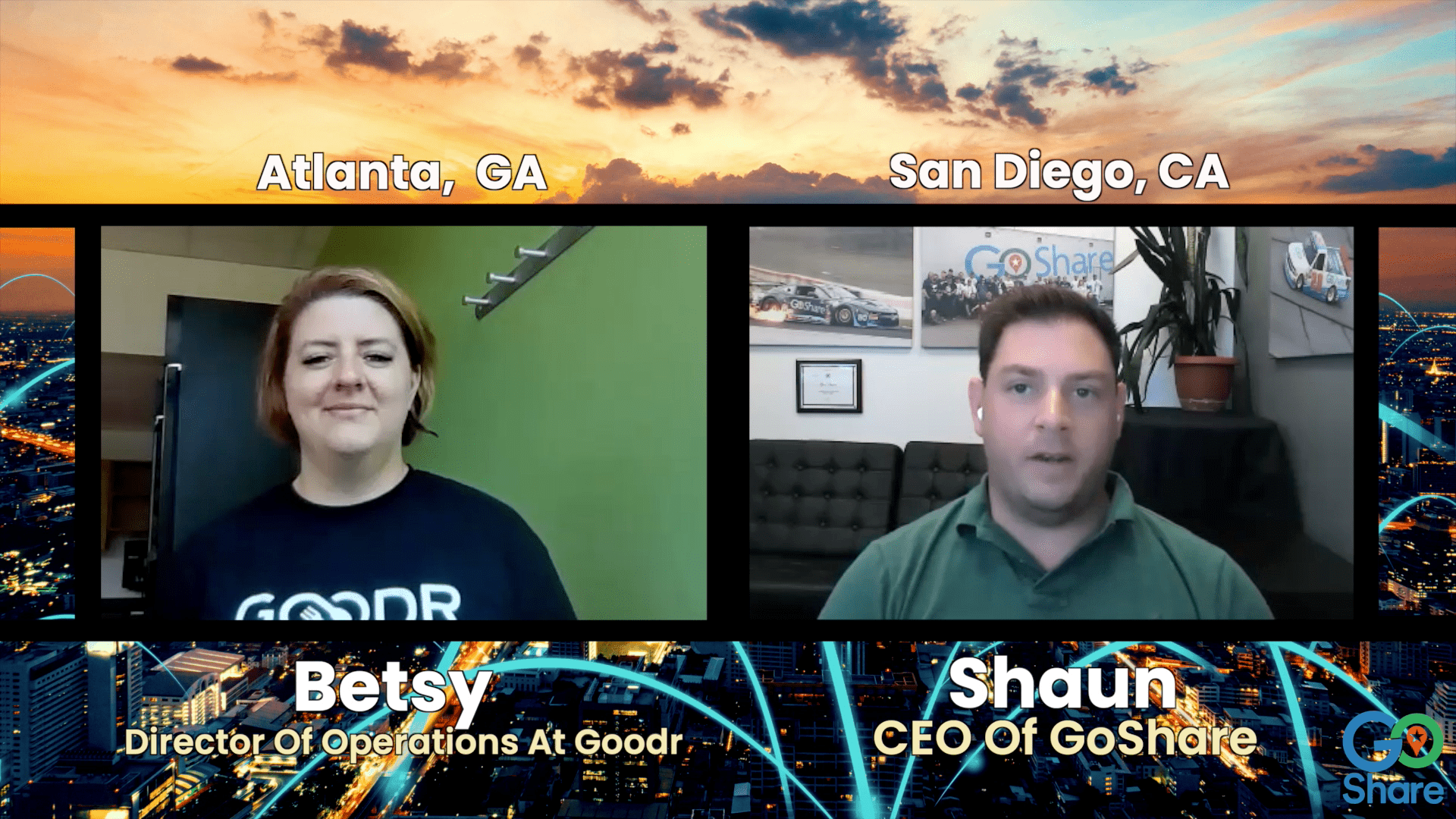 Customer Spotlight: Goodr
Customer Spotlight: Goodr
---
Discover Why Our Partners Love Working With Us
We are excited to share our latest Customer Spotlight Video, featuring Goodr! As a valued partner, Goodr has experienced firsthand the benefits of collaborating with GoShare. In this video, you'll get an inside look at how our partnership has led to success for both companies and why our partners love working with us.
A Strong Partnership
Goodr is a tech and logistics company that focuses on ending hunger and reducing food waste. They work with businesses to divert their surplus food, ensuring that it's delivered to local communities in need instead of ending up in a landfill. By partnering with GoShare, they have been able to leverage our expertise, technology, and nationwide driver network to bolster their operations and strengthen the impact of their food waste solutions.
Collaboration for Success
Our partnership with Goodr is built on a foundation of trust, communication, and collaboration. They know that they can rely on GoShare to carry out their last mile deliveries nationwide as they continue to develop relationships with organizations who have surplus food. This allows Goodr to operate more efficiently, expanding their reach without the need to heavily invest in their own delivery fleet. This shared vision has led to a strong and productive working relationship that continues to grow and evolve.
The GoShare Advantage
One of the key reasons our partners, like Goodr, enjoy working with us is our commitment to excellence. We pride ourselves on providing top-notch customer service, cutting-edge technology, and a vast network of delivery drivers. These factors, combined with our dedication to continuous improvement, make GoShare an ideal partner for businesses looking to optimize their last mile logistics operations.
Watch the Video
Don't just take our word for it – hear it straight from Goodr! Check out the Customer Spotlight Video to learn more about our partnership and see why our partners love working with GoShare. We're confident that you'll be inspired by the success story and motivated to explore how GoShare can benefit your business as well.
We look forward to continuing our partnership with Goodr and showcasing more success stories from our valued partners. Stay tuned for future Customer Spotlight Videos and other exciting updates from GoShare!
Video Transcription:
Betsy Neal:
My name is Betsy Neal. I am director of operations for Goodr, which is a tech and logistics company based out of Atlanta, Georgia that focuses on ending hunger and addressing food waste. We firmly believe that hunger and food waste is not an issue of scarcity. We know that there is a ton of edible food that goes to landfills. The logistics piece is what is crucial to our operations and how we get all of the food, try to capture as much food as we possibly can, and divert that from landfills and get it to families that actually need it.
Shaun Savage:
The overall mission that you have to fight food hunger and end food waste.
Betsy Neal:
It's a big one.
Shaun Savage:
Yeah think, it's a big one for sure.
Betsy Neal:
Yeah, it's definitely a big goal.
Shaun Savage:
It's certainly a noble cause. I've worked in the restaurant industry when I was younger and I know that food waste is a huge problem. I mean, it costs the industry so much money. It costs businesses so much money and yet, at the same time, there's all these people out there that are hungry or food insecure. And I just love the mission and what you're doing at Goodr. Goodr and GoShare both work at this cross section of logistics and technology and it's great to see your use case in particular. Can you talk a little bit about how GoShare plays a role in Goodr's logistics and supply chain?
Betsy Neal:
Yeah, GoShare has been crucial to a lot of different projects that we've been in. We have a built out logistics team and a fleet here in Atlanta, but we don't have that same reach outside. And so us being able to have access to really reliable drivers, reliable vehicles, and able to fill that logistics piece for us in other states has enabled us to grow leaner. And I know that's always really important to us as a startup, is how do we continue to grow and not continue to build and have more and more assets? So using GoShare has been crucial in us being able to just reach more people.
We partnered with the city of Denver and Denver Public Libraries to provide groceries to families where we would pack grocery packages, deliver them to libraries, and then families would come to the libraries and get their food for the week. And this was a huge program. We fed over 400 families for I think about nine weeks straight, which was a huge impact. Families were so thankful and we couldn't have executed that without GoShare.
We have partnered with different fast food chains across the country to have recovered their surplus food and divert that to nonprofits in the area. And so that requires a logistics driver from GoShare going to those different locations, picking up the surplus, and taking it directly to a nonprofit. And it's fantastic to be able to work with GoShare and them help us find really solid, reliable drivers that we can use on a reoccurring basis versus getting a random driver every time. That's huge for us.
Shaun Savage:
That's awesome. And we're honored to even be a small part of the operation, so thank you for including us in it. The reality is we're in a big industry, logistics and supply chain, and there's a lot of different options out there. And so I guess I'm curious about why do you use GoShare?
Betsy Neal:
All of our projects are a little bit abnormal to the traditional GoShare model. I always go back to Samantha, who's my customer success person at GoShare. She is fantastic and will figure out any project that I need her to. And I know I can go to her with some insane ideas and she's like, "Okay, let's figure this out."
Shaun Savage:
So happy to hear that Samantha has been really helpful and accommodating. I think it's cool that we've been able to find ways to work together, even though the projects might be a little bit outside of the scope of what might be considered normal.
Betsy Neal:
We are going in a million different directions and GoShare is great about pivoting and figuring out how we're going to tackle this project when at the end of the day the goal is literally to just get food to people. So it's really great to be able to be centered and then also to be able to reach out to GoShare and be like, "This is what we wanted to accomplish. What are your thoughts and how do you think we could tackle this?" They're always down for a conversation and that's been fantastic for us. I keep going back to this project that we did in DC last summer that was a beast of a project. And we went to Samantha and her team and we just really figured it out. And we were like, "We need to get 14 drivers. They're picking up from different locations. They're different delivering to a different…" It was just a beast of a project and they made it happen and it was insane.
Shaun Savage:
What are some ways that either GoShare can improve or how can we help you serve you better and help in your model better in ways that maybe we aren't able to do today?
Betsy Neal:
I think one thing that we're always able to get it figured out, but if GoShare is able to get us a certain driver. Like I mentioned, so when we pick up for the same restaurant, we want the same driver every single time. But a lot of times we have to place the pick up through the GoShare website and then we have to message customer support to assign it to our designated driver. So it would be great to have our assigned drivers that we could assign right when we place the pick up, if that makes sense.
Shaun Savage:
Interesting. We may have a solution for that already in place. You may know about it. Have you ever tried using a driver's promo code when placing an order?
Betsy Neal:
No.
Shaun Savage:
So every single driver on GoShare has a unique promo code. It's usually like a six-digit code. And when you put in the order in the promo code field, you can input the driver's unique promo code. The way it works is the order will go to that driver first and they have a certain amount of time to accept it. It's like five or 10 minutes. And hopefully they're available and they do it. And if for whatever reason they're not available, the order then just gets recirculated to the general population of drivers that match the search that you have.
Jasmine, your CEO, I think she found us at a Costco while she was shopping there and needed to have something delivered. It was furniture or a TV that she bought from Costco.
Betsy Neal:
Exactly.
Shaun Savage:
She ended up using GoShare to do that. And then I think maybe she used her Goodr email address and we just picked up on it and just started looking into it and made contact. And just what a great partnership this has been. It seems almost a little bit serendipitous how we got linked up through Costco. But ultimately, we're proud of Goodr for the work that you're doing and we're just happy to be a small part of that.
Betsy Neal:
Awesome.
Shaun Savage:
It's great that there is so much support for this out there because it is a huge problem and now there's a good solution for it with Goodr.
Betsy Neal:
Yeah. Exactly, exactly. It's great to see the stars aligned and find out that Amazon wants to have this reach and we can execute it and we can use GoShare to make the last mile work. It's a collaborative effort for sure.
Shaun Savage:
Yeah it is. And we're proud to be a piece of it. And if there's anything more that we could be doing to help as you grow and as new projects come up, continue to bring us your ideas, whether you think they're crazy or standard.
Betsy Neal:
Definitely.
Shaun Savage:
And we'll do our best to accommodate you and continue to work with you and serve you and help you for further your mission, which I think is a very worthy cause.
Betsy Neal:
Definitely, yeah that'll be great. Thank you so, so much, Shaun. Everything so far has been fantastic with GoShare.