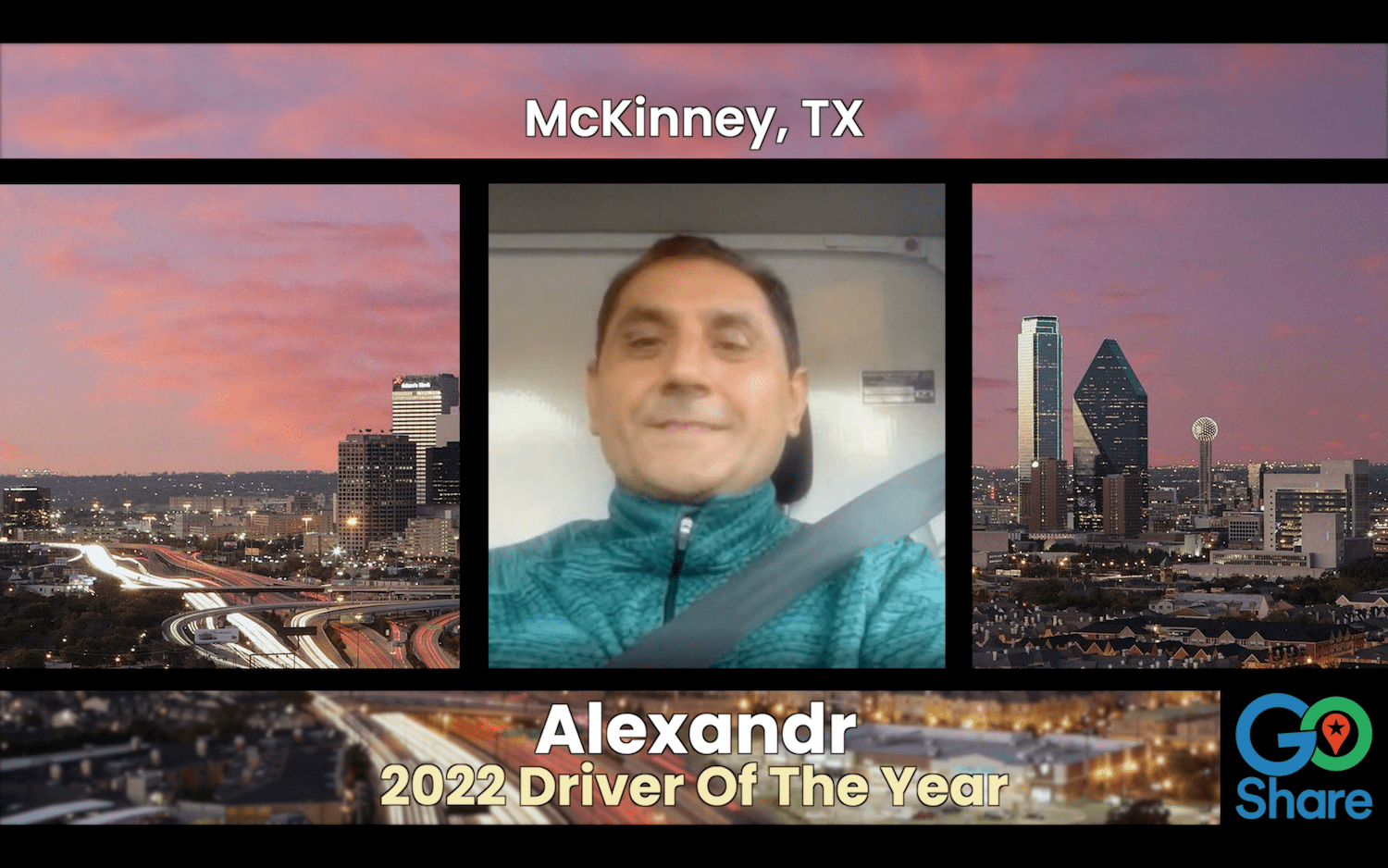 Meet Alexandr our 2022 GoShare Driver of the Year
Meet Alexandr our 2022 GoShare Driver of the Year
---
Congratulations to Alexandr for being the 2022 GoShare Driver of the Year! A top earner on the platform with a perfect 5 star feedback score, Alexandr was awarded a new Apple Watch 8 and shared his experiences and pro tips with CEO Shaun Savage.
Why Join GoShare?
Flexible Hours
As an independent contractor you can work when you want. The GoShare platform gives you the flexibility needed to achieve a healthy work-life balance, it's the perfect side hustle. Accept deliveries on your schedule and never worry about letting us know when you take some time off.
Strong Earnings
GoShare deliveries pay some of the highest per hour earnings in the logistics industry. GoShare delivery professionals are able to turn their vehicle into a money maker, supplement their income, and keep 100% of their tips. Top delivery pros earn thousands of dollars per month.
Benefits
We are about building a community of delivery professionals who want to be their own boss. As a GoShare delivery professional you get access to benefits and perks such as healthcare, vehicle discounts, and cash advances. You can also win cash and other prizes in one of our many contests.
Still not convinced? Watch the video to hear Alexandr explain why he loves working with GoShare. Top delivery professionals like Alexandr are able to earn extra income on a flexible schedule with GoShare and we're confident that you can too, learn more and apply now.
Video Transcription:
Shaun:
What is your first name and where do you live?
Alexandr:
First name is Alexandr and I live in McKinney, Texas, currently.
Shaun:
What kind of truck do you have today?
Alexandr:
I have a box truck. It's a Ford Transit, E350 HD box truck with a lift gate, which helps a lot. If I take care of the truck, do all the preventive maintenance on a timely manner, it goes forever.
Shaun:
Tell me a little bit more about what you do for fun. What are some of your hobbies outside of work?
Alexandr:
As I'm getting a little older, I spend more time with my kids, try to go to their activities. It's kind of my hobby now. Spend as much as I can with them because they are growing almost out of college.
Shaun:
I have two young daughters myself and I'm like, I'm just watching them grow up and it seems like I go away for a couple days. I come back and they're bigger and they're smarter. It's fun to watch. Why do you think customers choose GoShare based on what you've seen?
Alexandr:
If you show great customer service to them from beginning until the end, they love GoShare. They are saying it's easy to use the app, user-friendly, no hidden fees. One customer said-
Shaun:
No one likes hidden fees.
Alexandr:
Yes, working with the Scholastic for example, they love the GoShare because they use me almost 30 times during November and December. Even if we need to work 6, 7, 8 pm we do. We go extra mile. If they ask for the extra stuff to do, we don't say, "Oh, it's too late." Well, I can tell for myself, I'll go extra mile and just make them happy. Personally by myself, if I'll have a GoShare orders all day long, I can handle seven, eight orders per day easily.
Shaun:
No surprise that you were the highest performing driver last year in terms of the number of deliveries and also I think in terms of your rating was exceptionally high. It was almost like a perfect five out of five, so yeah. Yeah, great job and yeah, whatever you're doing, keep it up. You're doing a great job over there. What advice would you have for other GoShare drivers who are maybe new and starting off and maybe want to get some tips from someone who's got some experience?
Alexandr:
This job is not delivering cargo from Point A to Point B. This job has so many details from the beginning starting from calling the customer, making sure that exactly what they needed, whatever they describe on the app, because sometimes it changes. Make sure spend extra five minutes, six minutes in the back of your truck. If you need to use extra straps to strap all the items, just do it because you won't regret it. It's better to spend extra five minutes than deal with all these claims and customer dissatisfaction and all other stuff lately, just extra five minutes. Just secure your cargo and be nice with a customer from the beginning, very nice and friendly with a smile. After I'm done, I'll send them, "Thank you for the business. Here's my promo code, ALEXAND1083 with GoShare. If you like the quality of my business, please use my service again."
Shaun:
All three of those reasons are why you've gotten great reviews so far from our customers, so all good advice. Thank you. Yeah, now I know why you're doing so well because you take advantage of all the features that we have built for drivers, so good job. What would you tell someone who is thinking about driving with GoShare, whether they have a truck, a van, or a car?
Alexandr:
It's really user-friendly. The reps, whomever I talked before, they are really helpful. Never had any issues with any of them, with the GoShare team, customer service team, and on the financial side, I don't remember even working for almost two years for the GoShare, I had any issues. If anything is questionable, it got fixed immediately. You don't have to go back and forth. It's like I can't say any negative or complaining.
Shaun:
What sets GoShare apart from some of the other competitors from your perspective?
Alexandr:
Great customer service, great projects, great pay, great communication. Mainly those all factors are making GoShare one step, even two steps ahead from the other ones.
Shaun:
You've done a great job with your work at GoShare, so keep it up and thank you and thank you for providing great service to our customers. It sounds like you've earned a great reputation on the platform so far, so-
Alexandr:
I hope.
Shaun:
Yep. Yeah.
Alexandr:
Thank you much for your job. Whatever you do for us over there, we appreciate it.