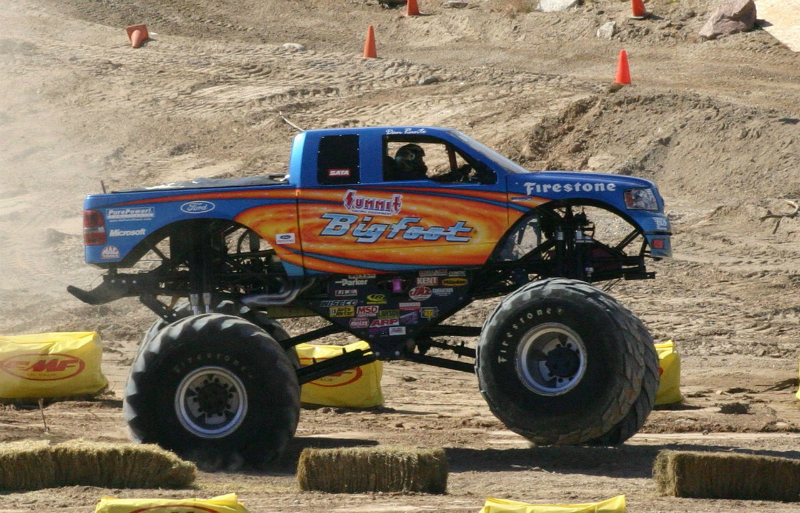 World's Most Famous Pickup Trucks
World's Most Famous Pickup Trucks
---
Lights, camera, action! These stars are ready for their close up. Hollywood is full of famous actors and actresses, but sometimes it's the vehicle that really steals the scene. While they may not get a star on the walk of fame, these movie and television pickup trucks left their mark on hollywood and our hearts.
Take This Job And Shove It: Bigfoot (Modified Ford F Series)
Bigfoot is regarded as the original monster truck. Build in 1975 and debuted in 1979, the original Bigfoot was built using a 1974 F-250 four wheel drive. In 1981, the truck's builder Bob Chandler got permission from a local farmer to place two broken down cars in his field and videotape Bigfoot driving over them. The popular video led to public demonstrations. And, Bigfoot was cast in it's first of several movies, Take This Job And Shove It. Bigfoot remains popular today, with Bigfoot 21 still competing in active racing.
Hooper: 1978 GMC 4×4 K15
Nothing takes you back to the late '70s and early '80s like a boxy, square-bodied pickup truck. And, one of the most famous trucks from this era was the red GMC driven by Burt Reynolds in Hooper. The filming used two versions of this truck. One that was customized with a chrome roll bar, KC lights and custom pinstriping. A second, modified clone was built with a reversed body for the scene where the pickup is driven backwards down the Pacific Coast Highway.
The Cannonball Run: 1980 GMC 3500 Indy Hauler
There are many vehicles to love in this comedy about a cross-country race. Car lovers may be excited by the appearances of a Lamborghini, Ferrari, and Aston Martin. But, the true show stealer is the GMC Indy Hauler pickup that jumps a train.
The Expendables: 1955 Ford F100
Sylvester Stallone assembled the "toughest crew of the century" for this action-packed blockbuster. And, the customized 1955 Ford F100 is no exception. Built to Stallone's specifications by West Coast Customs, the truck features lowered suspension and four wheel disc brakes. Three trucks were built for the filming, one for close-up shots and two stunt trucks for the more destructive chase scenes.
The Bridges of Madison County: 1960 GMC 1500 Wideside
There's no doubt about it. Clint Eastwood loves trucks. In Gran Torino he drove a 1972 Ford F-100. In Every Which Way But Loose he had a classic 1955 Chevrolet 3100. But, perhaps his most famous truck is the 1960 GMC 1500 Wideside from The Bridges Over Madison County. This movie featured additional classic pickups including a 1959 Chevy Apache and 1951 Ford F1. For a sappy love story, it's a pickup truck lovers dream.
Walker, Texas Ranger: 1995 Dodge Ram 1500
Texas Ranger, Chuck Norris, uses martial arts to take down lawbreakers? Well, you know there is only one vehicle tough enough for a man like that to drive. Norris' character chased down crooks and even out drove helicopter rocket attacks.
Twister: 1995 Dodge Ram 2500 Club Cab SLT
A movie about professional storm chasers was bound to feature a rough and ready pickup truck. The 1995 Dodge Ram does not disappoint,surviving giant hail, a flying semi-truck full of fuel, being battered by trees and debris, and driving through an explosion of fire. When watching the movie, be on the lookout for the 1982 Jeep Pickup Honcho Townside as well.
Storm Chasers: 2008 Dodge Ram 3500 Dual-Rear-Wheel 4×4
The pickup in the movie Twister only had to survive Hollywood effects. But, this Dodge Ram must survive true high-speed tornado winds with the real life storm chasers on the Discovery Channel. This tank-like pickup has been heavily modified with a new steel frame, and welded steel plates.
The Beverly Hillbillies: 1921 Oldsmobile Model 46 Truck
There are classic trucks and then there are classic trucks. After finding crude oil on their property, the Clampett's head out to Beverly Hills on their 1921 Oldsmobile roadster, featuring a customer flatbed on the back. It's the perfect place to carry Granny's rocking chair. George Barris, who also created the Batmobile, built five of these trucks for the series.
National Lampoon's Christmas Vacation: 1963 Dodge D-200 Crew Cab Sweptline
The classic 1963 Dodge pickup that terrorizes Clark Griswold during their drive to cut down the perfect family Christmas tree was also used as Kurt Russell's work truck in the movie Overboard. From it's rusty, blue body and "Dog on Duty" plates, this is the classic rusty, ol' country pickup.
Back to the Future: 1985 Toyota SR5 Xtra Cab 4×4
Sure, the DeLorean gets a lot of screen time in this 1980s classic. But, Marty McFly's 1985 Toyota SR5 Xtra Cab 4×4 is a dream vehicle for pickup truck lovers. With a lifted suspension, tube bumpers, roll bar and KC lights, there's no doubt McFly's truck was fly.

—
At GoShare, we love pickup trucks and pickup truck divers! We love them so much, we built an app to help connect pickup truck owners and everyday people for their delivery and moving needs.
Do you need a truck for a quick job? GoShare can connect you with a network of local moving and delivery professionals with pickup trucks, cargo vans and box trucks. All delivery professionals are licensed, background checked, and insured.
Got a truck? Sign up with GoShare to earn money driving with your vehicle.