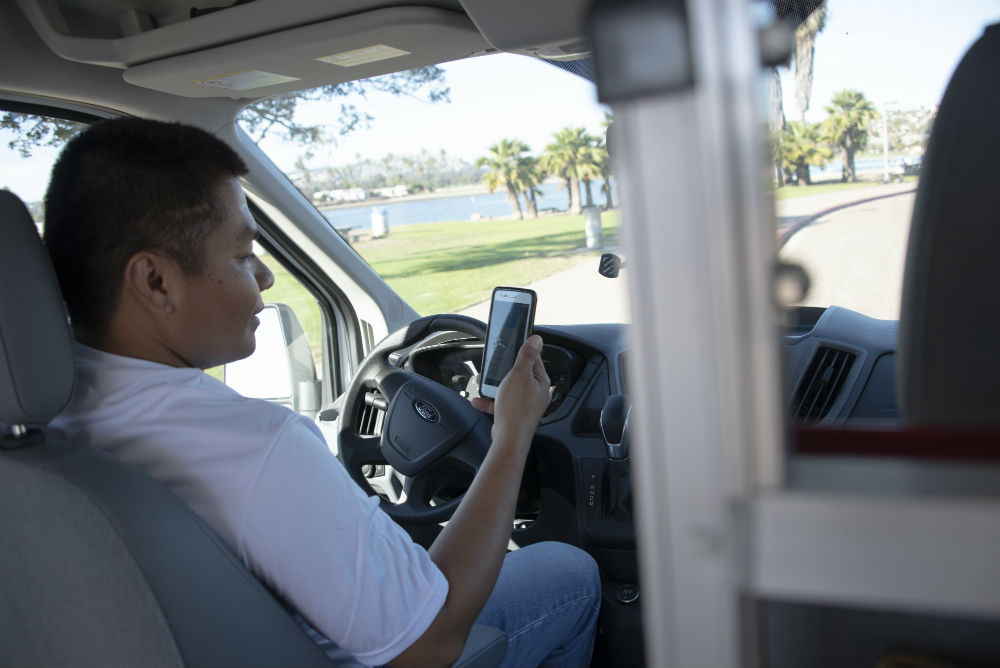 Using a Truck Loads App to Find Local Jobs
Using a Truck Loads App to Find Local Jobs
---
For many, the hardest part of having an independent trucking business is finding loads to fill your schedule.
If you are looking for cargo van, straight truck, or pickup truck loads, GoShare is the ideal app for you. GoShare is a truck loads app that matches local owner-operators with last-mile delivery projects in their area.
The GoShare driver app is free to download in the app store. 
We Find the Loads
You may be new to trucking and still working to establish consistent clients, or are looking for extra projects during your slow periods. Either way, finding new loads can be challenging.
Many local hot shot truckers and cargo van owners use load boards to find work. Unfortunately, these load boards can be highly competitive, with drivers undercutting each other to secure the best jobs.
Let GoShare find loads for you! The GoShare app is not a traditional load board. The proprietary technology connects individuals and businesses with local pickup truck, cargo van, and box truck owners. 
GoShare has created relationships with local businesses and national retailers. These clients refer middle mile, last mile, and hot shot loads to the GoShare platform. In addition, GoShare's system is open for any retailer or consumer to create and post truck loads.
Use the GoShare mobile app to get project alerts. Every time a new project enters the system, a push notification will be sent to all drivers in the area. 
You no longer have to worry about haggling or being undercut. The first person to accept the load gets it. 
While projects can be scheduled in advance, many load requests are for time-sensitive, same-day delivery projects. It's the perfect way to find to fill your schedule with local projects.
Get Paid in Less than a Week
Many traditional trucking jobs have 30 to 60-day invoicing. That's a long time to wait for payment, especially as you balance the business costs of fuel and vehicle maintenance. 
Customers hiring you through GoShare pay by using credit and debit cards. GoShare will bill the customer on your behalf and deposit the money directly into your bank account once the payment clears. On average, it takes four days from the project completion for their payment to process and deposit into your account.
Delivery professionals that complete more than 200 transactions equaling more than $20,000 through GoShare will also receive a 1099-K for tax filing purposes. 
Work When You Want  
GoShare is a matching service. You retain your flexibility and rights as an independent contractor. This means that you are not obligated to accept any projects that don't work for your schedule. When you get a push notification about a project, you will be able to review the project details including pick up and drop off location, load contents, and extra equipment requests. 
You may accept the project or decline. It's up to you. Unlike some gig economy apps, there are no penalties for declining projects.  It's perfect for supplementing your existing trucking business or to get you started doing transportation work for the first time.
Insured and Protected
In addition to any personal insurance you may carry for your business, GoShare provides an extra layer of protection. Any project accepted through GoShare will have added cargo and liability insurance protection. 
GoShare carries liability insurance and hired owned and non-owned auto insurance. This insurance policy covers items valued up to $40,000. This protects you from high damage claims in the case of accidental damage to the cargo during loading, transport, and unloading.
Want to learn more? Click here to learn about GoShare or to apply to join the platform.
Additional Resources
Looking for more information about the truck industry and going into business for yourself? Check out these additional posts from GoShare.