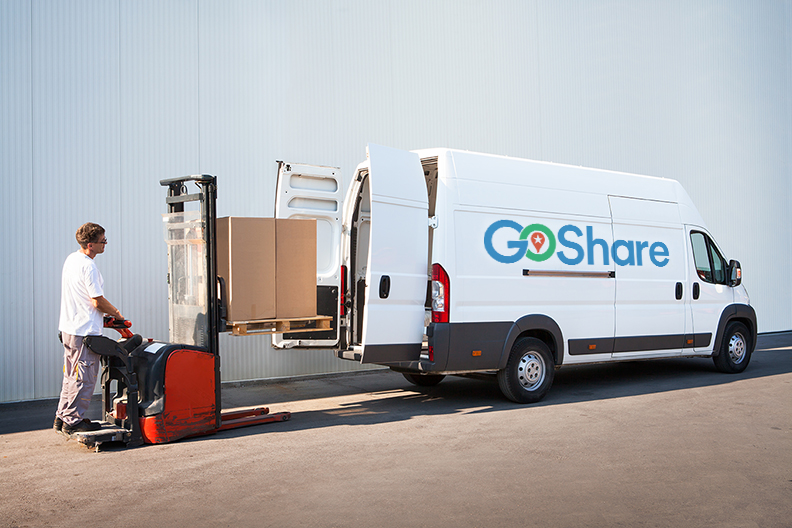 Transportation Management System, TMS, for Virtual Fleets
Transportation Management System, TMS, for Virtual Fleets
---
Some in the logistics industry have argued that GoShare is an entirely new type of Transportation Management System (TMS). We would argue that we are an alternative for small businesses or a supplemental system for larger organizations. Either way, GoShare is changing and improving the way companies move and transport physical goods. Whether a small business or global giant, GoShare's virtual fleet of contractors can support your transportation management and supply chain management systems.
What are Transportation Management Systems?
Supply chain management (SCM) is the management of the flow of goods and services. A transportation management system is a subset of supply chain management that focuses specifically on the movement of physical goods, from planning and execution to optimizing that movement. A TMS program may also be offered as a component of an enterprise resource planning software system (ERP), connecting it to other business areas like finance, accounting, and HR.
Traditional TMS software includes tools for load building, yard management, route planning, carrier management, and order visibility. The software gives visibility to supply chain teams as to where their items are, where they need to be, and the best routes and carriers to get those items there.
Transportation management systems are essential for large organizations moving physical goods. They organize, track and allow for optimization. Many TMS software programs are cloud-based, often as a SaaS, allowing manufacturers, logistics providers, and retailers to connect to the system. Some companies may prefer on-premises deployment of their software because of the security benefits.
How is GoShare Different?
GoShare is different than a traditional transportation management system. A typical Transportation Management System gives companies oversight and helps them manage their internal fleet of transportation vehicles, or connect with third-party logistics trucking companies.
GoShare's software connects individuals and businesses with a virtual fleet. GoShare's virtual fleet is made up of thousands of pickup truck, cargo van, and box truck owners. These contractors have passed strict background and driving history checks as well as vehicle inspections. By creating a project, GoShare users can access this virtual fleet on demand. Vehicles and transportation professionals are requested and deployed in real time. They are available for hot shot jobs, including same day or even within the hour.
GoShare can be used independently of a transportation management system, or connect to your preferred system with an API to work in concert with your other supply chain tools.
GoShare for Small Businesses
Small businesses are often at a disadvantage when it comes to being able to invest in logistics, transportation, and supply chain software. Even basic software packages can be a significant investment. Small business owners and local retailers may use creative workarounds, manual tracking, or do without while building their businesses.
For small businesses, GoShare's software allows companies to access quality, vetted transportation professionals, track their orders and projects, and get monthly reporting. Order status and payments are managed through an online account, or easy to use app. Monthly reports are available for business partners. It's easy to use, and affordable.
There is no software fee for using GoShare. Small businesses only pay when they engage a delivery professional. Paying per project also provides incredible savings over contracting with outside fleet services or managing a fleet in-house. GoShare's virtual fleet is only activated when needed, so businesses incur no costs between projects.
Small businesses frequently use GoShare for inland carriers, intermediate carriers, less than truckload (LTL) freight, and last mile delivery.
GoShare for Large Corporations
Larger businesses with existing transport management system software programs have found that GoShare connects seamlessly into their existing systems. In addition to day-to-day logistics and management, a transport management system is used to help optimize supply chains. It helps identify cost savings, efficiencies, and waste reduction.
GoShare becomes an important resource for these companies in providing an affordable, on-demand option that can assist with everything from LTL freight to last mile delivery. Many companies use GoShare to supplement their existing carriers when last minute or unexpected loads need transportation. Instead of having to pull a resource from another area within their system, GoShare can be called upon to provide an on-demand carrier, capable of handling the aberration or hotshot job without causing disruption to the rest of the supply chain.
Other large organizations have replaced traditional last mile logistics providers with GoShare's faster, more affordable solution. Previously, many retailers were forced to hold inventory on site and waiting several days for a third party provider, or their owned fleet, to deliver to the purchaser. GoShare's delivery professionals deploy on demand. They can deliver the inventory within an hour of the project request. In addition to delighting customers with faster delivery speeds, this frees up warehouse and retail space and creates new efficiencies.
Learn More About GoShare
Does GoShare sound like a good fit for your supply chain? Whether filling the need for a transportation management system for a small business or helping supplement your existing supply chain transportation logistics, GoShare is ready to deliver a great experience.
Learn more by visiting our business partner page or contacting our business development team.