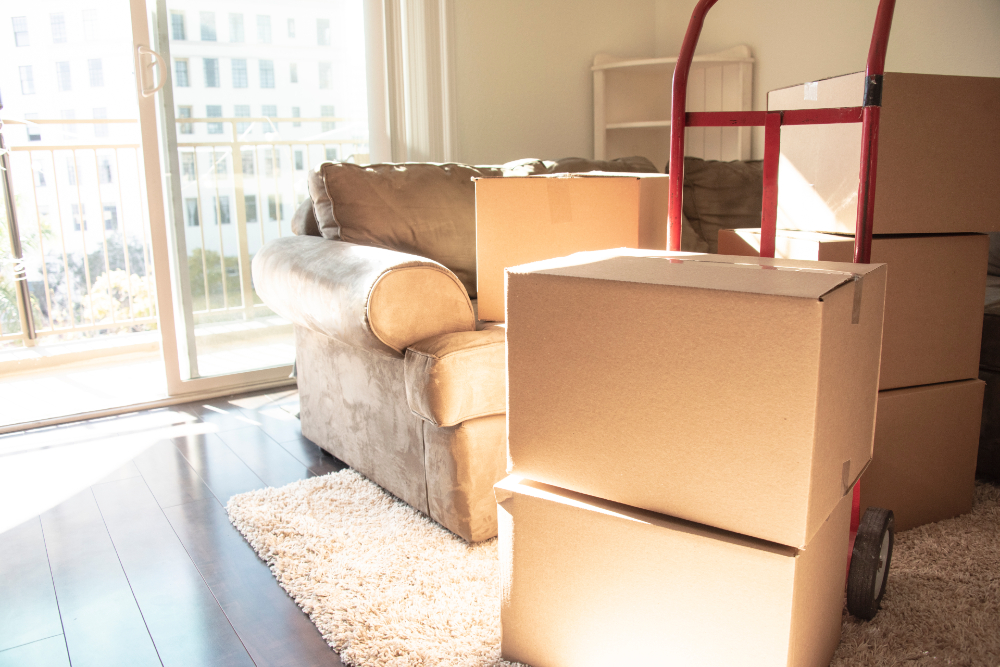 Top Tips on How to Move with a Disability
Top Tips on How to Move with a Disability
---
Moving is a strenuous and exhausting process for anyone, so you could imagine the added stress and complications for seniors or those with a physical disability or impairment.
Fortunately, with a little prep work, there are ways to circumvent obstacles and improve the moving experience. We've compiled a list of important safety tips that will make your life easier on moving day.
Take a look below at our top tips on how to move with a disability or physical impairment.
Avoid Packing Heavy
Start by packing light. It can be tempting to pack a load of heavy items into every inch of your moving box. But, if you have challenges lifting heavy items, this isn't a good plan. If you have lifting limitations, packing light will be key to ensuring you can move your items easily and without pain. 
As a rule of thumb, you should aim to minimize the weight of each moving box to under 50 pounds. This greatly reduces the strain of packing, lifting, and unpacking heavy contents during the moving process. 
Use Proper Moving Equipment
We encourage the use of dollies, moving straps, bungee cords, and other moving equipment to safely move your items and lessen the chance of an injury. This equipment can help better distribute the weight of items, or ensure your body doesn't bear the brunt of the burden while moving.
If you need help on how to use an appliance dolly, check out our quick tutorial here.
Don't Do it All At Once
Moving can be stressful and feel overwhelming. Prepare in advance. Pack a few boxes at a time and declutter as you go. Don't wait until the last minute for your packing and cleaning chores. Trying to do it all at once can lead to injuries and add to your stress. Start with items you don't use or need often. Spend an hour or two a day on decluttering and packing. 
Pack an overnight bag to use when you move in. After moving all your items in, you may be too tired to unpack. So, having a few everyday items handy will let you take a break. When you are ready to get started, unpack everyday items first. 
Take breaks as needed, unpacking can take place over several days or weeks. 
Declutter Excess Items
Clean out unnecessary items when packing to avoid extra stress once moving day comes around. This will reduce the overall number of items you need to move, and make loading and unloading easier.
To reduce the workload during your move, you should focus on decluttering as much as you can beforehand. Set aside a couple of boxes for storing sentimental items and other belongings that take up living space. If you don't want to sell, donate, or throw away these excess items, there's always the option to place them into a storage facility for safekeeping.
Request Help from Friends and Family
If you have friends and family near you, let them know about your moving plans and ask if they're free to help out.
Packing and unpacking can be made much easier with the assistance of multiple people. Once you've gathered a set of extra hands, you can assign each person to handle packing and unpacking a room. Your crew should also decide on which size of moving truck is necessary to successfully move everything into your new home.
Consider Hiring Professional Movers
Even with the help of friends and family, moving still tends to be a headache. Luckily, hiring a moving company can help you save time and relieve much of that stress.
You can hire a moving company to handle the entire move, or only a few heavy items (like furniture). Budget is always a factor when looking into moving companies. Research the cost of movers prior to moving forward with this option. Full-service movers will be more expensive while hiring local movers for a few heavy items may be more affordable.
If you're looking for a fast and reliable moving service, consider using an app like GoShare. GoShare is like Uber for moving! When you use GoShare, you can connect instantly to a network of truck and van owners who are willing to help move your items on demand or in advance. 
Clear Pathways of Congestion and Obstacles 
It's crucial to keep organized and clear the way for an easy walking path in high-traffic areas of your new home. If you're dealing with a mobility or vision impairment, obstructions during your move can lead to an accident waiting to happen.
There are certain areas that will be frequently used to navigate throughout your new home. In particular, the rooms near the front door are commonplace to set things down. Your first priority when entering your home is to place furniture and moving boxes along the back walls of a room, preventing any risk of bumping or tripping into them.
If you own a pet or service animal, it's a good idea to keep an eye on it at all times. Make sure it's kept out of the way of doorways and unloading zones as you or your movers walk in with heavy boxes to avoid potential hazards.
Additional Resources
If you found this article to be helpful, check out other posts for moving help and tips.
UBER® is a registered trademark of Uber Technologies, Inc.  Use of third-party trademarks or registered trademarks does not imply any affiliation with or endorsement by such third-party.