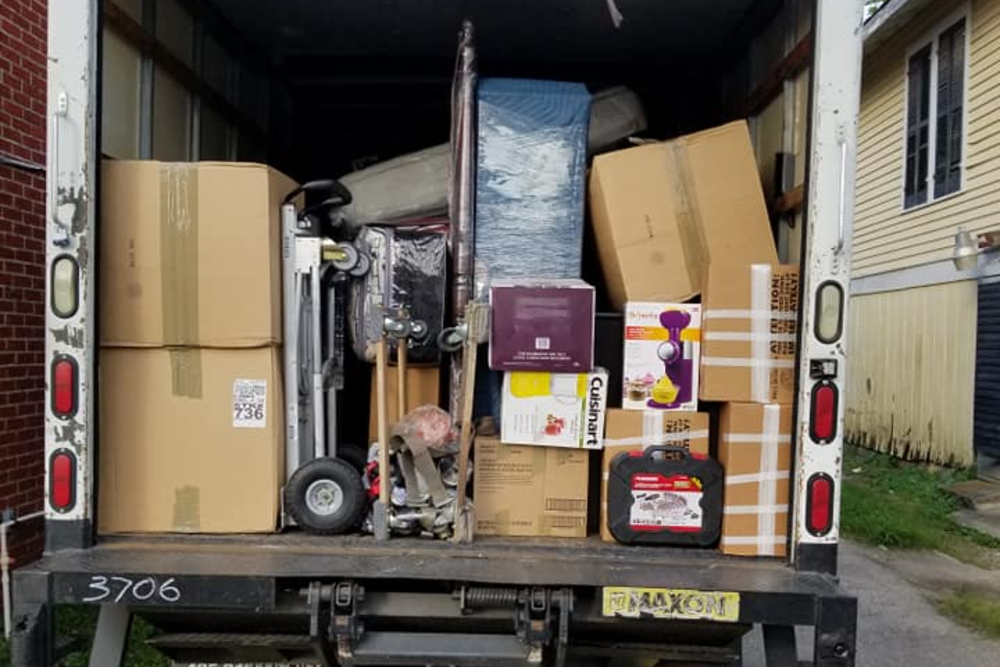 The Best Way to Pack a Moving Truck
The Best Way to Pack a Moving Truck
---
Moving is a demanding process, so proper preparation is crucial for reducing stress and minimizing your workload. Before moving day, it's always smart to plan ahead and figure out your packing arrangements. 
It can be difficult to assess how to load all your items into a moving truck, utilizing its limited space to the fullest. To assist with your move, we've organized a number of helpful tips on how to efficiently pack a moving truck.
Check out the best way to pack a moving truck below.
Choose the Right-Sized Moving Truck
Your first goal is to decide how big of a moving truck you need. The right moving truck for your situation will vary, depending on the size of your move. Most truck rental companies offer a range of sizes to choose from, including pickups, cargo vans, and 26 feet box trucks. Although it's cheaper to rent a small truck or van, you don't want to end up in a situation where you're unable to fit all your possessions. Carefully review your moving truck options in relation to the size of your move. For more help, see our guide to choosing the right-sized moving truck.
Gather Packing Supplies
Alongside a right-sized moving truck, you will need to gather an array of packing supplies to properly store and move your items. Moving boxes are required for storage (if you don't own any, check out our top tips on Where to Get Free Moving Boxes). Packing tape should be used to tightly seal your moving boxes shut. 
Furniture pads and moving blankets are essential tools that act as padding to protect your furniture. You should utilize furniture pads to prevent any nicks and scratches on furniture and appliances. With your moving blankets, cover any fragile items and fill in loose gaps in the moving truck that could cause your items to shift around. Plastic wrap or stretch wrap may also be wrapped around corners and edges to protect items. 
Choosing the right type of equipment is an essential part of conducting an efficient move. Depending on the size of your move, dollies and hand trucks are often necessary to safely transport items and load a moving truck. 
Disassemble Your Furniture
Maximizing space within the moving truck should be a top priority. Before your move, take the time to disassemble any large items. Lamps, dining tables, bed frames, and dressers can all be taken apart and reduced to smaller components for efficient packing. Save space by placing these disassembled parts inside rolled-up rugs or bedding.
Keep Valuables and Paper in the Cab
Once moving day arrives, you should identify any moving boxes that contain jewelry, collectibles, important documents, and other valuables. It's possible for these items to get crushed in the back of the moving truck where the rest of your bulky items are located. Instead, place these boxes in the cab of the truck for safety and easy access.
Load Your Heaviest Items First
When you begin to pack the moving truck, it's wise to start with loading your largest and heaviest items first. If you pack them last, you run the risk of damaging your lighter belongings and bottoming-out with your truck due to an imbalanced back. 
Appliances such as the stove, washing machine, dryer, and fridge should be loaded into the moving truck first. Keep in mind that small household items and other similar-sized objects can be stored inside these appliances to maximize storage space.  
Follow your appliances up with heavy furniture such as computer desks and coffee tables. These pieces of furniture have enough room underneath to accommodate extra moving boxes. Additional items can also be placed on top of chair seats and inside drawers if needed.
Pack Long Items Vertically
Loading items horizontally into the moving truck consumes unnecessary amounts of space. By placing these items in an upright, vertical position instead, you can make room for more cubic feet of empty space. 
So, your next step is to identify and gather any long objects, such as mattresses, box springs, mirrors, bookcases, and sofas. Ensure that these items are placed vertically along the walls of the truck and surrounded by heavy items to keep them from sliding or falling flat. In addition, your mattresses should be covered with mattress bags to avoid rips and tears.
Load Your Lightest Items Last
Lastly, fill in the rest of the remaining space of the moving truck with your lightest items. Pack the truck with your lightweight moving boxes last, stacking them on top of heavy boxes to clear up space. 
If you properly labeled boxes that contain fragile items, and ensure nothing is stacked on top of them. Any holes or openings should be filled in with your soft, crushable possessions, such as trash bags full of clothing, blankets, and towels.
Secure Your Possessions
If items are loosely packed, and there is a potential for sliding or falling, make sure to use ratchet straps to secure items in place. Furniture and breakable items can become damaged if they slide around or fall over in the back of the vehicle while you are driving.
Have Someone Do It For You
If you don't want to deal with the hassle of properly packing a moving truck, consider moving companies such as GoShare who will do it all for you. GoShare is an app that connects you to a local network of movers who will help move your items on demand. You can select from a range of vehicle types and choose between one or two movers to assist with your move. 
When using GoShare, your only task is to prepare and pack boxes with your belongings beforehand. When it's time to move, GoShare's movers will do all of the heavy lifting, loading, and unloading into the moving truck for you. 
Additional Resources
If you found this article to be helpful, check out other posts for moving help and tips.