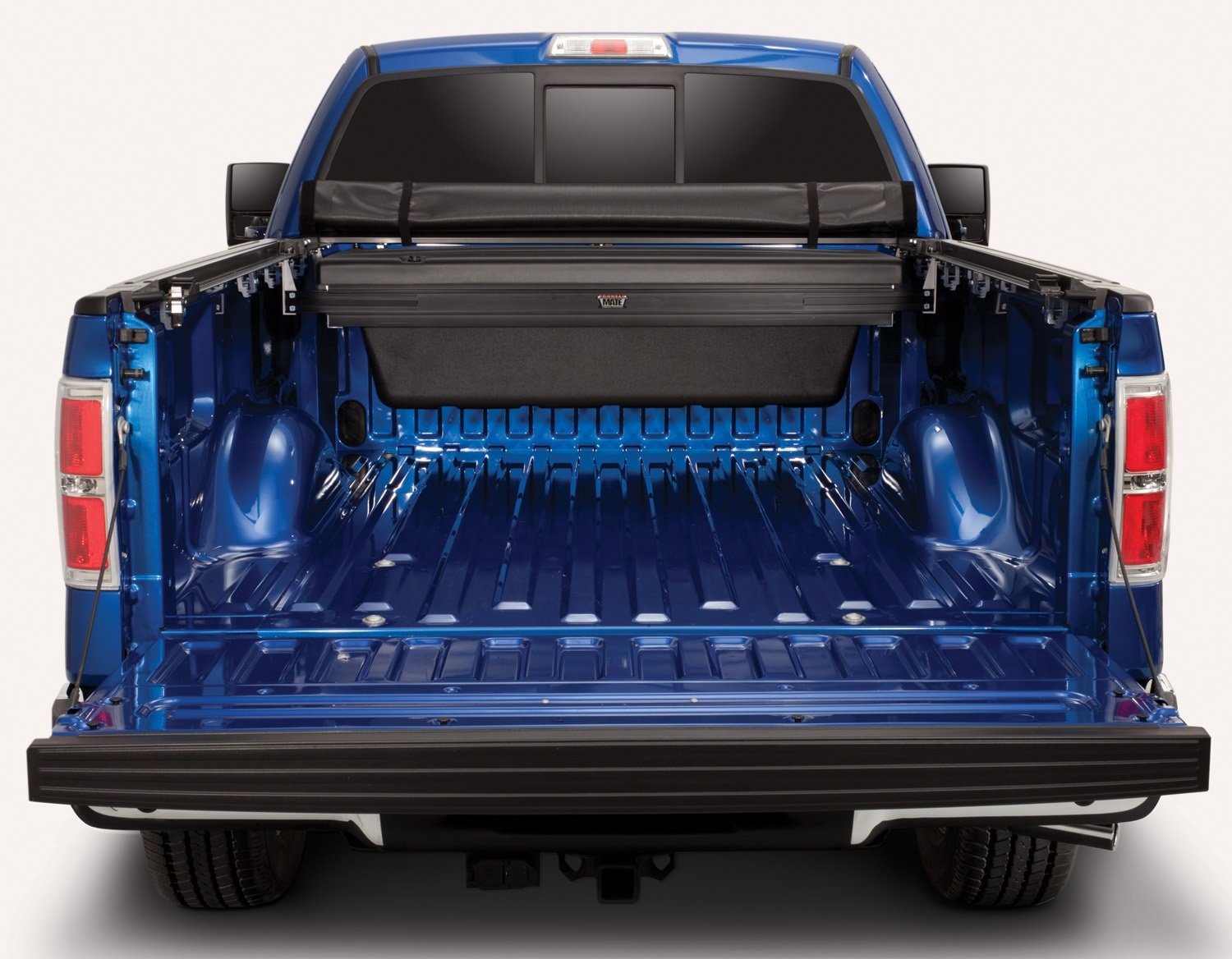 The Best Truck Tool Boxes for Your Pickup Truck
The Best Truck Tool Boxes for Your Pickup Truck
---
If you own a pickup truck and frequently engage in handiwork, then equipping a tool box onto your truck bed can be a useful improvement. Your job may involve assembling furniture at customers' homes, doing repair or installation, or performing work duties at multiple job sites. Regardless of your motive, a bit of tool organization can reduce stress and prevent disruptions during the work process.
The utility of truck bed tool boxes is unmatched, providing safety, protection, and easy access to your tools. However, choosing the right tool box can be difficult and time-consuming due to the array of variations to pick from. Before diving into the best truck tool boxes to buy, we've organized a helpful buying guide to ensure that you're making the right purchase for your budget and needs.
Why Invest in a Truck Tool Box
One option you might consider is storing your tool pile in the truck cab or bed. However, the cab is often too small and not spacious enough to accommodate a wide assortment of tools, in addition to people and other belongings. Additionally, storing tools in the bed makes them vulnerable to the elements and more prone to being lost. 
Whether you constantly find yourself misplacing screwdrivers or searching for a sole wrench among dozens of stored items in your truck, installing a tool box can solve your problems. 
Types of Truck Tool Boxes
The first step to picking the perfect truck tool box is to decide on the type of tool box that matches your preferences. Three common types of tool boxes to choose from are listed below.
Crossover 
The crossover or saddle box design is simple and conventional in nature. The crossover toolbox is elevated above the bed floor, stretching from one side of the bed to the other. With the crossover style, there's greater versatility for mounting options and room for long items, such as lumber and mattresses, to fit underneath the tool box.
Side-Mount
Side-mounted toolboxes are beneficial if you value efficiency. As opposed to climbing up your truck bed to access your tools, the side-mounted toolbox is hooked on either side of the bed rail, facing outwards. The side-mount design makes it easy to fetch your tools from the side of the truck without the need to constantly hop in and out of the bed. A bonus is the ability to fit two side-mounted toolboxes, one on each side of the bed, for additional tool storage.
Chest
In contrast to the crossover and side-mount designs, the chest configuration sits on the bed floor as opposed to the bed rails. Tool chests typically contain more tool space at the expense of less bed room. Since chest tool boxes rest on the bed floor, they can be used in combination with tonneau covers and camper shells in case you need extra snow protection.
Factors to Consider Before Your Truck Tool Box Purchase
Once you've weighed the pros and cons of each truck tool box type, it's essential to take several factors into account when deciding on your preferred tool box. 
Security
A major concern when installing a truck tool box onto your truck bed is theft. Being the victim of stolen goods costs needless time, money, and effort into seeking out a replacement. And, it can leave you feeling violated and distrustful. Truck beds are inherently open and do not feature an enclosed cargo space, leaving your tool box largely susceptible to thieves. Luckily, truck tool boxes act as sturdy safes, so they're naturally hard to break into. It's still wise to consider the security of the tool box's latch mechanism and verify that a high-quality, well-built lock is attached.
Size and Fit
Avoid making the mistake of purchasing a brand-new truck tool box only to return it after finding out it doesn't fit in your truck bed. Although most full-size pickup trucks can support all types of tool boxes, it's a good idea to take the precautionary step of measuring your truck bed and ensuring that the tool box dimensions can appropriately fit in between the bed rails. 
Additionally, you should take into consideration the amount of space available inside the truck tool box. While most boxes offer similar tool space, you can find some variation in terms of length and depth allowing you to store an extra item or two.
Bed Length
If you frequently use your truck for hauling and delivery, you will want to consider the effect a tool box will have on your truck's bed length. Chest-style toolboxes, which sit on the floor of the truck bed, may reduce truck bed length by several inches. If you are worried about losing bed length, select a side-mount toolbox. 
Durability
A truck tool box damaged by rain and the extreme cold can render it completely useless if it's not equipped with the right material. Four common types of material include, plastic, aluminum, steel, and stainless steel. 
Plastic tool boxes are generally cheaper to buy due to their low-cost manufacturing, but that doesn't discredit their utility. Plastic material is naturally waterproof and is not prone to corrosion. However, plastic tool boxes are still susceptible to environmental influences caused by intense heat, ultraviolet light, and chemicals.
A steel tool box provides the most security and protection against physical damage due to its strong properties. However, steel truck tool boxes are coated with a powder coat finish, meaning they're vulnerable to rust and corrosion if the coating peels off. If you're hesitant about coat degradation leaving your tool box unprotected, stainless steel is a superior alternative that doesn't require a powder coating. But, stainless steel is heavier than steel and aluminum, which can negatively affect your pickup truck's fuel economy.
Heavy-duty aluminum strikes a fine balance between plastic and steel, offering lightweight capability, rust-resistance, and tough infrastructure. Aluminum truck tool boxes are a common choice due to their well-rounded properties. Most aluminum tool boxes are diamond plated, which is capable of withstanding various environmental damages. Since aluminum is softer than steel, aluminum tool boxes can still be prone to scratches and dents if not properly taken care of.
The Best Truck Tool Boxes to Buy
After you've accounted for all of the factors that can affect the quality of your purchase, it's time to decide on your perfect truck tool box. Take a look below at our list of the three best truck tool boxes that offer the most bang for your buck.
Weather Guard Aluminum Saddle Box

Weather Guard is notable for producing high-end tool boxes that are made up of durable, resistant material. The Weather Guard Aluminum Saddle Box is a great choice for truck owners looking to invest in a long-term tool box with outstanding craftsmanship and structural integrity. 
The Weather Guard is a single lid crossover tool box that's crafted to sustain any weather damage due to its durable aluminum infrastructure. If you're a delivery professional who frequently utilizes an array of tools for furniture delivery and apartment moves, then the roomy storage space is welcomed. When installed in your vehicle, it should still leave 8-10 inches of space beneath to slide long pieces or lumbar or metal under the box.
The build quality of the Weather Guard 117502 is reflected in the security mechanism as well, attached with a highly protective, tamper-resistant locking system. Additionally, the lid opens at nearly a 90-degree angle, ensuring convenient access to your tools without any hassle. 
TruXedo Truck Luggage – TonneauMate Toolbox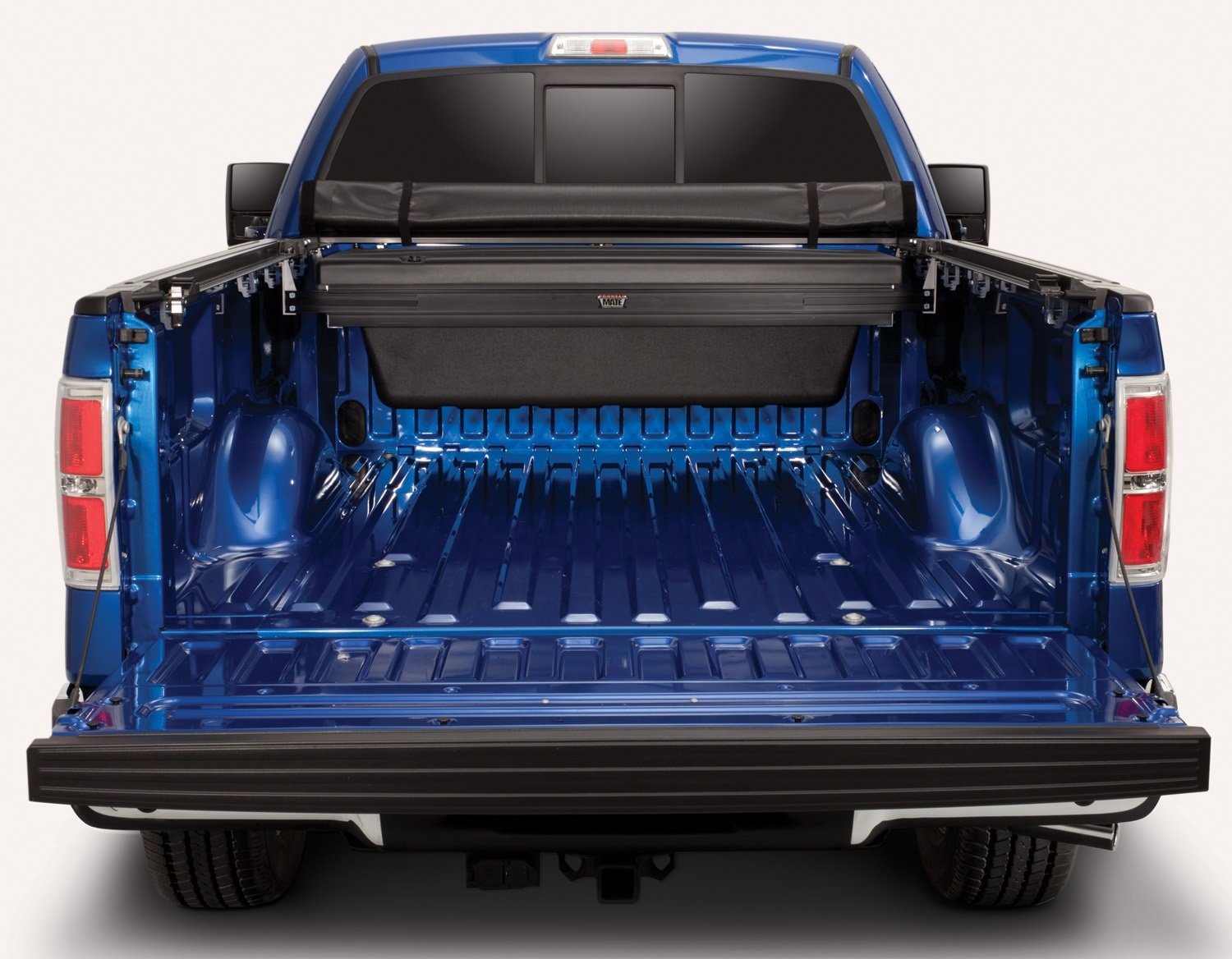 If the Weather Guard model is too high for your budget, the TruXedo Truck Luggage – TonneauMate Toolbox is a good alternate choice for a crossover tool box. This box is made from heavy-duty plastic. The versatile design allows for an adjustable mount that can be placed in the front, middle, or rear of the vehicle. The low profile allows this tool box to be installed under tonneau covers.
The elevated mount allows truck drivers to still make sure of the entire truck bed floor when moving and hauling items. The tool box cover opens to 90 degrees for easy access and features a sturdy lock to detour theft.
UWS Side Mount Truck Box

If you're searching for a truck tool box that's affordable but still high quality and capable of securely storing your tools, then the UWS's side mounting toolbox fits the bill. 
Due to its aluminum construction, the UWS's side mount truck box is sturdy and weather-resistant. It contains a stainless steel lock system, providing excellent protection against potential theft. Similar to the Weather Guard, the lid opens with 90-degree flexibility so that you can acquire your tools with ease. 
Another distinctive feature of this model is its tub, which is welded together into a single piece. This unique design offers a stronger carrying capacity to hold heavy tools if needed. 
Since this a side-mount toolbox, it will not impact the cargo-carrying space in your truck bed. You can also choose to extend your storage space by installing two tool boxes on either side of your vehicle. 
Dee Zee Red Label Utility Chest

The Dee Zee Red Label Utility Chest is made from brite-tread aluminum with a protective gloss powder coat. This protects the chest from oxidation and rust. This full-featured tool chest includes lockable stainless steel paddle handles, dampened gas shocks, closed-cell foam gasket, and self-adjusting strikers. A removable small tray inside the utility chest helps keep small items organized.
This chest is a medium-duty grade aluminum. While more affordable than other brands, like WeatherGaurd, it may be more prone to scuffs, scrapes, and dings. This chest should be stored under a tonneau cover as it is not completely weather and waterproof.
UnderCover SwingCase Truck Storage Box

The UnderCover SwingCase is an innovative design that doesn't follow the traditional style of most tool boxes. If you're seeking a versatile truck tool box that provides unique benefits, the SwingCover is a popular choice among truck owners that value portability and convenience.
The truck tool box installs to the inside, side of the truck. Its clever design comes into play when you pull the release lever, instantly swinging out towards you for easy tool access. Additionally, you can choose to place a SwingCover on each side of your truck bed. The only downside is that its shape curves over the wheel well, meaning there's less storage space than your traditional tool box.
Since its composed of high-impact ABS plastic, the SwingCase is extremely compact and lightweight, as well as weatherproof. Similar to a chest-style tool box, you can still attach the SwingCase onto your pickup truck with a tonneau cover. Installation is easy and doesn't require the use of tools, so it's convenient to detach and take it wherever you go. Prior to purchasing, make sure to check that this box will fit your vehicle model. They have several versions for popular truck models including the Ford F-Series, Chevrolet Silverado, GMC Sierra, Dodge Ram, Toyota Tundra and more. 
—
Need a truck? GoShare can connect you with a network of local moving and delivery professionals with pickup trucks, cargo vans, and box trucks. All delivery professionals are licensed, background checked, and insured.
Got a truck? Sign up with GoShare to earn money driving with your vehicle.
As an Amazon Associate, GoShare earns a commission from qualifying purchases.