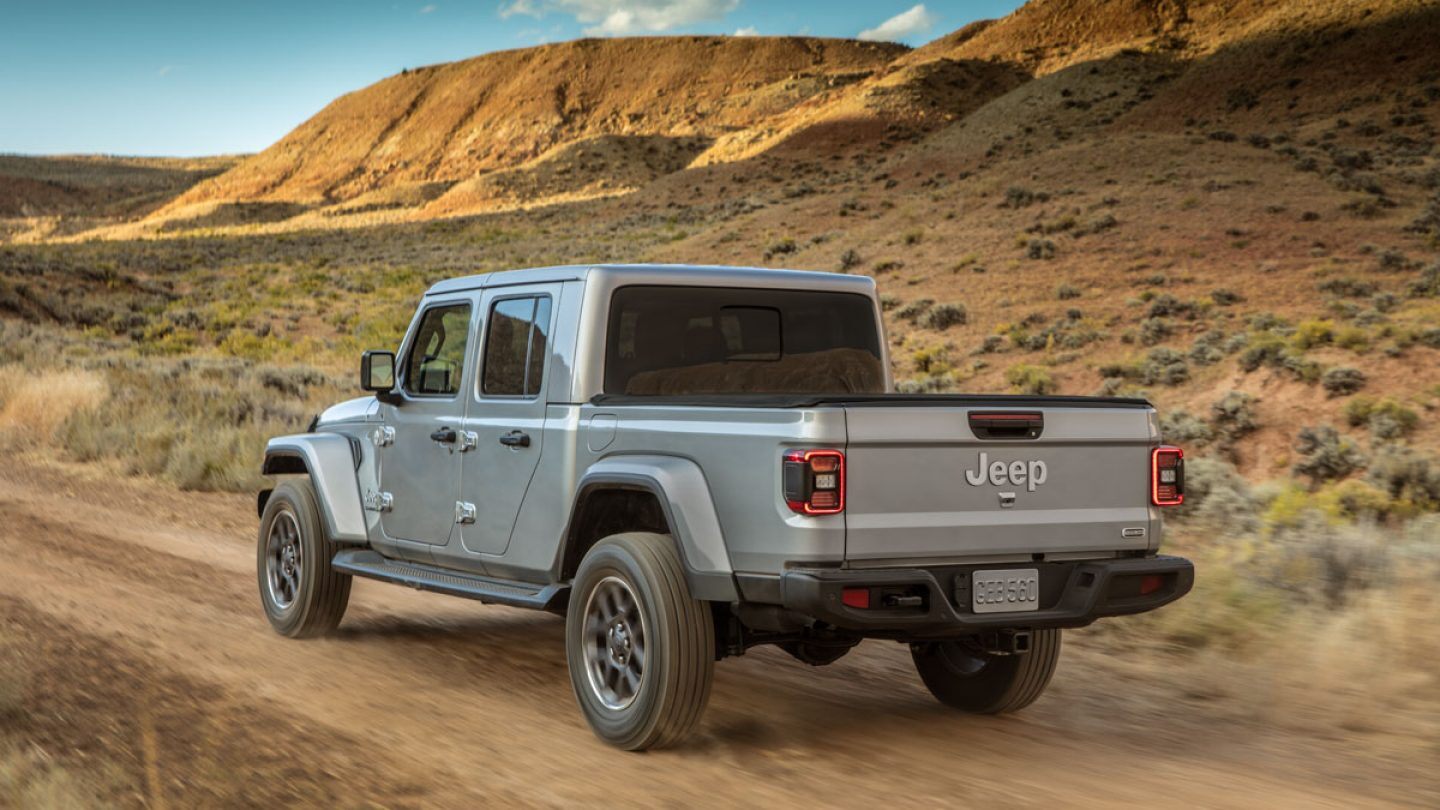 The Best Pickup Trucks of 2020
The Best Pickup Trucks of 2020
---
The last decade of pickup trucks has seen plenty of changes that shifted the automobile world. From the successful creation of the Ford F-150 Raptor to the release of the Ram trucks as a standalone brand, the last ten years have been event-filled for truck manufacturers. As 2020 gets closer, so does the re-emerging debate of the best pickup trucks for the year. 
Whether you're looking for a mid-size or full-size pickup truck, start off the new decade strong with our list of the best 2020 pickup trucks to buy.
2020 Ram 1500

Fiat Chrysler's redesign of their top-of-the-line Ram 1500 last year has provided them with a great foundation to build upon their 2020 model. The new 2020 Ram 1500 brings increased power, improved fuel efficiency, and a plethora of features that make it the first full-size truck to win the Top Safety Pick Plus from the Insurance Institute for Highway Safety. 
After being pulled from the market last year due to emissions certification problems, the 3.0 EcoDiesel V6 engine is back and better than ever as an engine choice, generating 260 horsepower and class-leading 480 pound-feet of torque. It also allows for a towing rating of 12,560 pounds. Manufactured with a high-strength steel frame, the durable Ram 1500 equipped with the 5.7L V8 is capable of hauling up to 2,300 pounds of payload and towing up to 12,750 pounds.
Familiar engine choices are available, including the 3.6L V6 producing 305 horsepower and 269 pound-feet of torque. However, the engine now comes standard with the mild-hybrid system that was introduced last year, improving fuel efficiency and smoothness of the stop-start system. The 5.7L V8 engines, which produce 395 horsepower and 410 pound-feet of torque, can be equipped with the mild-hybrid system as well. 
The 2020 Ram 1500's interior design excels through its convenient features and enhanced comfort. A spacious cabin and reclining rear seats with cloth or leather upholstery are notable improvements. A largest-in-class 12-inch touchscreen is available, along with optional safety features such as blind-spot monitoring, lane keep assist, forward collision warning, and much more.
The MSRP begins at $31,895 for the Tradesman trim level, and upwards of $53,165 for the Limited. If you're on the fence about which pickup truck is best for you, the 2020 Ram 1500 certainly seems like it's headed in the right direction to maintain its award-winning status.
2020 Jeep Gladiator

As the pickup truck market continues to boom in 2019, Jeep is hoping to capitalize on its popularity. The 2020 Jeep Gladiator is the Jeep division's first pickup truck in nearly 30 years, making it an intriguing option for truck lovers to purchase. 
As a newcomer in the mid-size truck scene, the 2020 Jeep Gladiator surprisingly boasts the best-in-class towing capacity of 7,650 pounds and a high payload capacity of 1,600 pounds. With a 5-foot truck bed and an aluminum tailgate, the Gladiator is sufficient enough to haul cargo and qualifies for some gig-economy delivery jobs as well. 
The base engine is the 3.6L Pentastar V6, consisting of 285 horsepower and 260 pound-feet of torque. Two additional engines will follow after the Gladiator's release, including a 270-horsepower and 295 pound-feet 2.0L turbocharged 4-cylinder and a 260-horsepower and 442 pound-feet 3.0L turbo-diesel V6.
The Gladiator mimics the visual and technical design of the next-gen JL Wrangler. Similar to the Wrangler, the Gladiator provides defining features such as removable doors, top and a fold-down windshield. If you enjoy cruising around town, the Gladiator is a sound purchase since it's the only convertible pickup on the truck market. When it comes to driving on rough terrain, Jeep is known for its vehicles' off-road prowess and the Gladiator is no exception. 
The 2020 Jeep Gladiator's starting price is $33,545. While it can become significantly more expensive when you begin to outfit the truck with various modifications, the Gladiator is worth every penny. If you value an all-around, versatile pickup truck, the Gladiator truly shines through its off-road capability, cargo hauling, and fun ride all in one.
2020 Ford F-Series Super Duty

Heavy-duty pickups are battling it out in 2020, and many eyes are focused on the renowned Ford full-size pickup models. In particular, the new 2020 Ford F-Series Super Duty lineup is due for a full revision filled with improvements.
The 2020 Ford F-Series Super Duty reeks of power, offering best-in-class capacity numbers. The diesel-powered Super Duty achieves a max payload rating of 7,850 pounds and can tow up to 37,000 pounds with a gooseneck trailer. These capacities edge out the Ram HD trucks, making the Super Duty a superior option for pure strength in numbers.
The Super Duty delivers in terms of horsepower and torque as well. It can be equipped with the 7.3-liter gasoline V8 engine, which rakes in 430 horsepower and 475 pound-feet of torque. For even greater driving force, you can consider the 6.7L PowerStroke diesel V8, yielding an astounding 475 horsepower and 1,050 pound-feet of torque.
On the tech front, the 2020 Super Duty brings a number of new driver-assistance features. These include Ford's Pro Trailer Backup Assist and blind-spot monitoring with trailer coverage for extra vision. Higher safety is always welcome, consisting of features such as pre-collision assist with pedestrian detection and lane-keep technology. 
While the price of the Super Duty has yet to be announced, you can expect these pickups to get much more expensive as you gear it up with further modifications. To get a rough price estimate, a 2019 F-250 Super Duty with rear-wheel drive and regular cab costs around $34,000. Ford has consistently been at the forefront of the truck market, and it's looking like their newest lineup of Super Duty will fail to disappoint.
2020 Toyota Tacoma

If you're looking for a solid compact pickup truck that's undergone several positive changes for its newest model, the newest Toyota Tacoma is a great pick. While it belongs to a generation that started with the 2016 model year, the 2020 Toyota Tacoma continues to follow its recipe for success that's built upon safe, reliable driving and off-road adventures.
The Tacoma doesn't boast high payload and tow ratings for its class. It will haul 1,600 pounds of payload and tow 6,400 pounds. However, its specialty is in off-roading, which is made easy with the Multi-Terrain Select function that allows you to choose between Mud and Sand, Loose Rock, Rock and Dirt, and Mogul and Rock. In addition to the five-level Crawl Control system, which helps maintain speed during off-roading, the Tacoma is a durable pickup that handles off-roading with little problems.
The TRD versions of the Tacoma come standard with a 3.5L V6 engine, producing 278 horsepower and 265 pound-feet of torque. The lesser SR and SR5 trucks are equipped with a 2.7L, four-cylinder engine, but only squeezes out 159 horsepower and 180 pound-feet of torque.
The Tacoma's interior now provides various technological features, including Android Auto, Apple CarPlay, and Amazon Alexa for the first time. Another long-requested feature is a power-adjustable driver's seat, which is now available on all trims except the base SR. Big updates for the 2020 model involve its exterior, which incorporates a new grille and LED headlights. In particular, the new headlights are a major improvement from old models, helping make the 2020 Tacoma only the third pickup truck to earn the IIHS Top Safety Pick rating.
The 2020 Toyota Tacoma starts at $26,050, and upwards of $46,665 for the Tacoma TRD Pro with an automatic transmission. While its starting price is above average for a compact pickup truck, the newest Tacoma includes an array of upgrades that make it worth every penny.
2020 Ram 2500/3500 HD

After the debut of the fifth-generation half-ton Ram 1500 last year and new additions to their 2020 Ram 1500, Ram is following suit with an upgraded lineup of their heavy-duty pickup trucks for 2020. The 2020 Ram 2500 and 3500 HD are undergoing a makeover with similar design treatment to their smaller 1500 iterations, along with additional configurations to their intrinsic strength and durability.
If you frequently engage in heavy lifting such as pallet delivery and small moves, you'll be satisfied knowing that properly upgraded Ram HD trucks are capable of hauling up to 7,680 pounds of payload and towing up to 35,100 pounds of trailer. 
In terms of their powertrains, the 2020 Ram heavy-duty trucks come standard with a 6.4L V8 engine, which generates 410 horsepower and 429 pound-feet of torque accompanied with the new TorqueFlite 8-speed automatic transmission. A more expensive but superior alternative is the revamped Cummins 6.7L turbo-diesel straight-six upgrade. This powerful engine goes a long way, producing up to 400 horsepower and best-in-class 1,000 pound-feet of torque in its High Output form. 
The Ram 2500 and 3500 HD offer cushy and smooth ride quality with their optional air suspension. In addition to road-trip comfort, an array of technological features are available for these heavy-duty trucks. A convenient UConnect 4C 12-inch touchscreen display is now an option. Blind-spot Monitoring is now available, including easy-to-use trailer coverage. For enhanced safety, Lane Keep Assist and Adaptive Steering have been added for all trim levels. 
No price tag has been set in stone yet for the 2020 Ram HD models, but it's safe to say that it'll cost similar to last year's heavy-duty Rams, which started at $35,090 for the Tradesman 2500 rear-wheel drive model. If you seek the quality and reputation of the Ram 1500 but want greater strength and power for heavy lifting, the 2020 Ram 2500 and 3500 HD fit the bill.
2020 Chevrolet Colorado and GMC Canyon

Among the mid-size truck market, the Chevrolet Colorado and GMC Canyon have always been common truck choices due to their ability to adapt to daily needs. Although the Colorado and Canyon have experienced little changes for its 2020 model year, these compact pickup trucks are still worthy to take into consideration due to their versatility and widespread appeal among all truck owners.
The Colorado and Canyon are capable of hauling 1,578 pounds of payload and towing up to 7,700 pounds with the diesel-powered engine. Otherwise, you can expect a towing capacity of 3,500 pounds and 7,000 pounds when outfitted with the four-cylinder and V6, respectively.
Higher models are equipped with the standard 3.6L V6 engine, generating best-in-class 308 horsepower and 275 pound-feet of torque. For higher fuel efficiency, the optional 2.5L four-cylinder consists of 200 horsepower and 191 pound-feet of torque. If you're willing to spend an extra chunk of money, the Duramax 2.8L Turbo-Diesel engine supports greater towing capacity with 369 pound-feet of torque.
The technological features of the Colorado and Canyon remain the same, consisting of Bluetooth audio streaming, 4G LTE Wi-Fi hotspot, and more. A small upgrade for the Colorado is Chevy's Infotainment 3 interface with navigation and an 8-inch touchscreen, replacing the old MyLink infotainment system. Minor additions to the Canyon are a new color, Carbon Black Metallic, and a remote locking tailgate. The downside is that both the Colorado and Canyon are missing key safety features that are commonly included across many vehicles nowadays. 
The 2020 GMC Canyon starts at $22,000 and the Chevrolet Colorado starts at $21,300. With a below-average starting price, the Colorado and Canyon are affordable and flexible for a broad range of buyers. Whether you need a capable truck for transporting furniture purchased from Costco or an off-roading vehicle for hiking and camping activities, the Colorado and Canyon are the right purchase for you.
2020 Chevrolet Silverado and GMC Sierra 2500/3500 HD

Just as the compact Chevrolet Colorado and GMC Canyon were updated for the 2020 model year, a complete redesign is in place for their heavy-duty counterparts in 2020. The 2020 Chevrolet Silverado and GMC Sierra 2500 and 3500 HD pickup trucks offer robust features that keep them as top contenders in the pickup truck world.
The Silverado and Sierra HD provide stellar carrying capacities, with a max payload of 3,979 pounds and a towing capacity of 18,600 for the diesel engine 2500 HD models. The 3500 HD offers higher capacities, with the ability to haul 4,534 pounds and tow 21,500 pounds. An exclusive feature for the 3500 HD is dual-rear wheels, which drives up its payload capacity to 7,442 pounds and towing capacity to 35,000 pounds of trailer. 
New in 2020 are updated engine options for the Silverado and Sierra HD. These trucks now come equipped with a 6.6L V8 base engine, generating 401 horsepower and 464 pounds-feet of torque. Optionally, a 6.6L Duramax diesel V8 engine is available, producing 445 horsepower and a massive 910 pound-feet of torque. 
The upgraded interior design of the 2020 Silverado and Sierra pickup trucks have a luxurious feel, including an advanced trailering system that makes use of up to 15 cameras. Another notable feature is a multicolor 15-inch Heads Up Display, indicating vehicle speed, navigation, and safety alerts. Equipped with the largest heads-up display in-class, the Silverado and Sierra HD should have no trouble keeping you engaged and safe on the road.
The Silverado 2500 HD starts at $36,500 and the 3500 HD starts at $37,900. The Sierra 2500 and 3500 HD start at $40,000 and $41,200, respectively. If you're looking for an all-new upgraded pickup truck with a reliable track record over the years, you can't go wrong with purchasing these heavy-duty workhorses.
2020 Ford F-150 Raptor

The Ford F-150 Raptor dominates the road, blending serious capability and high-octane fun into one. Due to its all-terrain tires, widened F-150 body, and immensely powerful engine, the Raptor is an off-road juggernaut that doesn't fail to impress. While nothing major has changed for the 2020 model year, the new Ford F-150 Raptor is still expected to be a favorite among truck lovers.
When properly configured, the Raptor is capable of towing up to 8,000 pounds and hauling up to 1,200 pounds of payload. It's also paired with smart towing features such as Pro Trailer Backup Assist and dynamic hitch assist. The Raptor compensates for its reduced towing and payload capacities with its superior off-road control. If you plan on taking on off-road adventures on a consistent basis, you'll be satisfied with the Raptor's array of components that further its performance. Components include 4WD, skid plates, a locking rear differential, and off-road racing suspension. 
The new Raptor comes standard with a twin-turbocharged high-output 3.5L EcoBoost V6 engine, producing a whopping 450 horsepower and 510 pound-feet of torque. Even better, the engine is coupled with a paddle-shifted 10-speed automatic transmission that allows for smooth performance on and off-road. 
In regard to its interior, the Raptor is outfitted with a host of technological features, including Ford SYNC 3 infotainment system and support for Apple CarPlay and Android Auto. Safety-wise, driver-assistance features comprise of standard forward-collision warning, automated emergency braking, lane-departure warning, blind-spot monitoring, and more.
The 2020 Ford F-150 Raptor starts at a pricey $53,205, and rightfully so. Despite its high price, the Raptor holds tremendous value by combining power and strength with the aspects of the top-selling classic F-150 that everyone loves. If you seek a powerful full-size pickup truck that elevates your ride to the next level, the 2020 Ford F-150 Raptor fulfills those expectations with ease.
2020 Nissan Titan

Nissan is facing plenty of truck competition next year, so the automaker hopes that its 2020 Nissan Titan can sway truck buyers over to its side. With a refreshing new overhaul, the 2020 Nissan Titan is shaping up to be a desirable half-ton pickup truck to purchase for the new year.
The tow and payload ratings on the Titan aren't too impressive when compared to the rest of its competition. Its ability to tow up to 9660 pounds is more than enough for most truck owners though, and there's always the heavy-duty Titan XD model if you require greater capacities.
The sole engine option is its 5.6L V8, which holds 400 horsepower and 413 pound-feet of torque. It's now paired with a nine-speed automatic transmission, replacing the seven-speed unit used in the previous model year. Due to the added power, the new Titan drives with improved acceleration and throttle response.
In an attempt to modernize with innovative technology, the Titan has been upgraded with numerous driver-assistance features. Nissan's Safety Shield 360 includes automated emergency braking, blind-spot monitoring, lane-departure warning, and more. Additionally, the Titan can be outfitted with adaptive cruise control and a 360-degree camera for better visibility.
The official pricing hasn't been announced yet, but you can expect the Titan to cost considerably less than other popular choices, including Ford and Ram trucks. Although the 2020 Nissan Titan may not surpass the quality standards set by its competitors, its affordability and much-needed improvements make it a great pickup truck purchase on a budget.
Earn Money With Your Truck
Got a truck? Sign up with GoShare to find local projects and earn money doing delivery, moving and hauling projects.
Additional Resources
Did you find this article helpful? Check out our other posts for helpful tutorials and information.