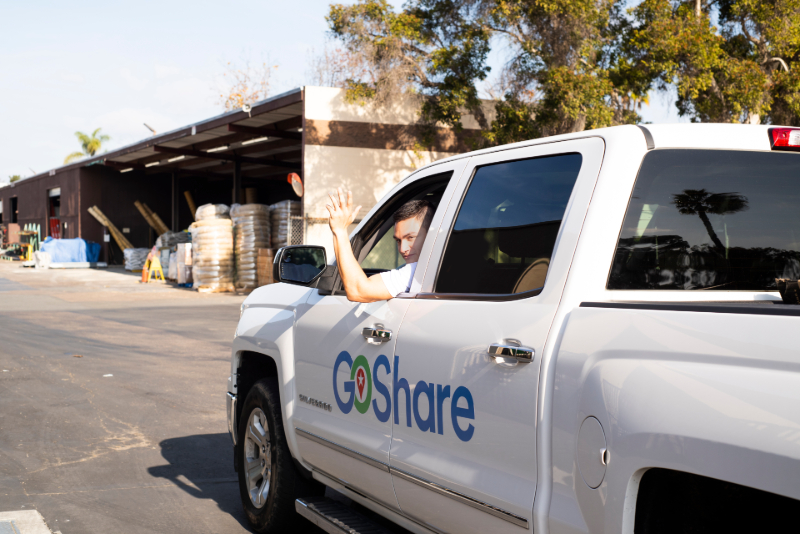 Same-Day Home Improvement Products and Lumber Delivery 
Same-Day Home Improvement Products and Lumber Delivery 
---
Are you keeping busy this weekend with a home or lawn project but urgently need home improvement supplies to finish the job? A frequent occurrence among builders and landscapers is running low on materials before they're able to accomplish their task. Stopping your work midway to drive out to the local store and back to your house is time-consuming and inconvenient. Use GoShare's app or website to get same-day lumber delivery and mulch delivery on demand. 
What is On-Demand Delivery?
Use GoShare's service to request on-demand delivery help. On-demand delivery is the ability for you to request home improvement supplies to be delivered wherever and whenever you want. 
If you dedicated your entire Saturday to building a new patio or updating your yard, it's bothersome to waste time running back to the store for extra mulch or more lumber. Through an on-demand delivery service, you can relax at home while your lumber, mulch, and other construction material gets delivered straight to your doorstep at a moment's notice. 
The Fastest and Most Affordable Solution for Lumber and Mulch Delivery
GoShare provides a fast, easy, and affordable solution for delivering your lumber and mulch. Connect instantly with local delivery professionals who own trucks and vans.
Using the GoShare app or website to book your delivery order is a seamless process. Simply enter your pickup and drop off locations, along with your item details. Depending on the size and number of items, you can request for a pickup truck, cargo van, or box truck. 
If you think additional help is necessary, book for two delivery professionals instead of one. Once you approve your order, you can expect your lumber, mulch, or other items picked up in as little as half an hour. 
Delivery professionals in the GoShare network have passed strict vehicle inspections and background checks, so you never have to worry about potential criminal behavior or scams. Plus, GoShare's comprehensive cargo insurance policy ensures that your project is protected in case of damage. 
You can schedule a project for same-day delivery on demand, or in advance. Most projects are accepted in under two minutes, making GoShare a speedy solution for acquiring your home improvement supplies. 
Save Time and Money Compared to Traditional Delivery
If you recently purchased lumber or mulch from your local retailer, it may seem convenient to use their delivery service. Many retailers offer next day or future delivery options, but why delay your home project when you don't have to? If you're at work and need to finish a project before the day ends, you don't want to go out of your way and leave your job site to pick up the supplies either. 
Retail establishments often conduct their deliveries through a route. If your address is out of the way, you may not be able to select the date and time that's convenient for you. Some retailers provide a same-day delivery option, but extra fees are typically added for that service. Additionally, you can expect their same-day service to be scheduled several hours out, especially if your address isn't on their route. 
Ordering a hefty amount of outdoor building material may be too cumbersome for retailers to deal with. Retailers generally offer one vehicle type for delivery, whether it be a small pickup truck or compact cargo van, which is not enough to hold a large quantity of lumber. 
In these cases, you may need to purchase two separate deliveries or forego paying a hefty fee and take multiple trips yourself. Either way, it's not advantageous if you're committed to completing your task as soon as possible.
Using GoShare, you pick the time for your project, and you pay no extra fees for same-day, evening, or weekend projects. Check out www.GoShare.co to learn more.
Additional Resources
Check out these other helpful articles for on-demand delivery help and tips.