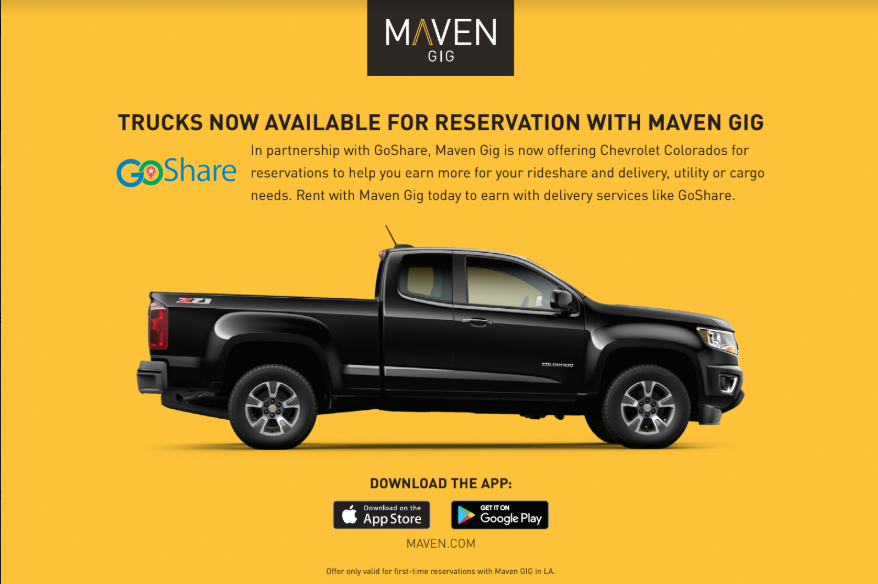 GoShare Partners with GM's Maven to Bring Pickup Trucks to the Sharing Economy
GoShare Partners with GM's Maven to Bring Pickup Trucks to the Sharing Economy
---
Our New Partnership with GM's Maven For Short Term Pickup Truck Rental. 
GoShare announced this week that they have partnered with Maven Gig to expand truck sharing in Southern California. Maven provides short term lease options to gig economy drivers who need a short term rental pickup truck or car. GoShare is experiencing increased demand from big box retail customers utilizing GoShare's last mile delivery service to complete with online retailers and need more trucks on the road. The program is designed to help drivers looking for short term lease options to get into the delivery service business without a big commitment. GoShare Delivery Professionals enjoy the flexibility of being an independent contractor and must pass a background check, vehicle inspection and driving history check before becoming a member of the platform. GoShare Delivery Professionals will be the first to have access to Maven's truck rental program when they launch this month with the 2018 Chevrolet Colorado.

GoShare connects delivery professionals with businesses who need help with on demand last mile delivery. GoShare drivers who reserve a Chevrolet Colorado through Maven will be able to earn money using the GoShare app as well as other sharing economy apps including Lyft and Grubhub. Maven Gig reservations can be made weekly for a flat rate that includes unlimited mileage, roadside assistance, maintenance, and insurance. Pickup trucks can be rented for up to 3 months. Once approved, renters can quickly get on the road and start making money with their new truck. GoShare CEO Shaun Savage is optimistic about the partnership saying "The more trucks that are available the better the experience for our customers. We are excited to be able to offer more people access to the trucks that they need when they need it."
The GM owned company will be working closely with GoShare to launch the pilot in Los Angeles. The Chevrolet Colorado can be reserved weekly for $315 plus tax. Maven Gig customers will be drawn to the pickup truck thanks to GoShare's high hourly earnings which are the best in the industry. GoShare's big box retail customers including Costco and Pier 1 Imports will keep the truck drivers busy. GoShare delivery professionals using the Chevy Colorado can earn an average of $42 per hour plus tips.
Both companies are quickly expanding and will be looking to push the partnership to additional markets. Maven Gig is currently available in 9 markets: Austin, Baltimore, Boston, Detroit, Los Angeles, Phoenix, San Diego, San Francisco, and Washington, D.C. GoShare is currently available in 8 markets: Atlanta, Inland Empire, Los Angeles, Miami, New Jersey, Orange County, Phoenix, and San Diego. Denver and San Francisco are coming soon.