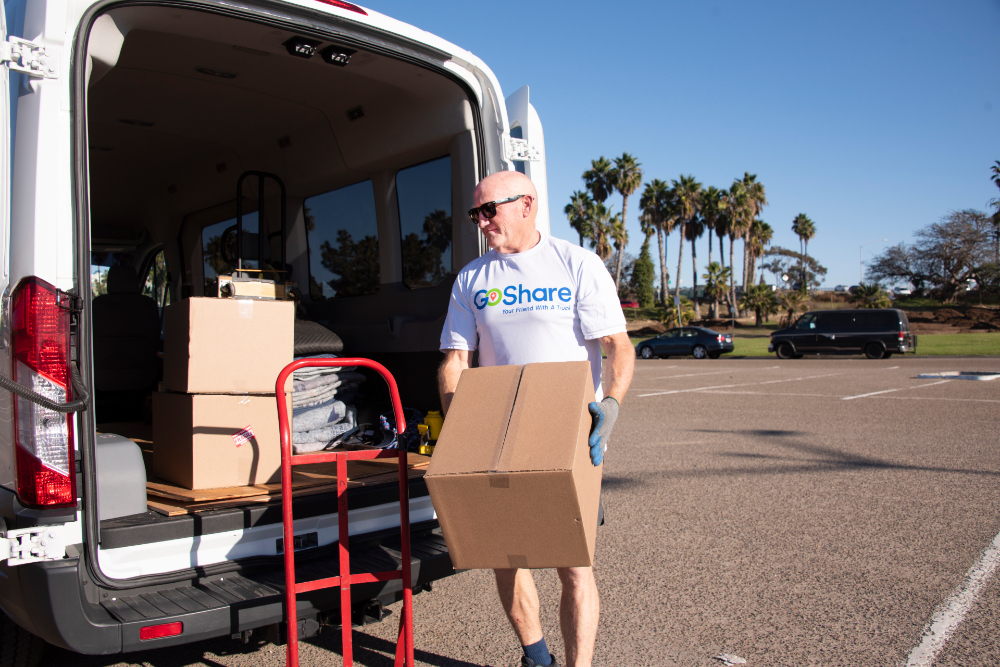 Load Board for Cargo Vans and Sprinter Vans
Load Board for Cargo Vans and Sprinter Vans
---
Are you looking for work opportunities to fit into your schedule for extra money? If you own a cargo van or Sprinter van, GoShare presents a great solution to finding loads for sprinter vans, cargo vans, box trucks and pickup trucks. 
GoShare connects sprinter van and cargo van owners to businesses who need help with last mile deliveries and middle mile logistics. 
Individual owner/operators and fleet owners can put your vehicle to good use and start earning through GoShare's. A modern version of a load board where the loads find you instead of you having to find them. If you have a cargo van, sprinter van or a truck you learn more and apply here.
The Disadvantages of a Traditional Load Board
Historically, cargo van and sprinter van owners had to go out find loads on hot shot load boards. These places have become too competitive with drivers who are inexperienced and bid down the loads effecting the whole marketplace. With GoShare the loads come to you mainly from national retailers and you can decide which loads to accept or reject. You'll know how much you will make, how far you need to go, and how long it will take in advance.  
In addition, load boards typically charge an expensive monthly fee to use. If you choose to go the cost savings route, you can expect free load boards to have limited information with lesser LTL loads available. Fraud and scams are more rampant as well, with many unreliable freight brokers and shippers who prey on the unwary. 
And, it's common for completed jobs on expedited van and truckloads to have a slow payout, taking up to several months before you touch your hard-earned money. If you run your own hot shot trucking business, this can be especially painful as cash flow is disrupted and your fleet's fuel and maintenance costs pile up.
How is GoShare Different from Your Traditional Load Board?
Technology in today's climate has paved the way for cargo van drivers to find loads through more productive and efficient alternatives than traditional load boards. GoShare is a perfect solution for hot shot truck and van drivers to earn extra income on their time. 
The GoShare app allows drivers to connect with individuals and businesses who seek delivery services by posting truckload LTL and van loads for moving and delivery. You might run into a construction worker who needs time-sensitive, expedited freight hauled to the job site. Or, a local retailer may seek help with last mile logistics and same-day deliveries of furniture from the warehouse to store. GoShare helps by compiling these hot shot delivery projects into a simple, easy-to-use app for cargo van drivers who seek work. 
The process of searching for delivery van loads and finding freight to haul is streamlined and entirely digitized through the GoShare app. Acting as a modern version of a board, you may choose to accept or reject any project as you see fit. As an independent contractor with GoShare, you are never forced to work – be your own boss and create your own work schedule to fit your other daily needs. 
You can expect payment within five to seven days when driving with GoShare, which is much more efficient than normal truck freight loads that payout in 30 to 60 days. Plus, GoShare's comprehensive insurance policy ensures that its drivers are kept safe and its loads are protected at all times.
Do you own a pickup truck, cargo van, or box truck/straight truck? Click here to learn more about GoShare and apply to join the platform.
Additional Resources
Looking for more information about cargo vans and going into business for yourself? Check out these additional posts from GoShare.