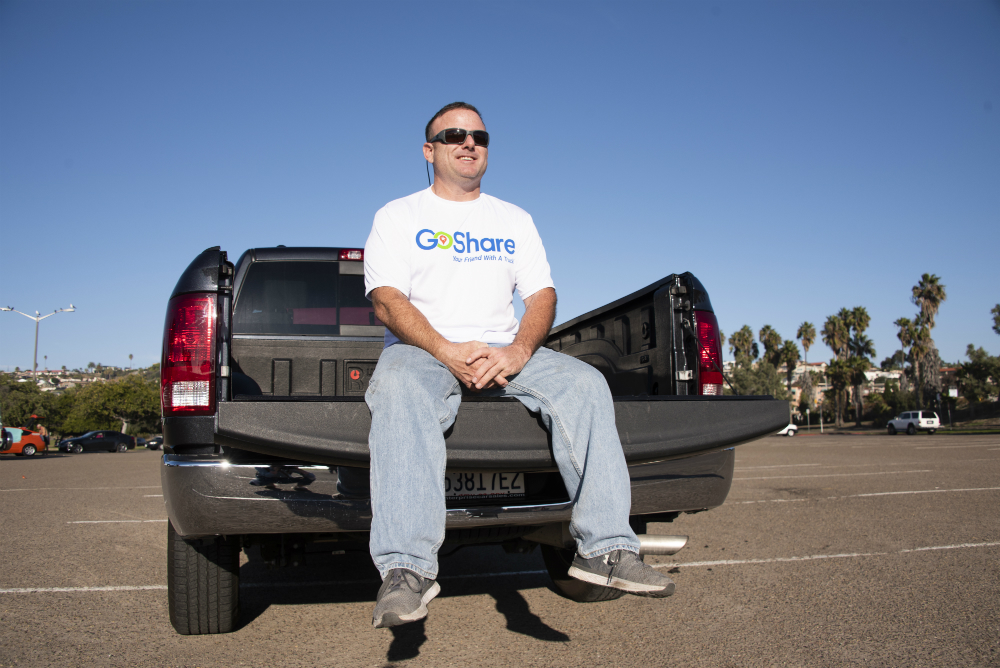 Independent Contractor Pickup Truck Jobs
Independent Contractor Pickup Truck Jobs
---
Use the GoShare Driver App to find independent contractor pickup truck jobs in your local area.
The GoShare app connects businesses and individuals that need help with moving or delivering large, bulky items with independent contractors that own pickup trucks or cargo vans. Common projects include furniture delivery, small moves, and junk hauling. 
How GoShare Works
Local businesses and customers with moving and delivery needs enter their project into the GoShare app or website. Every time a new project is requested in your area, contractors get a push notification alerting them to the details, time, and place of the project. Review the project details and accept the project if the time and scope work for you.
Benefits of Joining GoShare
There are many benefits for independent contractor pickup truck owners using the GoShare platform: 
Flexible:

As an independent contractor, you control your schedule. Only accept projects that work fit in your schedule. 

Find Jobs:

Spend less time looking for jobs and more time earning. In addition to accepting projects with individuals, GoShare has partnerships with large retailers to drive new projects to the platform. 

Get Paid:

GoShare bills the customer and direct deposits their payment into your account. Average time for receiving payment is five days. 
How Much Can I Earn? 
Delivery drivers and truck owner-operators using the GoShare platform earn some of the highest wages in the gig industry. GoShare is committed to ensuring customers pay fair wages to independent contractors using the GoShare app. Delivery professionals keep 100% of their tips. Below are the average hourly earnings for vehicles on the platform. 
Standard Pickup Truck Driver: $42 an hour

Large Pickup Truck Driver: $57 an hour

Full-Sized Cargo Van: $61 an hour

Box Truck: $67 an hour
Why do Independent Contractor Pickup Truck Jobs?
If you own a pickup truck, you have a valuable resource in your garage. Join the GoShare platform and get paid for the use of your time and equipment.
Every day in your community, individuals and businesses find themselves in need of a large vehicle for a variety of projects. These projects include furniture delivery, moving inventory between stores, taking items to storage units, and more.
GoShare allows you to connect with these customers in real-time. Get compensated for helping your neighbors and community members.
Minimum Requirements
There are a few basic requirements that you must meet to use GoShare as an independent contractor. Please review the list below.
You must be at least 18 years old.

Your vehicle must be a model year that is no older than 15 years.
Must be able to pass a background and driving history check.
Must have an iPhone or Android capable of running the latest version of the GoShare Driver App.

Must have a checking account to receive direct deposit payments. 

Must be able to speak English.

Must have a valid driver's license, vehicle registration, and insurance in the state in which you are located.

Must have at least the minimum insurance required by your state or local laws.
How to Apply
To apply to use the GoShare app, visit www.GoShare.co/Drivers and click "Apply Now". You will be asked to fill out a very brief application form. If everything looks good, you will be able to use your email to log into your GoShare account.
In your account, you will be asked to watch a brief orientation video that introduces you to the program, to upload vehicle documents for verification, and to initiate your background check. Once these have been verified and your account is set up for payment, you will be able to access projects on the platform.  
Other Resources
The blog posts below were created to help independent contractors as they navigate the gig and freelance economy.