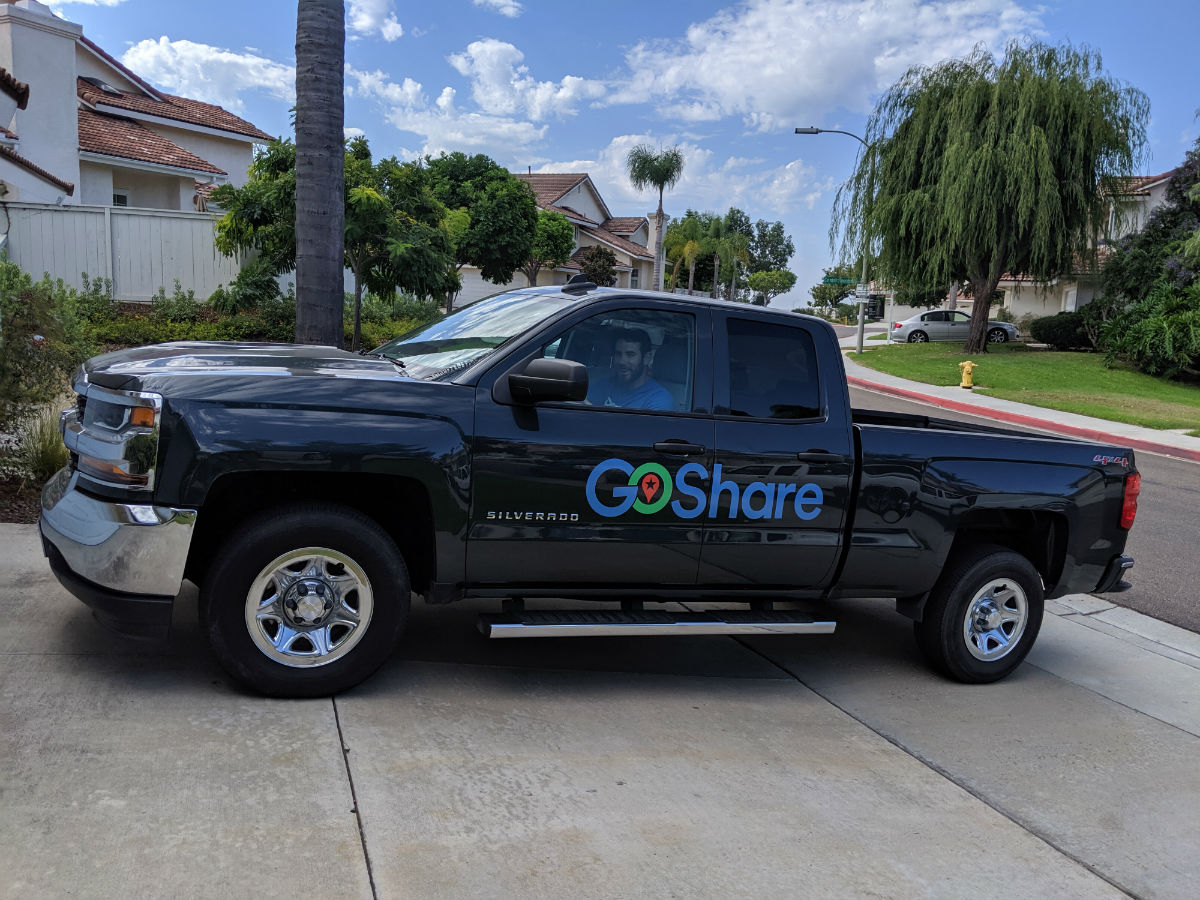 I Need a Truck – Use the GoShare App to Find a Truck
I Need a Truck – Use the GoShare App to Find a Truck
---
Want to move some furniture out of storage and into your new place, but don't have a large enough vehicle? Find the perfect sectional at Costco, but don't know how to get it home? Perhaps you've dedicated your whole weekend to a home improvement project and need to fetch some lumber. 
While you may not need a truck for your daily commute, most of us find situations pop-up every few weeks or months in which access to a truck would be useful. 
If you've ever found yourself thinking, "I need a truck," read on! Whether you need a pickup truck or a box truck, there are options near you.
Find a Friend With a Truck
A temporary but convenient solution for obtaining a truck is to know a friend who can lend his or her truck to you. This way, you don't need to fork out any money for your trucking needs. There's a chance that you don't need to hire movers either, as long as you're successful at convincing your friend to help you with any heavy lifting activities. 
While borrowing your friend's truck may be suitable for your situation, it can also be a major inconvenience and risk for your friend.  If you are at-fault during a car accident, your friend is typically on the hook for paying the full insurance deductible. In addition, time conflict and scheduling issues may arise. Or, your friends may just be reluctant to loan out their vehicles.
Use an On-Demand Moving and Delivery App like GoShare
GoShare is a fast, easy, and affordable answer for the lingering question of, "I need a truck, but how do I get one?" On-demand access to a truck and movers is far and few between, making GoShare a truly unique service. 
GoShare is an app that connects you with a network of thousands of local delivery professionals who own trucks and vans. Not only do they have large vehicles, but they are available to do the loading and unloading as well. 
Download the app or go on the website to begin your delivery or moving request. GoShare is compatible with your demands, offering a variety of vehicles to choose from. You can request one or two delivery professionals with a pickup truck, cargo van, or box truck. Schedule your project in advance, or request someone to arrive in as little as 30 minutes. 
GoShare's Delivery Professionals have passed strict background checks and vehicle inspections. Plus, you have peace of mind knowing that your moving or delivery project is backed by GoShare's comprehensive cargo insurance policy. 
Rent a Truck the Old Fashioned Way
Not comfortable using an app? Traditional rental companies are a common choice for people who need a truck. Home improvement companies have followed suit and now provide truck rental services as well. Truck rentals often provide both pickups and box trucks that are in great condition for hauling large items. 
Renting a truck is a reliable option. However, be prepared to fill out paperwork, present your driver's license, and account for mileage fees, fuel charges, and insurance costs in your budget. 
If you're in urgent need of a truck, it can also be a hassle to go out of your way to pick up and drop off the truck at the rental location. You may also find that available vehicles are limited for last-minute requests. For traditional truck rentals, it's best to schedule in advance.
Purchase a Used or New Truck
Do you find yourself looking for the versatility, towing ability, and cargo capabilities of a truck on a frequent occasion? If you are constantly finding yourself thinking, "I need a truck!" You may want to invest in purchasing a new or used vehicle to handle your hauling needs. 
If you're a thrifty shopper, you can often find terrific deals on the used pickup truck marketplace as opposed to purchasing a brand-new one. Or, take a look at our list of the best 2019 pickup trucks here to compare the latest models.
If you do purchase a truck, be prepared to field calls from friends looking to borrow you and your truck for occasional projects. Or, help defray the cost of your new vehicle by joining GoShare and charging friends and neighbors to hire you for their moving and delivery needs. 
Additional Resources
Check out these other helpful articles to get more information on pickup truck performance, maintenance and care.