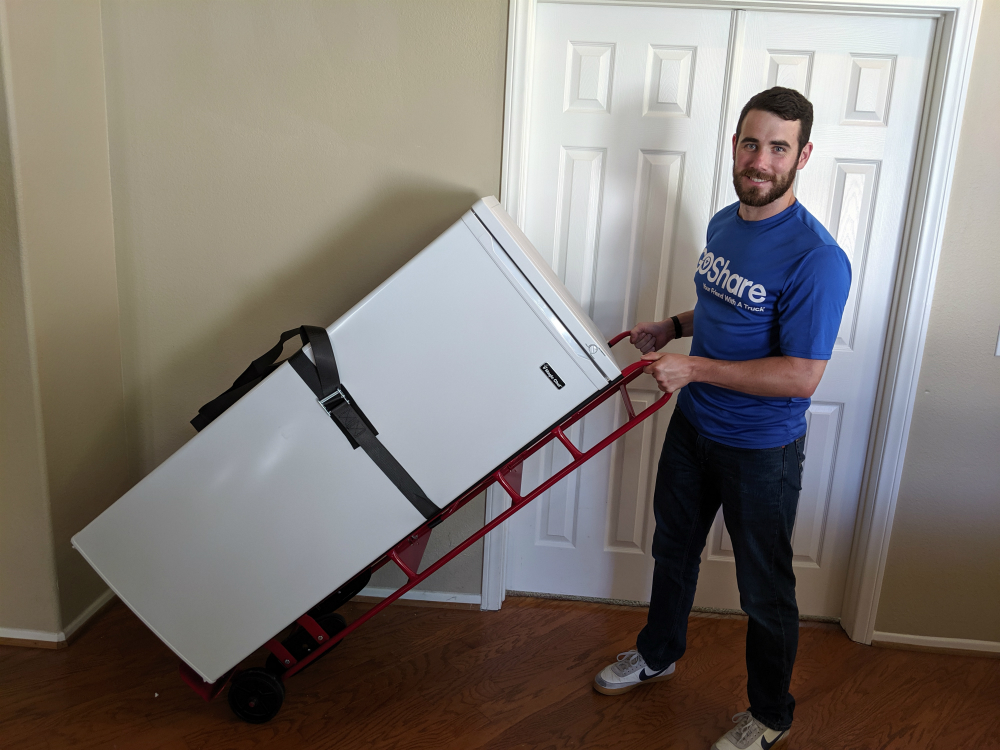 How to Use an Appliance Dolly, Tutorial with Pictures
How to Use an Appliance Dolly, Tutorial with Pictures
---
An appliance dolly is the right tool for moving appliances and other heavy or bulky items, including refrigerators, dishwashers, washers, dryers, and stoves. Read our helpful step-by-step guide and tutorial with pictures below to learn why appliance dollies are must-have for any appliance move, and how to use this useful piece of equipment.
Why Use an Appliance Dolly
You should never attempt to move a large appliance without a specialized appliance dolly. These dollies have key differences from typical hand trucks or furniture dollies.
Appliance dollies have high loading capacity, often between 600 – 800lbs. They are built for heavy items. This high weight range is necessary for large, heavy appliances. Placing a large item on a hand truck with a lower loading capacity than required could cause the hand truck to fail, dropping your item. This could lead to damage to your appliance and injuries to the mover. 
Appliance dollies have rub rails, generally padded with a soft material like rubber, to protect the finish of your appliances and prevent scratches and dings. These dollies also feature built-in cargo straps, allowing you to secure the item to the dolly throughout the move. These straps are stronger and more secure than using independent ratchet straps or bungee cords on other types of dollies. 
How to Use an Appliance Dolly
Appliance dollies are not difficult to use. Watch our video or follow the steps below to move your refrigerator, stove, or other large appliance.
1. Load the Appliance Dolly

Position your dolly so that you are facing a smooth side of the appliance. It is best not to have the back or front of an appliance resting against the dolly, as you want to avoid risk of damage to mechanical components or electrical cords. Gently tilt back the appliance and slide your dolly underneath. The appliance should be resting against the rub rails. To avoid injury, lift with your legs and not your back. For larger appliances, always have a second person on hand to assist. 
2. Secure the Appliance

Secure the built-in strap around the appliance. It should be positioned near the center of the appliance. Pull the slack out of the strap. Wrap up the dragging tail of the strap, to ensure it doesn't drag or cause a tripping hazard for you once you begin moving.
3. Turn the Belt Handle

Further secure the strap by turning or cranking the belt handle. When you unload the appliance, this handle will also help you release the security belt.
4. Tilt the Appliance Dolly Backward

Tilt the appliance dolly backward, balancing the weight of the appliance on the fulcrum of the appliance dolly. The fulcrum is the hinge over the wheels. For larger appliances, do not attempt without a second person to assist. Do not balance more weight than you are able to support. The load can fall on you, causing serious injury. 
5. Move Your Load

If the load feels secure, walk forward slowly. Take care when going up and down stairs, and use a spotter. If at any time your load feels like it's slipping or insecure, tilt the load back to the ground and adjust the straps.
Additional Tips for Using Appliance Dollies
Prior to preparing your load, clear the pathway. Make sure the ground or floor is clear of any debris that might impede your progress. Measure any doorways or tight hallways prior to attempting to pass through them. Some refrigerators may require removing their doors or handles in order to fit through standard door frames.
Recommended Equipment
Need to move an appliance, but don't have the right dolly? Click the links below to see our recommendations for appliance dollies, as well as other moving items including moving blankets, ratchet straps, and more.
Find On-Demand Help
Want to take the stress out of your move? Hire a local delivery professional using GoShare. Using the GoShare site or app, you can request one or two delivery professionals with a truck or van to come assist you with your moving and delivery project. Delivery professionals can arrive within an hour of your request, or be scheduled in advance. Delivery professionals in the GoShare network pass extensive background checks and vehicle inspections. They bring their own equipment, including appliance dollies. And, every project is backed by GoShare's comprehensive insurance policy.
Click here to get a free estimate
Click here to download the GoShare app
Additional Resources
Did you find this article helpful? Check out our other posts for helpful tutorials and information.