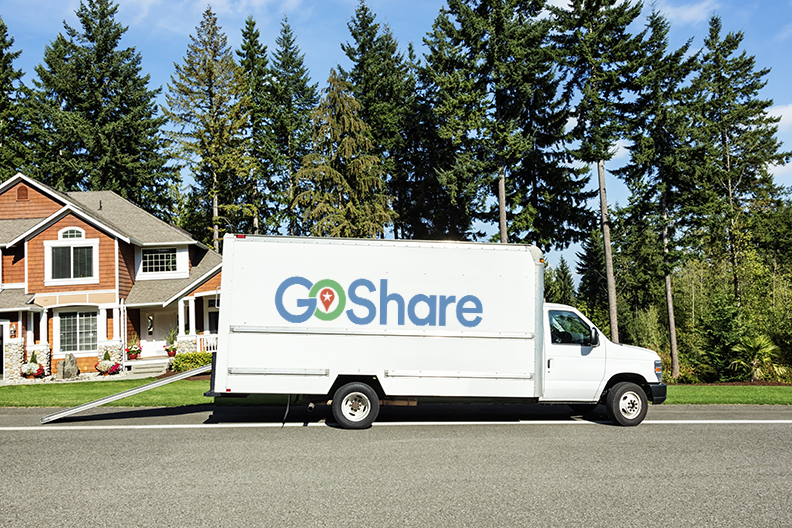 How to Rent a Truck for Moving and Delivery
How to Rent a Truck for Moving and Delivery
---
If you are considering a do-it-yourself move or looking for a way to bring home a large, bulky purchase, you might consider renting a truck to move your stuff. But, researching moving truck rental options may quickly give you such a headache you might rethink whether or not you really need that new patio set.
Moving is one of the top causes of stress in the United States, and the complicated process of truck rentals doesn't make it any easier. But, don't worry. We've done the first step and gathered together the research you need to get started. No headaches.
Want a headache free move? Get a free estimate from GoShare for a Delivery Pro and truck or cargo van, available on demand.
Truck Rental Options
There are many moving companies that offer rental trucks for local moving projects. When looking for a truck rental, you have three basic organizations that you can work with.
Truck Rental Company  – A truck rental company specializes in nothing but rentals. They often provide a wide variety of vehicles, from pickup trucks to large box trucks. If you work with a national company, you may be able to rent vehicles for long-distance moves, being able to pick up and drop off at rental locations in different cities and even states.
Home Improvement Company – Recognizing a need in their local communities, many home improvement companies have started offering truck rental options. Home improvement companies tend to have smaller vehicles, such as pick up trucks. Your options may be limited, but because these stores are located near local neighborhoods, this may be a more convenient option than a traditional truck rental company.
Sharing Economy Apps  – One affordable way to rent a truck is to use a sharing economy app. The sharing economy allows individuals to connect through technology (like apps) to share and exchange goods. In this marketplace, you can find companies that will coordinate truck rentals directly between individuals within your community. Others may allow you to hire a local truck owner in your community to help with your project. Best for local projects, this option is often the most affordable.
Common Rental Truck Sizes
Depending on your needs, you may consider vehicles of a variety of sizes. Keep in mind, that larger vehicles frequently cost more than smaller vehicles, like pickup trucks. However, if you have to take multiple trips, your time and mileage costs will also increase. So, to get the most value, try to pick the vehicle that best matches the size of your project.
Pickup Truck – Pickup trucks are ideal for small moves, such as one or two pieces of furniture, several boxes, or a single pallet. Keep in mind that different pickup trucks have different bed lengths. The Nissan Frontier can have a 5-foot bed, whereas some models for the Ford F150 go up to 8 feet. Depending on the size of your item, you may want to inquire about the length of the bed prior to signing the rental.
Cargo Van – A true cargo van is much larger and more capable than the standard passenger vans you see on the road. Cargo vans typically have an interior length of 10.5 feet, more than enough room for large boxes and items. And, because they are enclosed, you have extra weather protection and the ability to "lock up" your stuff if you need to make a pit spot during your move.
Box Truck – If you are moving an apartment or small home, or a very large item (like a swing set), consider upgrading to a box truck. You can find these trucks in a range of sizes, ranging from 10 foot to 26-foot options. If working with a traditional company, you'll need to book ahead for these larger vehicles. A gig app (like GoShare) will still allow you to book the same day. Because of the size of these vehicles, not everyone is comfortable driving them. If you have any concerns about taking such a large vehicle on the road, consider using a service that also provides a delivery professional.
How Much Does it Cost to Rent a Truck
The cost to rent a truck will vary depending on your location, seasonality, and even fuel costs (which can lead to surcharges and extra fees). For example, moving companies have been known to raise rates between 20-100% in summer months over the summer months, when demand is higher, than in winter months.
When renting a vehicle from a traditional company, it's important to be aware of all the fees. Generally, companies will market a base price that is very attractive. A typical ad may read, "Get this truck, starting at just $19.99." While this base price is meant to get you in the door, it's not reflective of the total you will actually pay.
In addition to the base fee, you should also expect to pay a mileage fee. This can range from $0.79 to $1.29 per mile. So, the base fee is what you pay if you never drive off the lot. As soon as you start on the road, your costs will go up. You may also be offered supplemental insurance to cover any potential damage to the vehicle. Don't forget to also budget a small amount for added sales tax.
Also be aware, you are responsible for filling up the vehicle. The renting company will mark how much gas was in the tank prior to the rental. If you fail to refuel the vehicle to the same point prior to returning, the company will refill it and bill you at a premium rate.
When renting from a sharing economy company, fees may be structured differently. These companies often bill by time, instead of mileage. And, insurance may be included in the cost of your estimate. For example, GoShare bills based on the time a delivery professional begins loading to when the item is safely unloaded in your home. There are no mileage or fuel fees and cargo insurance is included with the service.
Click here to get a free estimate from GoShare for a Delivery Pro and truck or cargo van, available on demand.
Requirements to Rent (What You Need to Bring)
In order to rent a truck or any vehicle, you will need to meet some basic qualifications and provide documentation to ensure you are able to legally and safely drive the vehicle.
The minimum age to rent a truck is 18 years of age. Some companies may charge premium fees to drivers under 25. You will also be required to show proof of a valid driver's license. Some companies may also ask to see proof of insurance if you do not purchase their optional insurance package. Rental companies will ask for a deposit, which will be returned if the vehicle is undamaged, or a credit card to keep on file for future charges.
If you work with a sharing economy company that provides a delivery professional, you will not need a license or proof of insurance. You will simply need to provide a credit card for the final payment.
The Easiest Way to Get a Truck
Once you've identified when you need a truck, the size you need, and the general budget, you are still faced with the task of renting the vehicle, which will involve a large stack of paperwork (digital or in person) and driving to the rental location.
The easiest way to get a pickup truck is to use an app, like GoShare. Simply enter your location and the item(s) you need moved. It takes less than a minute to get a free estimate. Delivery pros can arrive within the hour. They'll do all the loading and unloading. You can track the status of your project, and pay, in the app. Your project is automatically covered by our supplemental insurance policy. It's fast, it's easy, and often more affordable than do-it-yourself truck rental where you are providing all the muscle and manual labor.
To get a free estimate, click here or download the GoShare app.