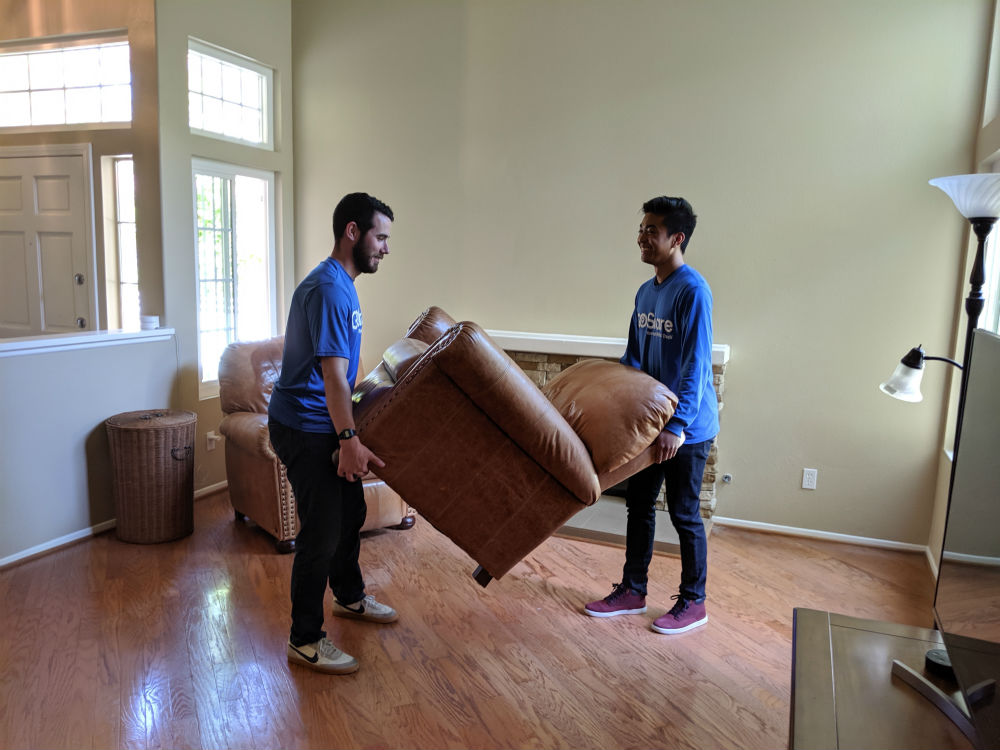 How to Protect Wood Floors When Moving Furniture
How to Protect Wood Floors When Moving Furniture
---
Hardwood floors can add a high-quality look to any home. They're easy to clean, durable, and a great long term investment. But, hardwood floors are difficult to repair. And, dings and scratches can damage both the value and appeal of your flooring. Floors are especially susceptible to damage during large moves or furniture deliveries. 
Dragging or dropping heavy furniture on hardwood can cause dents, dings, and scratches. Follow the helpful tips below or watch our tutorial video to protect hardwood floors when moving furniture or delivering heavy items. 
Clean the Bottom of Your Shoes

While wood floors are known for being easy to wipe clean, it's still a good idea to clean your shoes before beginning your project. Wipe your shoes on a mat prior to entering the home. This is especially important in winter weather when you may have salt, mud, or water on your shoes. Consider wearing protective sleeves over work shoes.
Cover Floorboards to Protect Against Dings and Scratches

If you are only moving one or two items, lay out a moving blanket to protect the floor. An older quilt or towel can also provide extra protection. 
If you will be coming in and out carrying many items, consider laying out a protective runner on moving day. These runners cling to the floor to protect it from high-traffic. They are easy to lay out and peel up. They will not damage your floors when removed.
Measure Before Moving

Measure any doorways or hallways in advance to ensure your furniture will fit through the area. Trying to lift an item through a too-small front door could create a situation where items are dropped, dragged, or pushed across the hardwood floor. 
Measuring can help prevent damage to floors by allowing you to pre-plan your pathway. Don't forget to disassemble any large pieces, if possible, to make them easier to carry through tight spaces.
Always Lift, Never Drag

To prevent damage to hardwood floors during a furniture delivery or move, never drag heavy items. Always lift the item completely off the floor before moving it. When necessary, use a furniture dolly or a hand truck with rubber wheels to help you move the items.
Use Furniture Sliders or a Moving Blanket

If the item is too heavy for you to lift and carry, and you don't have a furniture dolly, you may also try the sliding technique. Purchase furniture sliders that use soft bases, including shag or felt. A moving blanket can also work for this technique.
Please the furniture on the moving blanket or sliders. Gently lift the edges of the blanket and slide the item across the floor. The blanket will protect the wood floors. If using sliders, you will push the item from a low position. Pushing from the top may cause it to slide off the sliders.
Find On-Demand Help
Want to take the stress out of your move? Hire a local delivery professional using GoShare. Using the GoShare site or app, you can request one or two delivery professionals with a truck or van to come assist you with your moving and delivery project. Delivery professionals can arrive within an hour of your request, or be scheduled in advance. Delivery professionals in the GoShare network pass extensive background checks and vehicle inspections. They bring their own equipment, including appliance dollies. And, every project is backed by GoShare's comprehensive insurance policy.
Click here to get a free estimate
Click here to download the GoShare app
Additional Resources
Did you find this article helpful? Check out our other posts for helpful tutorials and information.