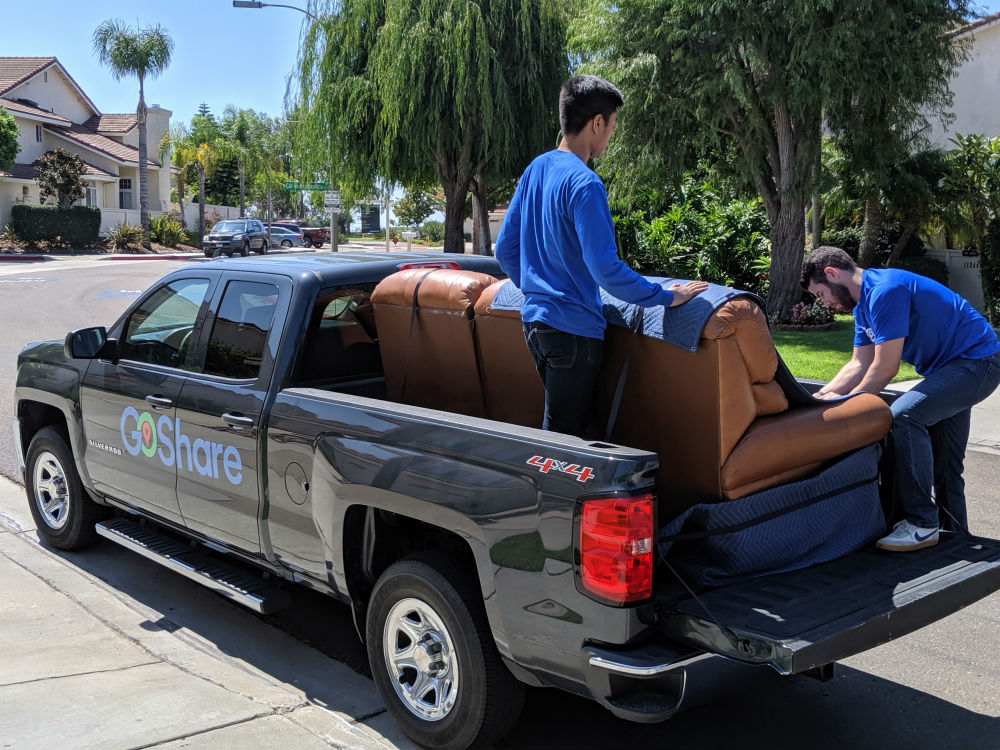 How to Move Large Items in Your Pickup Truck Bed
How to Move Large Items in Your Pickup Truck Bed
---
When moving items in the bed of your pickup truck, it's important to secure them safely in place.
Items that aren't secured may slide in the truck bed, becoming damaged. Or, worse, they can fly out of your truck causing dangerous debris on the roads.
Even heavy items should be strapped down, as there is no guarantee their weight will keep them stable in the back of the pickup truck bed. 
Watch our helpful video or read the tips below to ensure your items are safely stowed before you hit the open road.
How to Move Large Items with a Pickup Truck
Check the weather
Because pickup trucks have open beds, it is important to check the weather before you schedule your move. A rain shower, while you are on your road, will soak and damage your items.
Covering sensitive items with plastic tarps is not suggested. Tarps can slip and blow backward as you drive down the road. Plus, they don't protect from water pooling in the truck bed. 
Understand your payload capacity
Your pickup truck's payload capacity is the amount of weight that can be carried in the cabin and truck bed. Anything in your truck, including cargo and passengers, counts toward the total payload. 
Most household items, including furniture, will not exceed the maximum payload of a standard pickup truck. Take care with heavy items, including cement pieces, construction supplies, farm supplies, and other large loads that may exceed the limits. Never overload your truck as this can endanger passengers and cause mechanical damage to the vehicle.
Use moving blankets
Protect furniture and other items with padded moving blankets prior to strapping them down. If you don't have a moving blanket, use an old quilt, comforter, or towels. 
It's important to put this layer of protection on before tying down items, to prevent the straps from scratching or denting the item.
Securely strap your items down
Secure your item in place using high-quality ratchet straps. For large items, use multiple ratchet straps to secure the item in place. Make sure your ratchet straps are securely connected to the bullrings or tie-down anchors in your truck bed. 
If you are moving boxes, firewood, or other stacked items, a cargo net may also serve to secure the load.
Do not rely on bungee cords. Bungee cords stretch, allowing the item to move and slide when you are in motion. This could cause damage to the goods you are moving. 
Check your tie down
Don't forget to tug on your straps to ensure the item is secure. Your cargo should not be able to slide or move around. If anything feels insecure, take the time to re-secure it prior to getting on the road.
Additional Resources
If you found this article helpful, please enjoy these additional posts for moving tips and tutorials.