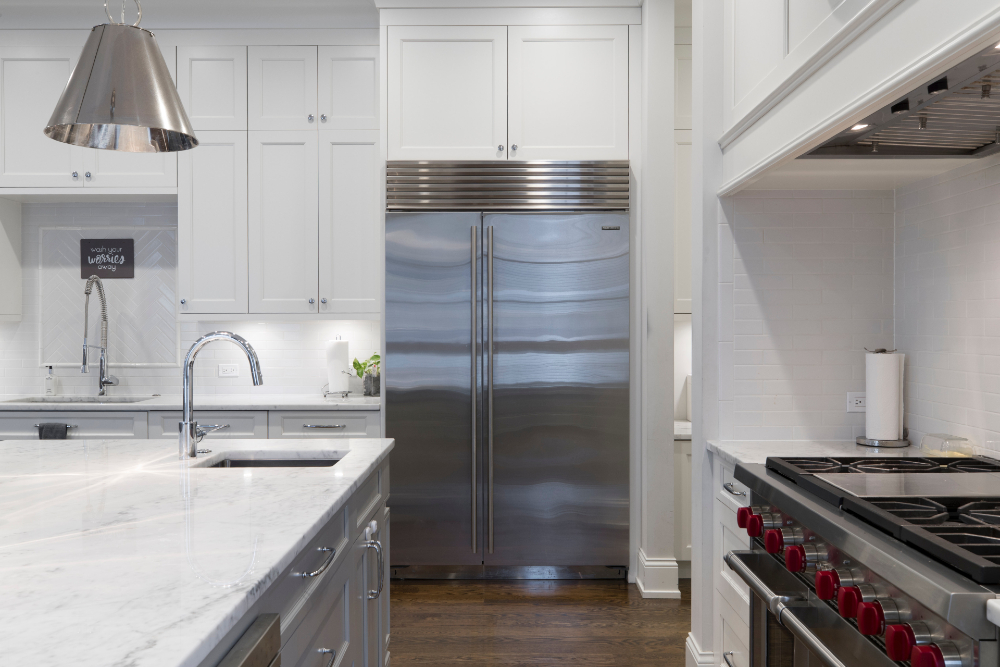 How to Move a Refrigerator by Yourself: A Step-By-Step Guide
How to Move a Refrigerator by Yourself: A Step-By-Step Guide
---
Moving appliances is never a simple or easy task, given their weight and size. When dealing with refrigerators, one small misstep can lead to a broken appliance or worse, a broken back.
The average refrigerator weighs roughly 300 pounds, which means proper care must be taken during the moving process. Whether you're relocating to a new home or renovating your kitchen, moving a fridge is a challenging job that requires time, effort, and careful planning. 
To aid in a successful move, we've arranged a set of helpful steps on moving a refrigerator in the easiest and safest manner possible. 
Follow our complete guide on how to move a refrigerator on your own. 
Before the Move
Gather Moving Supplies
Preparation is just as important as the move itself. Before transporting your fridge, you will need to collect an array of supplies to support your move. This includes: 
Cleaning supplies (baking soda, water, sponge, paper towels, etc.)

Tape measure

Packing paper or bubble wrap

Furniture sliders

An appliance dolly 

Cargo straps

Moving blankets

A cooler for leftover food
Measure the Refrigerator, Doorways, and Openings
Before you begin the move, it's essential to take proper measurements and ensure that your fridge can fit through any doorways and openings. 
Start by measuring the height, width, and depth of the fridge with your tape measure. Next, map out your exact path for moving the fridge. Measure any doors and openings that could potentially hinder its ability to be moved to its new location. 
If the dimensions of the fridge are larger than a door or opening, you will have to get creative with how to maneuver it. Tilting the fridge or removing the fridge doors are efficient methods to create space and safely move it through tight angles.
Empty the Refrigerator
Before you unplug the refrigerator, take out any contents inside to reduce its weight and preserve any perishable foods and beverages. If you're planning for a longer move, place these contents into a cooler for safe chilling. 
You should also take out any removable drawers, shelves, and lids, making it easier to clean and lift the fridge. Then, cover these objects with wrapping paper or bubble wrap for safeguarding.
Unplug the Refrigerator
Once the contents of the fridge are properly stored elsewhere, it's time to disconnect the power cord of the refrigerator. You should tape the cord to the back of the fridge to avoid accidentally tripping on it during the move. If your fridge has an ice dispenser, make sure to stop its water supply as well. 
Defrost the Freezer
Your freezer most likely has frost buildup, which can cause a huge mess if not properly accounted for. It's important to take the extra precaution of defrosting it before the move. 
The easiest way to defrost a freezer is to use hot water or a hair dryer to melt the ice, and then mop the remaining water with towels. Otherwise, you can naturally defrost it overnight if you have time to spare before moving. 
Wash the Refrigerator's Interior
In addition to emptying out the fridge, you will want to thoroughly clean its interior to prevent any bacteria from growing. A cleaning mixture of baking soda and water with a sponge should be ample enough to get the job done. After washing the walls and shelves, take a clean cloth or paper towels to completely dry the fridge's interior.
During the Move
Protect the Floors
Once you've finished preparing your refrigerator for the move, it's time to begin operations. In most cases, a refrigerator is pressed tightly in between walls and other kitchen appliances. Moving a refrigerator out of its narrow space without damaging the floor underneath it can be daunting, and that's where furniture sliders come in handy. 
Start by gently tilting your fridge and placing a slider under each foot. After the sliders are properly aligned with the bottom of the fridge, slowly pull it towards you without causing damage to the floor.  
Use an Appliance Dolly with Cargo Straps
If your fridge is being moved more than just a few feet, an appliance dolly is crucial for safe transportation. For a comprehensive step-by-step guide on how to use an appliance dolly, check out our tips here. 
Tilt your fridge on its side rather than front-to-back, then carefully slide the dolly underneath the fridge. Once the fridge is placed onto the dolly, use moving straps and automatic tighteners to wrap the entire length of the appliance and secure the doors. Bungee cords are not recommended due to their flimsiness. Lastly, add an extra layer of protection by wrapping your fridge with moving blankets as well. 
Move the Appliance Dolly 
You will want to ensure that the fridge is balanced on the dolly before moving it. Once the load is secure, tilt the dolly with the strapped fridge at a 45-degree angle. Keep in mind that the fridge must be kept in an upright position since tilting it at an angle greater than 45 degrees can cause imbalance. Additionally, laying the fridge completely flat on its side can lead to an irreparable leak in the cooling system.
Begin wheeling the loaded dolly towards your destination. Keep a lookout for any obstacles that may potentially block its pathway. If using a moving truck, we suggest placing the fridge near walls and securing it with ratchet straps. You may also surround it with other large furniture or belongings to keep it stable during the drive.
After the Move
Set Up the Refrigerator
After you've successfully moved your fridge to its new home, feel free to let out a rewarding sigh of relief. The last steps are quick and simple, starting with the removal of moving blankets and straps wrapped around the fridge. Unload the fridge near its new position and slightly rock it from side to side until it's in the correct spot. Place any drawers, shelves, and lids back into their correct positions. 
Power the Refrigerator and Let it Get Cold
Finally, plug in the fridge to the nearest electrical outlet and let it reach its optimal temperature. The fridge may take up to a few days to become adequately chill, so you should wait to store your foods and beverages inside until you're completely sure that it's safe to do so.
Want to Skip the Hassle? Hire Professionals!
Moving a refrigerator on your own can be problematic, even if you follow every step to a tee. If you're looking for a friend with a truck to do it all for you, consider using GoShare!
GoShare is a moving app that connects you to a local network of vetted and insured movers who will load, move, and unload items on demand. For fridge moves, select two movers and a box truck with a loading gate. They'll take care of the heavy lifting! 
Skip the hassle of moving a refrigerator yourself and book with GoShare now!
Additional Resources
If you found this article to be helpful, check out other posts for moving help and tips.