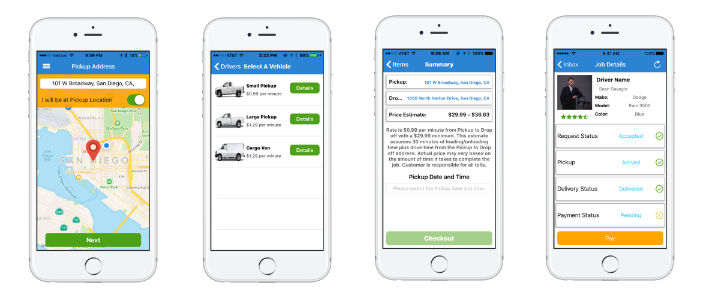 How to Find a Same Day Mover
How to Find a Same Day Mover
---
Need to move out of your apartment in a hurry? Need furniture movers to help with a Craigslist deal? Fell in love with an armoire at a yard sale? There are many reasons you might need to find same day movers.
Most traditional moving companies recommend booking at least six to eight weeks in advance. And, experts recommend booking at least two weeks in advance to ensure availability for vehicle rentals with companies such as Penske and Budget Truck Rental. If you need a same day or one day booking with a moving company or truck rental, you may find none available. Or, if there is availability, you will be charged an inflated rate for expedited service.
In the past, your same day moving options were limited. You might try to stack items precariously on top of your car, strapping them down with bungee cords or twine. Or, if you are lucky enough to have a friend with a pickup truck, you might give them a ring.
But, new iPhone and Android apps are now making finding same day moves both easy and affordable. These apps leverage the power of the sharing economy to help people with moving and delivery needs to owners of pickup trucks and cargo vans. Using these apps, same day moving and delivery professionals are only a tap away.
GoShare allows anyone to quickly locate local moving, hauling and delivery professionals. You can hire a driver, trucker, and even an extra helper. Not only can you request a driver to arrive in as little as thirty minutes, but the rate is much more affordable than traditional moving companies. All drivers are licensed, insured, and background checked. Every move is backed by a comprehensive cargo insurance policy.
How it Works:
Download the App
Enter the pick-up and drop-off addresses
Select a truck size and the number of helpers you need
Get a free estimate before you place your order
Track the status of your delivery and pay in the app
Using an on-demand mover app, such as GoShare, you'll never miss out on another deal or be stuck scrambling to find help for a one day or same day moving projects.