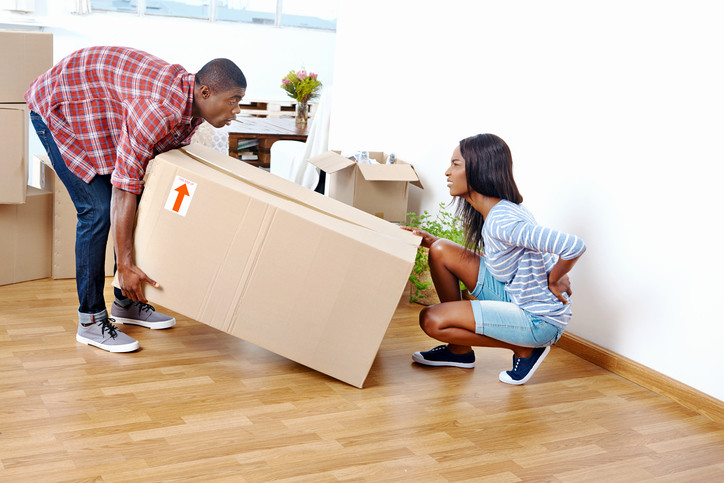 How to Avoid Injuries During Your Move
How to Avoid Injuries During Your Move
---
As the fresh smell of spring hits the air, it can only mean one thing: moving season is upon us! You've been thinking about moving to a new house or you've found the perfect apartment that's hopefully closer to work. Now the days are fast approaching for you to execute. Moving is a hassle, and it can cause a lot of stress and strain on your body. In order to keep your moving day on schedule and to keep yourself out of the hospital, here are a few ways to navigate a safe and injury-free move.

Stretch
Before any physical activity, stretching is highly recommended. You wouldn't hop out of the car and start running a marathon. And you wouldn't walk right into the gym and start leg pressing 300-pound weights. So why not take a few minutes to stretch before lifting those boxes? Proper stretching ensures that your muscles and ligaments are warmed up and ready, preventing muscle tearing and fatigue.
Dress Properly
You'll surely encounter a few bumps and bruises on moving day, but wearing appropriate attire can help prevent severe injury.
Closed-toed shoes are a must. The weather might be warmer, but flip-flops are not the thing you want to wear, especially when it comes to moving items. You'll have a higher occurrence of broken toes and be more likely to slip or trip in sandals. Make sure your footwear has proper grips if you're moving into a place with slick floors or in inclement weather, and has adequate ankle and arch support. Your feet will thank you at the end of the day.

Longer sleeves help when you're carrying items with rougher edges and will keep your arms scrape-free. Consider wearing long pants as well for the same reason.

Work gloves can ensure you have a good grip on heavy items and can prevent cut or pinched fingers.
Clear a Path
Moving heavy boxes through an obstacle course of items on the floor is a recipe for disaster. The worst thing to do is slip and trip while you're carrying something, and you won't have your arms free to brace yourself. Make sure there is a wide, unobstructed path from the room to the door. Take your time moving through the area and don't rush! Accidents always happen when you're in a hurry. If you have children or pets, try to keep them out of the way while you move, or arrange for someone to watch them to keep them from becoming one more obstacle in your way. 
Don't Overstuff Boxes
Most people want to move with the fewest number of boxes possible and are often tempted to pack boxes to the brim to make sure no space is wasted. While consolidating is often a good idea, it can get you into trouble on moving day. As you're packing your boxes, remember that you'll have to lift them out of the space, into a truck, and out of the truck into your new space. It's recommended that you pack your boxes under 50 pounds to ensure that you can lift them. Since you most likely won't have a scale handy, trust your limits and pack only what you can lift comfortably.
Pack Heavier Items on the Bottom
Since you hold boxes from the bottom, it makes sense to have the heaviest items where your arms can support them. Packing heavier items at the top leaves a greater chance of the weight shifting and the box flipping out of your arms. Just make sure the bottoms of your boxes are securely taped down and won't drop open as you lift.
Lift With your Legs
Back injuries are the most common injuries you'll encounter on moving day, and it's all because of improper lifting techniques. When you are moving items that are down on the ground, move as close to the item as you can, keeping it directly in front of you. Bend your knees, not at your waist and grip the item. Try not to jerk too quickly when standing back up, keeping your back straight. Your weight remains properly balanced and a slipped disc or pulled muscle is out of the picture.
Keep Heavy Items Close to your Body
Balance comes into play pretty often when moving items. When things are bulky or awkward, we have a tendency to lean back when handling them. Instead, you want to lean in. The weight in your arms becomes better distributed, and you have more control in maneuvering.
Have the Proper Materials
Bubble wrap or newspaper will give your glass and ceramics extra protection and limit scratching and cracking. If you have access to a dolly or hand-truck, utilize that to move appliances and boxes that are too heavy to carry, and straps will secure those items so they don't fall off and onto you.  And don't forget those work gloves!
Hire a Pro
If it's too heavy or too much to undertake by yourself, don't be afraid to ask for help! GoShare connects truck and van owners with people who need help moving. GoShare has thousands of vetter delivery professionals who are ready to help make your moving day as quick and painless as possible.